At 12:00 noon on May 1, the South China Sea entered a three-and-a-half-month summer fishing moratorium.

That morning a Sanya fisherman was throwing his nets out one last time before the fishing season ended, more than 80 nautical miles southwest of Sanya.

By pure luck he had landed himself a 925 pound (419 kg) blue fin tuna.

At the time of bringing in the nets, the fisherman had actually caught two large tuna but a luckily one escaped.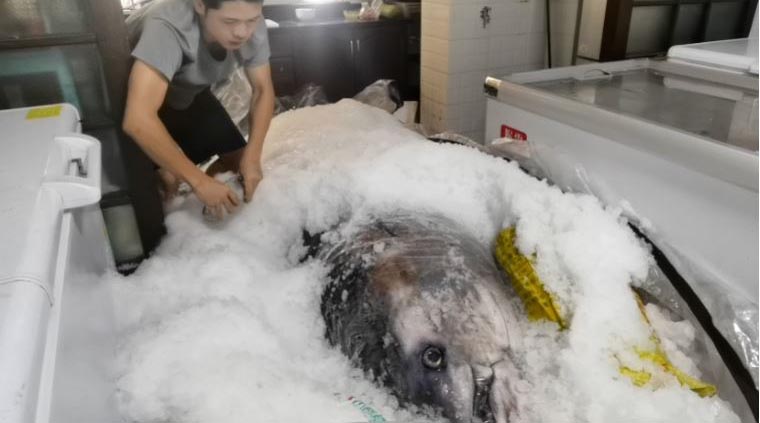 "This fish was too big, and at that time, more than a dozen of us had to lift it."

Fisherman that caught the tuna

After hoisting the fish ashore, it was measured and found that the bluefin tuna was about 2 meters in length, almost 2 meters in bust, and weighed about 925 pounds!
It is understood that bluefin tuna is relatively rare in the South China Sea. Bluefin tuna weighing tens of pounds have been found before, but this is one of the biggest found.

Mr. Li the person in charge of a sea fishing club in Haikou told reporters that "I heard from a friend that the fisherman had caught a large tuna. When I saw the picture, and it was a bluefin tuna, I hurried to Sanya to see it!"

He travelled to Sanya as fast as possible to try and buy the large blue fin tuna.
"A big fish like this will probably not be seen for decades for many fishermen and boat owners," said Mr. Li.

On the same day, after some discussion, he bought the huge fish for almost 100,000 yuan. The fish has now been transported back to Haikou for refrigerated storage, where Mr. Li is still considering how to sell it.
Related article: Ten things you probably didn't know about the spacecraft launch site in Wenchang
Tropicalhainan.com launched it's official mini programme and WeChat account, scan the Qr code to keep up to date with news, sports, entertainment, travel, opinion and more.