Guidelines for the application of social security cards
​Relevant units:
Haikou municipal government has begun the implementation of a "one-card" social security card, which will bring convenience to users by integrating social security, medical & health care, urban transportation, tourism, voluntary services, local residents preferential treatment, finance, other government public services and administrative management. 

Employers
Employers please actively initiate, publicize, guide and assist foreign employees to apply for the social security card. Refer to the attachment below for the handling guide.
All employers of foreign employees are kindly requested to send the handling status of their foreign employees to administration before November 12, 2020.

Please send documents to zhengsq@haikou.gov.cn

Required info:

1. Full name of the employer
2. Full name of employee
3. Nationality and passport number of the employees

Thank you for your support and cooperation.

For more information contact: Ms Zheng, Tel: 0898-68724676
Guidelines for the application of Social Security cards.

Please scan the relevant QR code below for more information.

1. Haikou social security card application guide (Including all the addresses of the social security card service centre):


2. Haikou Social Security Card Activation Guide:

3. Haikou Electronic Social Security Card Application Guide:


Original notice in Chinese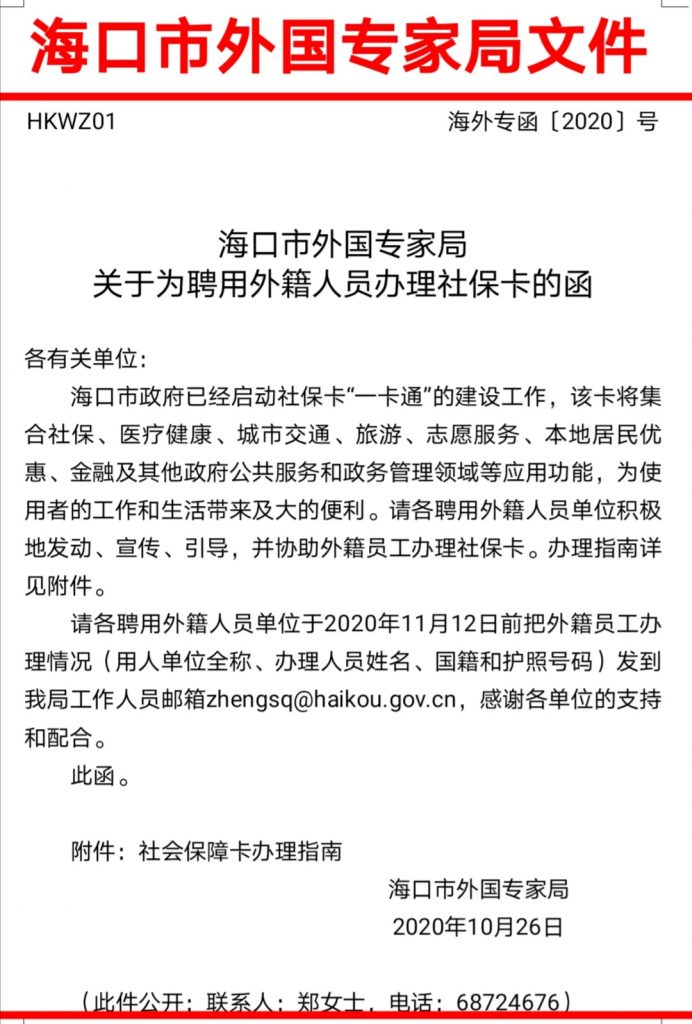 Related article: January to September 201,000 market entities registered in Hainan
Tropicalhainan.com launched it's official mini programme and WeChat account, scan the Qr code to keep up to date with news, sports, entertainment, travel, opinion and more.