September 28th, the Hainan FTP New Energy Vehicle Production and Sales Matchmaking Conference was held which saw the launch of the Haima 7X-E, Hainan's first intelligent pure electric vehicle.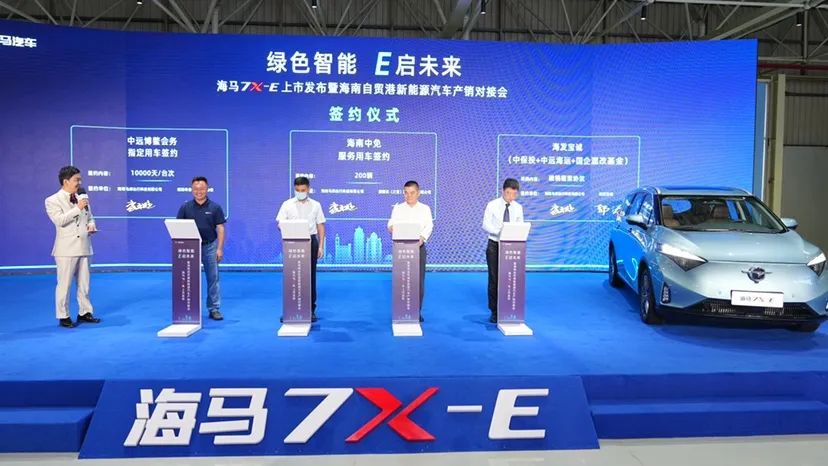 The Haima 7X-Eis the first intelligent pure electric vehicle independently developed and marketed in Hainan.The mass production of the Haima 7X-E demonstrates that Hainan has the R&D, manufacturing, production and sales capabilities for intelligent new energy vehicles, and it aims to further accelerate the pace of transformation of Hainan's automobile industry to intelligent, new energy vehicles.
The Haima 7X-E is the electric version of the best-selling Haima 7X model. Its four major features include spacious interior (with space for seven seats), long battery life, high safety standards, fully intelligent (with memory parking and other features), and a cruise range of 510 kilometres.
In addition to using CATL high-energy-density ternary lithium battery, the battery system reportedly adopts an integrated design with the lower chassis to maximise space utilisation for battery installation.
With an energy density of ≥180Wh /kg, the battery range extends to 510 kilometres. The Haima 7X-E adopts a high-efficiency three-in-one flat-wire electric drive system with a maximum efficiency of 97%, and with the E-booster high-efficiency braking energy recovery technology, the energy recovery rate is as high as 40%.  It takes 27 minutes to charge the Haima 7X-E from 30% to 80%, and 10 hours to charge slowly to full charge.
Related article: Explaining the explosive growth of China's New Energy Vehicle market

If you would like to make a comment, compliment or complaint about any aspect of living or working in Hainan Island, we'd love to hear from you. We pass all communications on to the relevant services. Please keep it polite and to the point.