The durian planting area in Hainan province now exceeds 2,000 hectares and Hainanese durians are forecast to hit the market in batches in 2024, with an expected annual supply of 45,000–75,000 tons, according to guojiguoshu.com.
Durians are an acquired taste, some people regard the durian as having a pleasantly sweet fragrance, whereas others find the aroma overpowering and unpleasant.
The smell evokes reactions from deep appreciation to intense disgust, and has been described variously as rotten onions, turpentine, and smelly socks.
The persistence of its odour, which may linger for several days, has led certain hotels and public transportation services in Southeast Asia to ban the fruit.
Durian trees were first introduced to Hainan in the 1950s. Unfortunately, due to poor cultivation techniques, the trees did not bloom or bear fruit.
In 2019 however, 44 durian trees were re-introduced in Baoting and successfully bore fruit, sparking a new enthusiasm among Hainanese growers.
In Baoting, Sanya, Ledong, Lingshui and other southern cities and counties, what began initially as sporadic cultivation has developed into a production area of more than 2,000 hectares.
Local scientific research institutes became involved and began to explore novel plans for pest control and water and fertilizer management, and the survival rate of durian saplings has increased to over 95%.
The global durian fruit market size was valued at USD 17.6 billion in 2018.
Rising awareness about health benefits of durian, including antioxidant, anti-aging, antidepressant, cancer prevention, and maintenance of blood sugar levels, has been fuelling the demand for the product across the world.
This fruit is considered a rich source of the vitamin B complex, vitamin C, dietary fibre, potassium, and iron.
According to the Hainan Academy of Agricultural Sciences, the Hainan durian industry has developed rapidly in recent years.
They have recommend a strategy of first planting in the mountainous areas of southern and central Hainan before gradually expanding northwards.
The academy stated that "it would employ technical means to increase the supply of high-quality seedlings to meet the growing demands of farmers and planting companies while advocating the legal introduction of high-quality seedlings from abroad, as well as using local durian trees for grafting and propagation."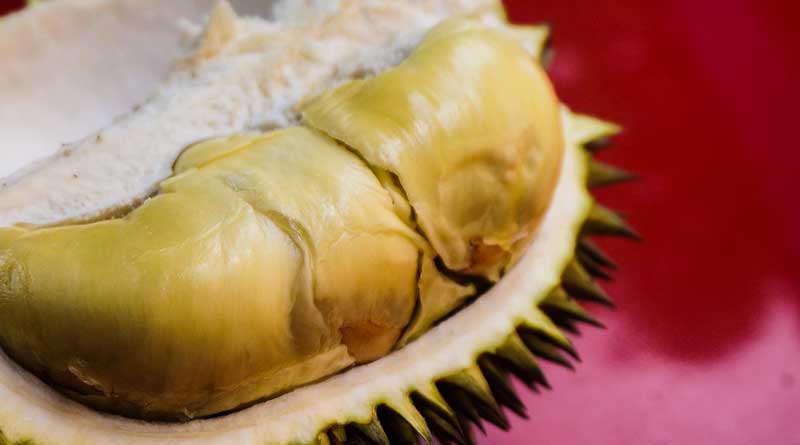 At the Hainan Baoting Huasheng Rambutan Plantation, the trees have been harvested for three consecutive years and the plantation has expanded its durian planting area to 200 mu (33 acres).
At present, there are 40 fruit-bearing durian trees in the plantation. High-yielding trees can produce a harvest of 30 durians each. According to the plantation's estimates, the yield is expected to reach 1,500–2,500 kilograms per mu after full-scale production.
Related article: Do not crush the Paederus (Rove Beetle)
If you would like to make a comment, compliment or complaint about any aspect of living or working in Hainan Island, we'd love to hear from you. We pass all communications on to the relevant services. Please keep it polite and to the point.