June 15th, a promotion meeting to launch a swimming education initiative for primary and secondary school students was held in Haikou.
It is now required that primary school students across the province have to learn how to swim by the end of August and all students from grade four to grade three in junior high school must learn to swim by the end of November. Schools are now required to actively promote swimming education amongst primary and secondary school students as a priority.
As a part of the initiative, swimming pools will be built and put into use across 13 towns that previously didn't have them by the end of 2021.
To ensure that swimming education for primary and secondary students runs according to plans, supervision over safety management, training processes, qualification assessments and facilities will be enforced.
Schools have ben told to ensure that all the completed swimming pools are put into use, training is carried out and issues are dealt with accordingly.
Benefits of swimming
Swimming is one of the most effective ways to burn calories: 30 minutes exercising in the water is worth 45 minutes of the same activity on land. Regular swimming can lower stress levels, reduce anxiety and depression and improve your sleep patterns.
According to the The Health and Wellbeing Benefits of Swimming report, June 2017 Swimming also improves heart health, lowers blood pressure, improves lung capacity, increases bone strength and reduces joint pain as it is a low impact sport. Regular swimming can help to reduce long-term health conditions such as heart disease and diabetes by up to 40 per cent.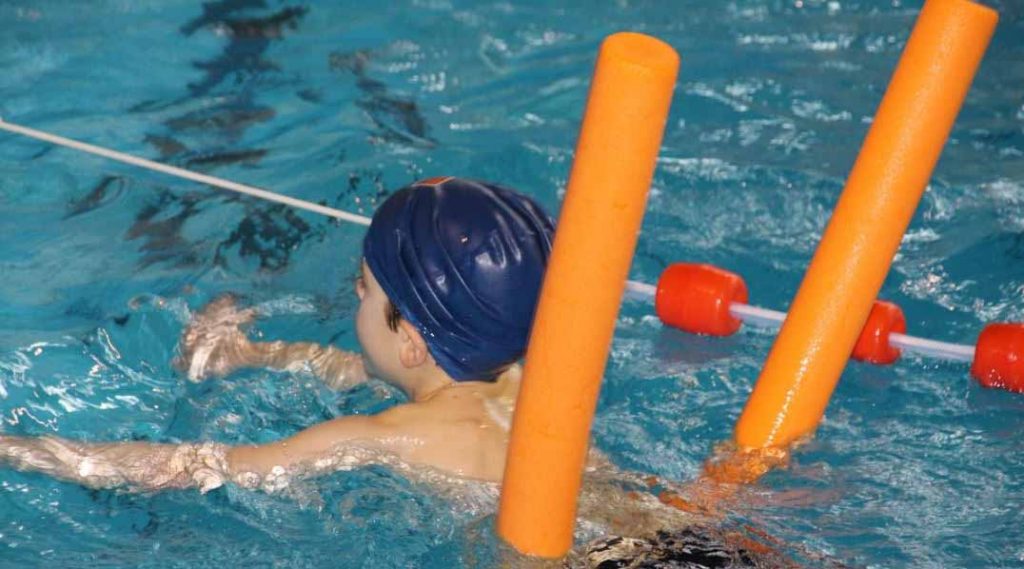 Aside from the health benefits of swimming, one of the greatest benefits to learning how to swim is having the ability to save oneself and offer a helping hand to others in emergency situations.
Each year it is not uncommon to hear across local news channels about fishermen and children drowning in sea water, rivers and lakes in Hainan.
According to stopdrowningnow.org around 3,400 people die from drowning each year and drowning is the leading cause of death for ages 1- 4, followed by age group 5-9 years.
Males are especially at risk of drowning, with twice the overall mortality rate of females.
Children 5 to 17 years old are more likely to drown in natural water, such as ponds or lakes.
The new initiative to promote swimming education and water safety to students will surely have a positive effect on future generations. Students who learn these valuable skills and gain confidence in the water while they are young will then be able to pass on this knowledge on to their children, family members and friends.
Advice to tourists on water safety in Hainan
If you are coming to visit Hainan, then there's a high chance you are going to end up at one of the many beaches on the island. Most of the touristy beaches such as the ones in Sanya are sign posted with information on where to swim, have life guards on duty and there are generally lots of other people around to help sgould an emergency situation should arise.
There are lots of wild beaches and bays on the island (off the beaten track) that have very little support should you find yourself in an emergency situation. If you visit one of these beaches then one of the main things to look out for is rip tides.

Rip tides account for a large percentage of beach rescues across the globe and if help isn't at hand you'll need to know how to self rescue from a rip.

1. A rip current is a narrow, fast-moving channel of water that starts near the beach and extends offshore through the line of breaking waves.
2. It won't pull you under, but it will drag you out to sea. Try and stay calm.
3. Rips are very powerful, don't fight it, you'll just grow tired – instead float!
4. Wave and yell – try and get the attention of people on shore or boats.
5. Try and swim parallel to the shore to escape the rip, then swim at an angle back to shore
If you see someone caught in a rip tide, don't go in after them. Call for help and throw something in the water that floats or extend an object for them to grab a hold of.

Rip tide information from Ocean Today. For more information and videos, click the link
Related article: Hot tips for keeping your doggies cool this summer