Recently, the Ministry of Education, in conjunction with the General Administration of Market Supervision, and the National Health Commission, issued a "Notice on Strengthening the Hygiene Safety and Nutrition and Health Management of School Canteens."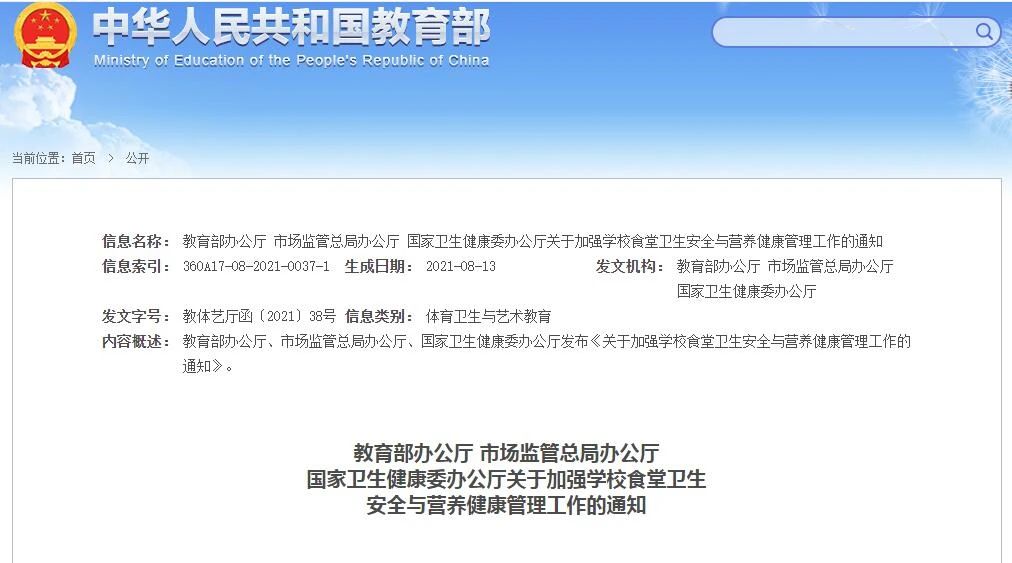 The notice stated that primary and secondary schools and kindergartens shall not produce and sell cold meat, raw food, decorated cakes or high-risk foods such as green beans, wild mushrooms or sprouting potatoes.
Also in the notice; the school canteen must be kept at a prescribed distance from toxic and harmful areas and other sources of pollution.
Sufficient hand-washing facilities and supplies should be provided in food handling areas, dining areas or nearby.
Water used in the school canteen should meet the national sanitary standards for drinking water and facilities for preventing flies, rodents and insects should be intact and well maintained.
Schools should be equipped with qualified full-time or hired food safety and nutrition and health management personnel in accordance with technical guidelines and standards.
Student meals should be diverse, balanced in nutrition, with a variety of fresh vegetables and appropriate amounts of fish, poultry, eggs and milk.
School cafeterias should regularly listen to the opinions of diners to ensure the quality of dishes and staple foods.
Canteens are required to reasonably reduce salt, oil, and sugar and use less cooking methods that may produce toxic and harmful substances such as frying.
The interval between cooking and consumption of student meals shall not exceed two hours, and food products shall be kept for more than 48 hours according to the prescribed amount.
Schools should encourage the implementation of small dishes, half dishes, set meals and other measures to curb food waste.
Hygiene requirements; the school canteen should keep the internal and external environment clean and tidy, keep the ground dry, clean and disinfect regularly, ventilate for more than 30 minutes after each meal, remove kitchen waste in time, and classify their garbage.
Canteen employees shall have health examination before each semester and obtain a health certificate.
They are required to maintain good personal hygiene and professionalism, and wear masks and clean work clothes during work.
Morning and afternoon inspection system should be Implemented, and where canteen staff have a cough, diarrhoea, fever, vomiting or other symptoms occur, they should leave their jobs in time and report their condition to the school.
Related article: New educational policies teachers need to know, coming into effect Sept 1st