Located on the 43rd floor of the Langham Haikou, T'ang Court Haikou is one of a chain of three restaurants in China that share the name, the other two located in Hong Kong and Shanghai both have a rating of three stars in the Michelin Guide.
In May of this year, tropicalhainan.com was invited by the Langham Hotel Haikou for a specially tailored seven-course lunch tasting menu by their "China Platinum Five Stars Executive Chef" Alex Chow, to sample his 21st century fusion of authentic Cantonese and Hainanese culinary dishes.
We were greeted at the entrance of T'ang Court by Chinese Restaurant Manager Vicky Huang and shown to a private dining room, an airy, open attractive space with floor to ceiling windows overlooking Haikou city. The room had a typical Chinese lazy Susan set up and could easily accommodate up to eight people comfortably with plenty of elbow room to spare. Perfect for our intimate little gathering.
Sipping chrysanthemum tea that was subtle, refreshing and crisp with a lingering floral aroma we chatted and gazed at the city below as we settled in ready to begin our journey through Southern Chinese cuisine.
Fresh fruit platter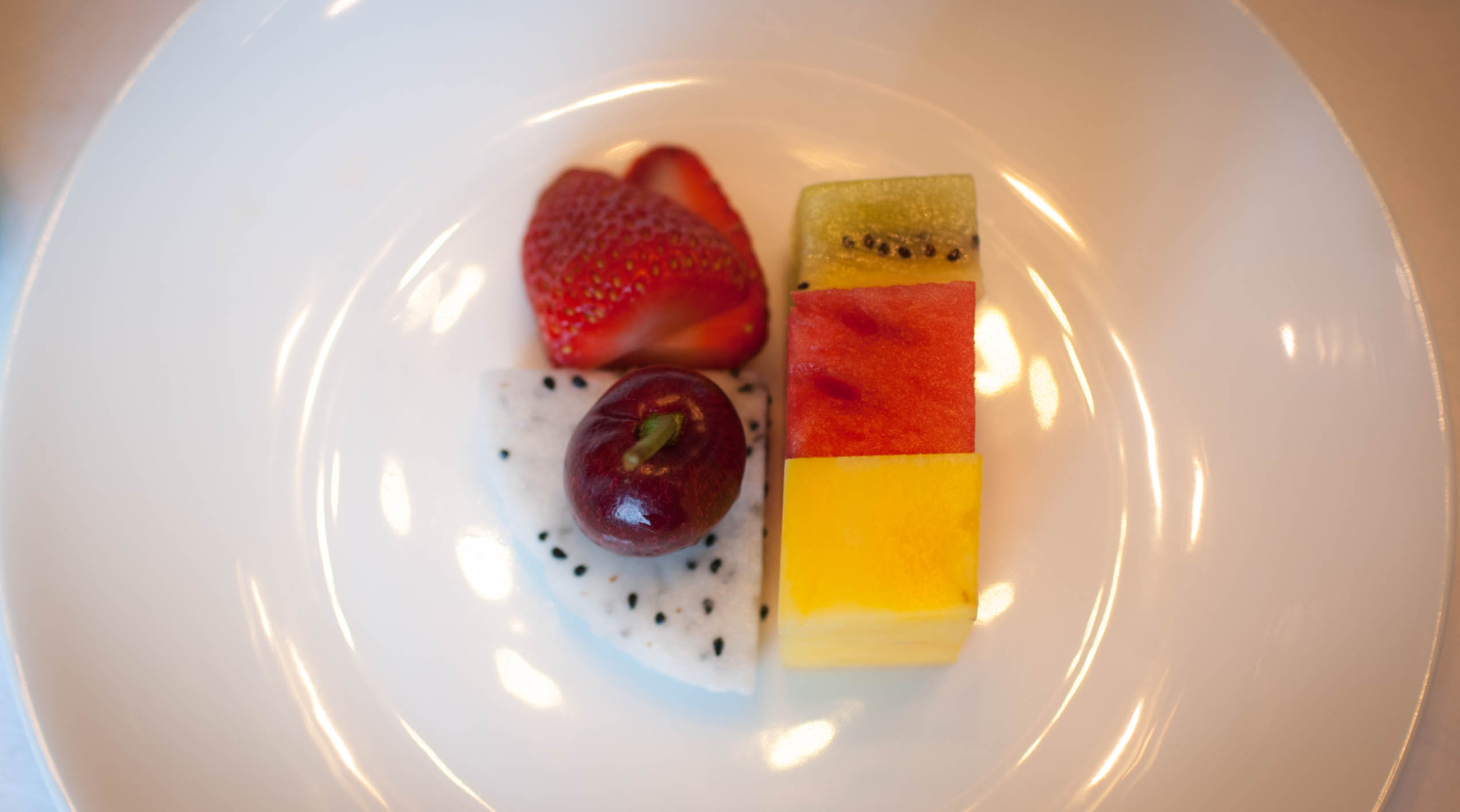 The first course was quickly brought out, a simple but well-presented fruit platter of kiwi, watermelon, mango, strawberries, dragon fruit, and a single cherry. A typical Cantonese starter and all wonderfully fresh.
Deep-fried prawn ball & lotus root with sugar and plum sauce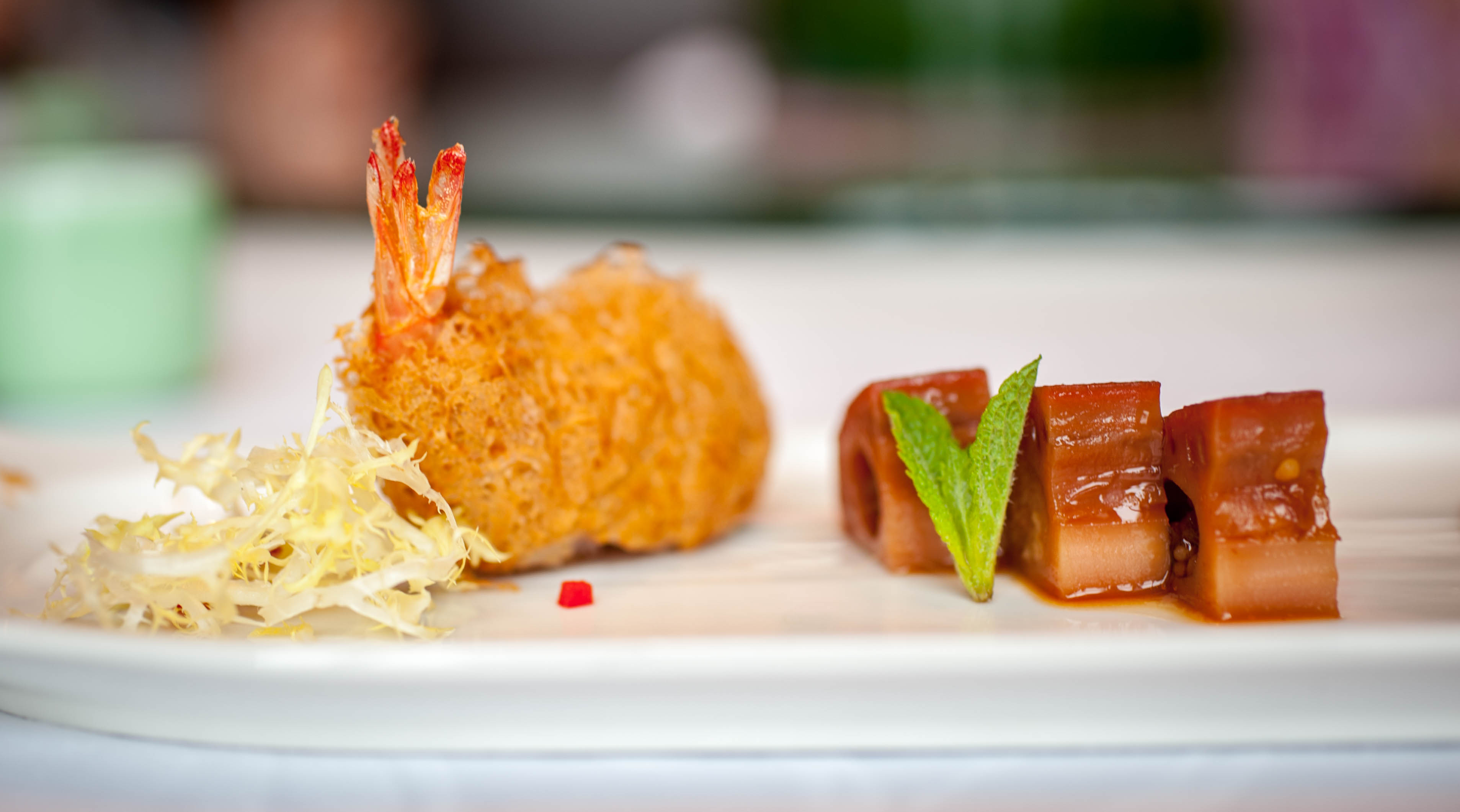 After a short wait, we were presented with a palate opener of four very different bite-sized dishes. The first (from left to right) was a deep-fried prawn ball with taro paste. Three different textures and flavours immediately hit the palate, there was the salty and light crunch of the deep-fried exterior, the mashed potato-like and sweet innards of the taro and the final, harder crunch and oceanic flavour of a freshly caught prawn, delicious.
Next was the lotus root with sugar and plum sauce. This one in particular was a textural delight; anyone who has had lotus root in a hot pot or stir-fried knows it generally to have a crunchy texture, the T'ang Court version of lotus root was actually quite soft, a little chewy, and very sweet, but not overwhelmingly so.
Tangled Jellyfish with wasabi mustard & lettuce roll salad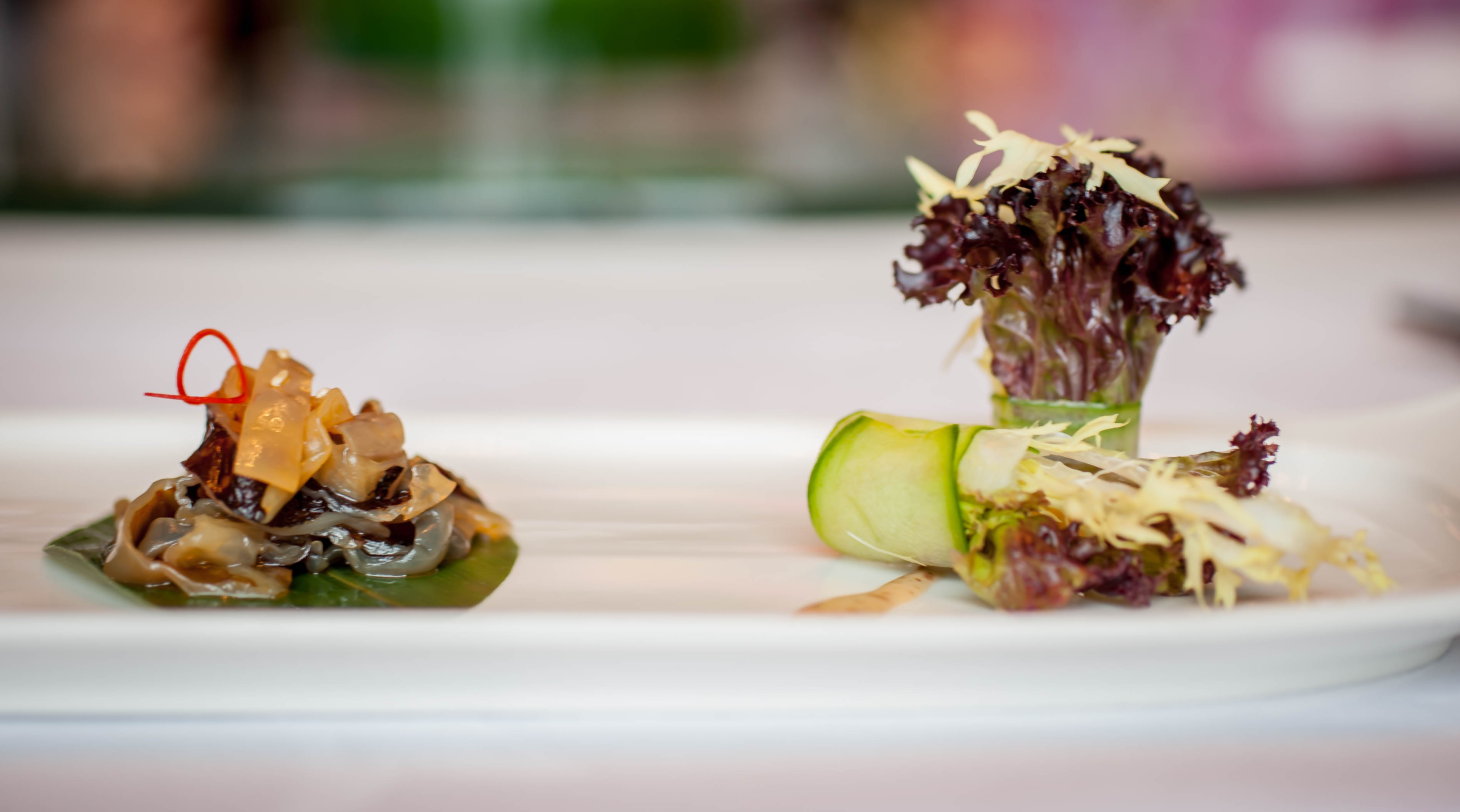 Moving on further to the right was a beautifully tangled Jellyfish with wasabi mustard presented on a small banana leaf; this was definitely the most jarring of the four. Initially you are met with the pleasing crunchiness of the jellyfish and after chewing a bit the wasabi kicks in doing what a great wasabi does best, smacking your senses for six with its intensity and leaving you with an incredible and refreshing aftertaste.
The final offering was a bite-sized cold lettuce roll with salad, which was a perfect follow-up. Cold, dry, lightly seasoned, crunchy and refreshingly bitter, a cooling off to prepare the palate for the soup that was to follow.
Hot and sour seafood with fish maw soup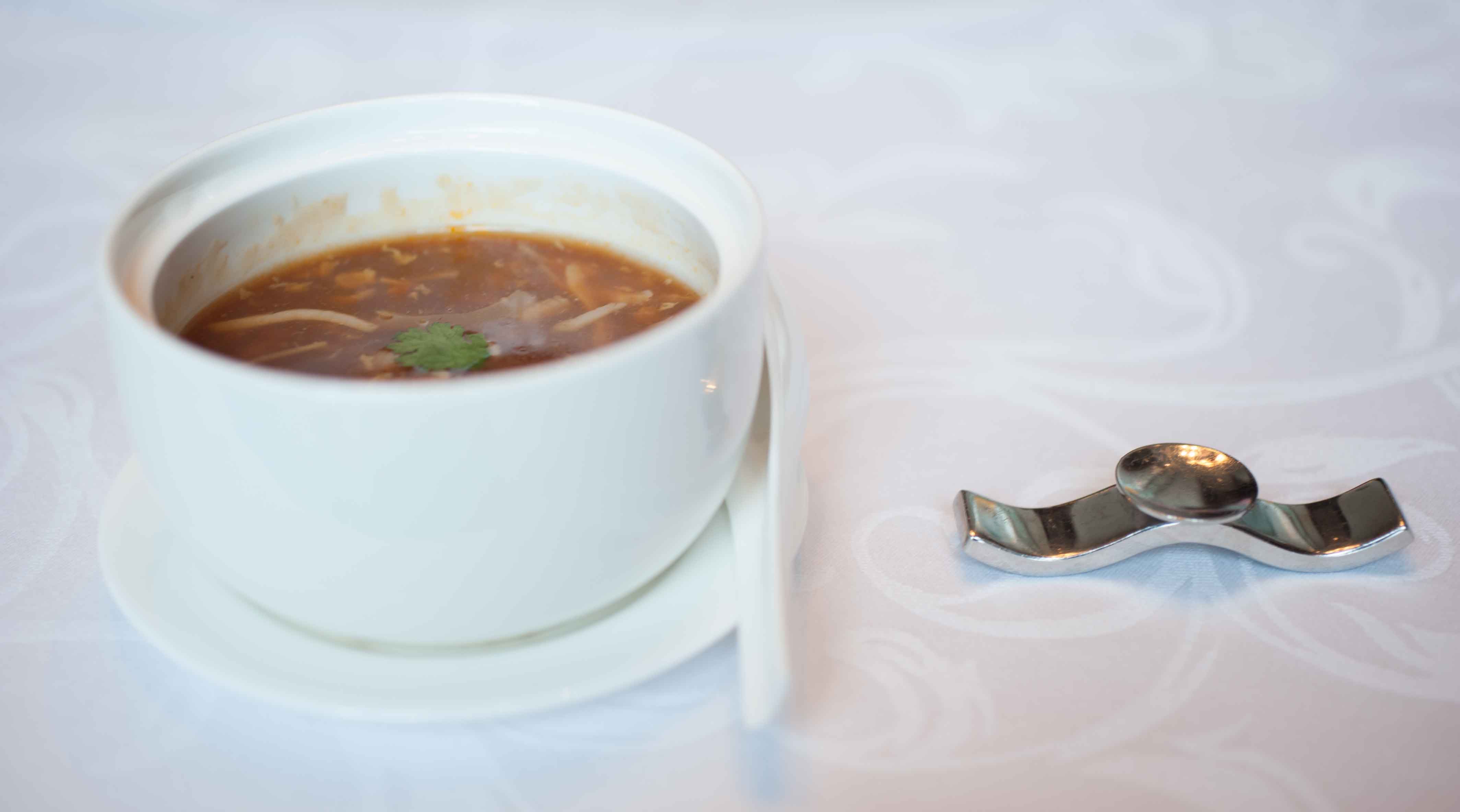 The hot and sour seafood with fish maw soup was a thick velvety broth full of a variety of pleasing textures and tastes. We were informed from the outset that it was going to be spicy, and fiery it was. The soup was peppery with the perfect balanced between spicy and sour. Chef Alex demands the kitchens provide only the best so he personally selects the finest seafood ingredients. Dishes must be served not a minute too soon or late otherwise it loses the moment of best taste. In our potage, this carefulness was decisively detectable. Chef Alex is an expert at marrying sour with spicy.
Suckling pork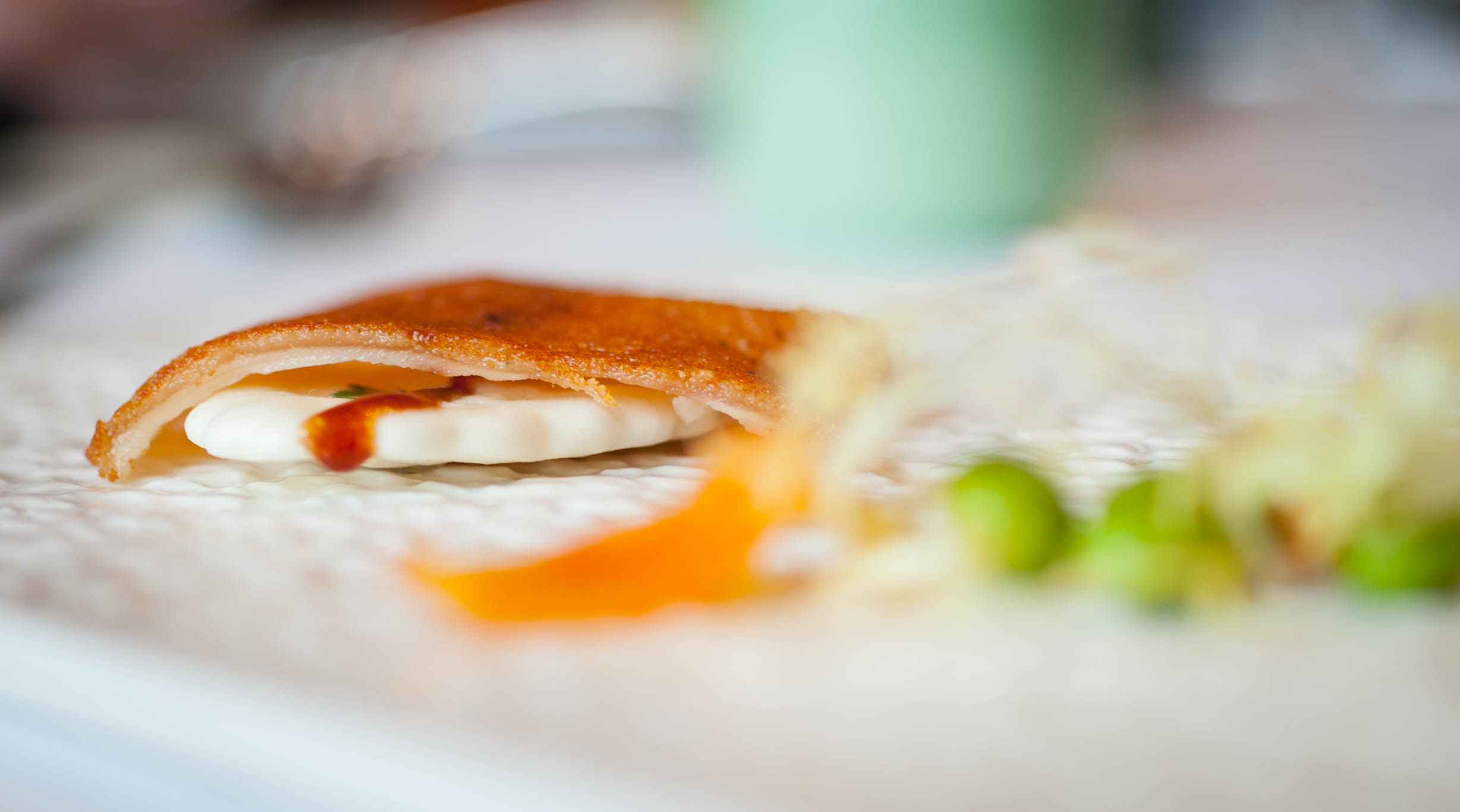 Any Cantonese dinner would be empty without chicken and suckling pork, and again, T'ang Court is authentic in its delivery of Cantonese cuisine, and the roasted suckling pork was an absolute joy. We were served thin and crispy pieces of suckling pig skin on steamed bite-sized pieces of circular flat breads with a light drizzling of thick sweet sauce. It was incredibly crisp with just the right amount of fat, neither dry nor oily, flavourful with great textures that demanded attention.
Crispy chicken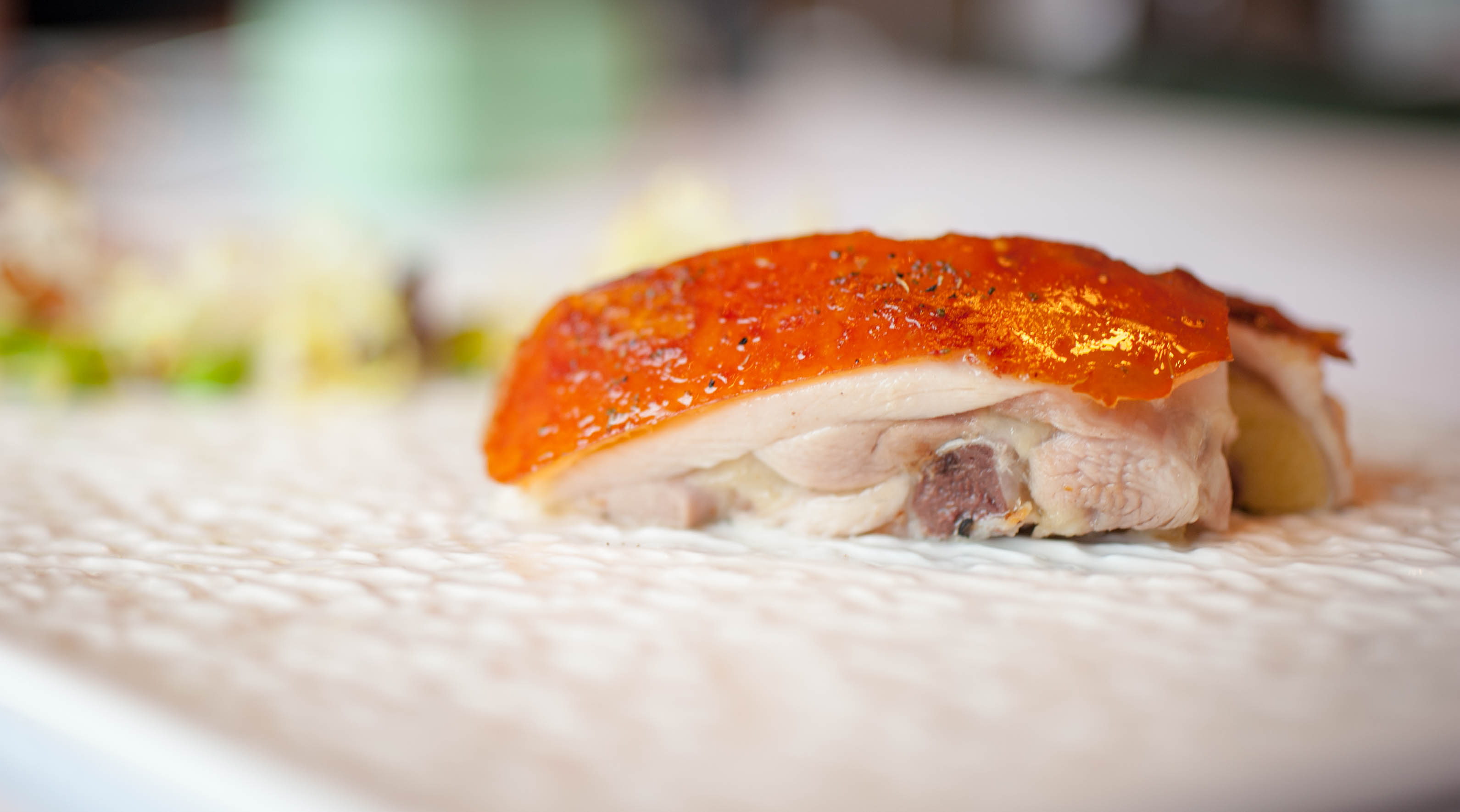 The crispy chicken was a more standard affair and a bit underwhelming when put right next to the pork, though given that this was T'ang Court we were eating at, it was still a great piece of chicken.
Steamed cod with preserved vegetables
With the small bites finished we moved on to the steamed cod with preserved vegetables, another standout dish as a result of both the preparation and the incredible freshness of the ingredients. The fish was steamed with such precision that it melted in your mouth. Coupled with a light drizzle of oil and preserved vegetables with soy sauce this dish was exceptional, just as delectable and sophisticated as the restaurant itself.
Pan-fried oyster cake and assorted mushrooms with truffle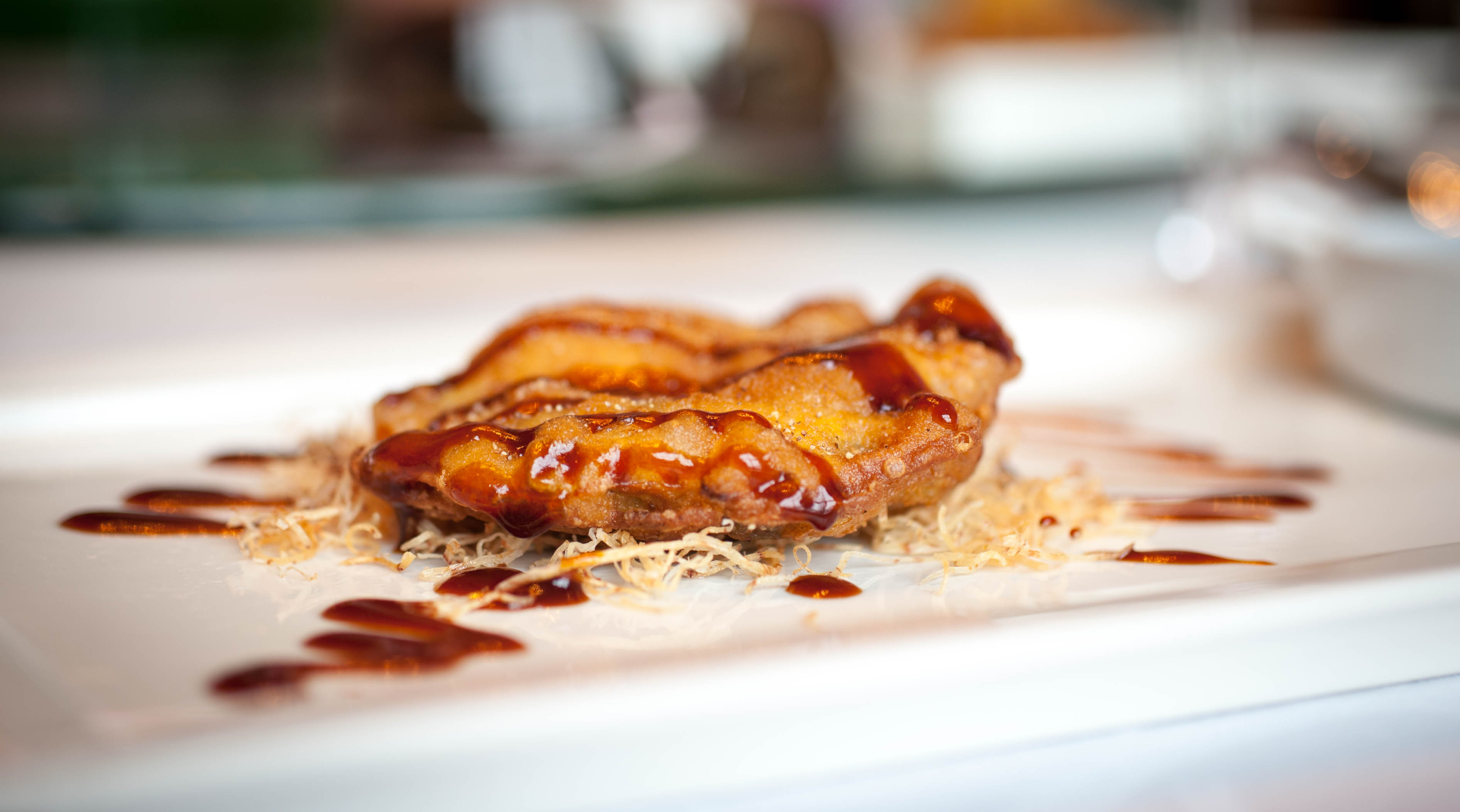 As if our palates hadn't been tantalized enough, the second to last course arrived, pan-fried oyster cake and assorted mushrooms with truffle Wrapped in Japanese tofu. Knowing earlier that the chef had tailored the meal to a western palate, I wasn't surprised to see a dish featuring the most valuable of all fungi, but I was ecstatic that I was eating it in a Chinese dish; it was excellent. The oyster cake was perfectly seasoned and fried in batter to perfection, crunchy, juicy, and unbelievably flavourful.
Hand-made noodles with green peppers and homemade XO sauce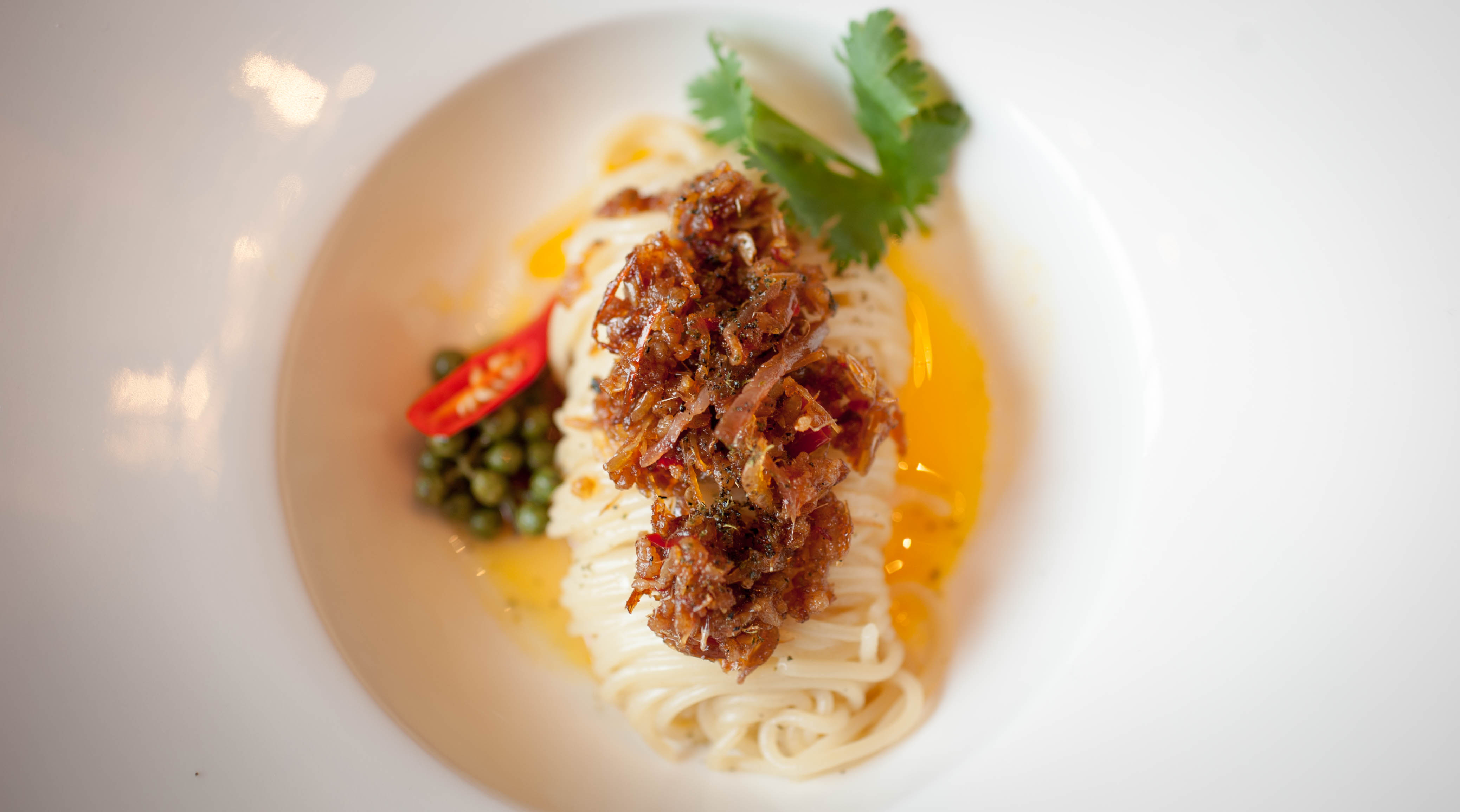 The last dish to hit the table was a bowl of hand-made noodles with green peppers and homemade XO sauce. The flavours were well-balanced and spices were used in modest amounts, just enough to enhance the dish. The noodles were fresh, soft with good texture, absorbed the flavours and were melt-in-the-mouth good.
A magical desert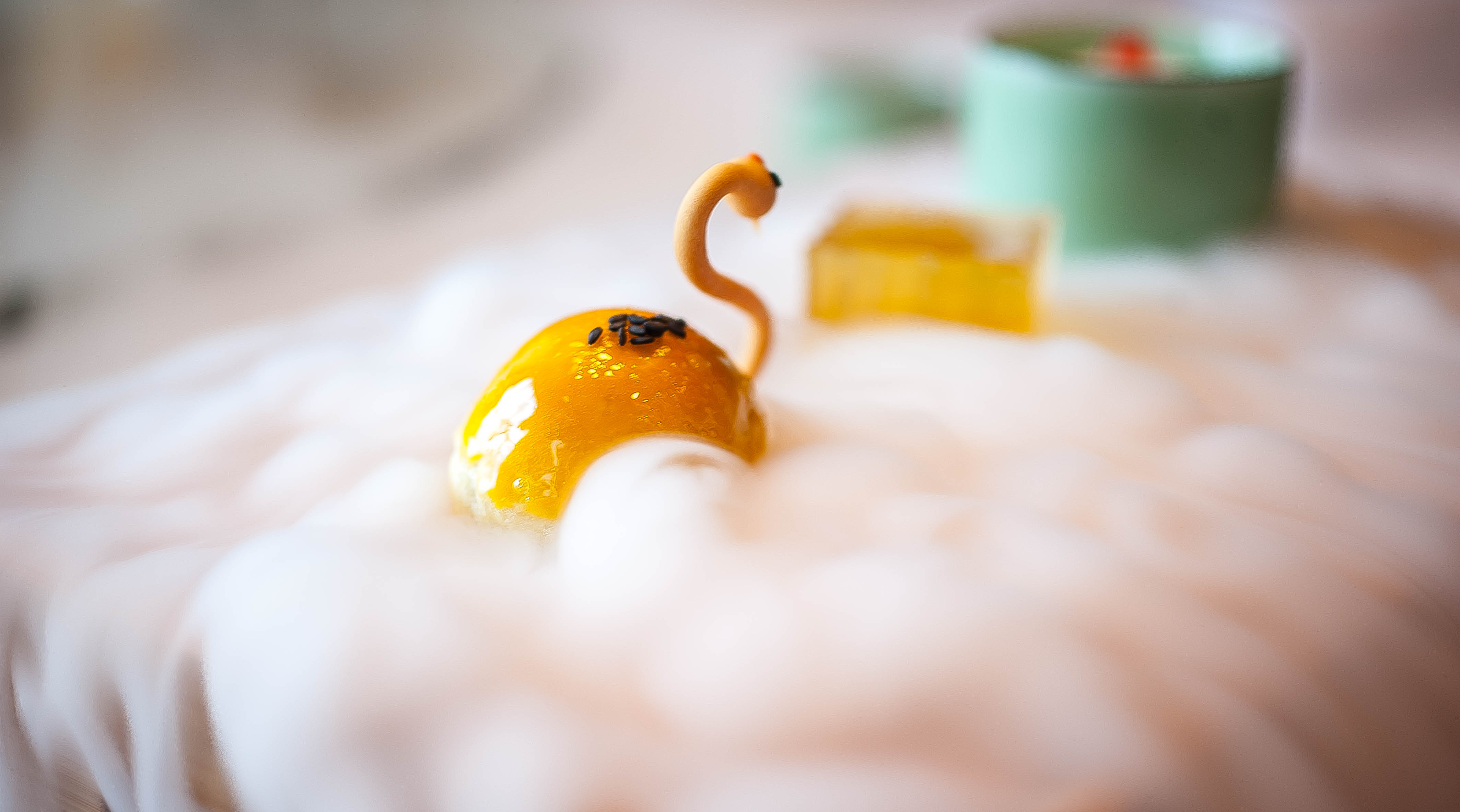 After a slightly longer break than between the preceding courses, dessert came in spectacular fashion. It was all beautiful presentation and dry ice. What do you do when you've already shown your guests one of the best times they've ever had? "Make Magic." is T'ang Court's answer, and magic it was, with dry ice blanketing the table and tumbling down to the floor.
On the left of our bamboo boxes was a beef puff with black pepper in the shape of a swan, a savory and spicy beginning to our dessert, which really prepared the palate for the light sweetness and bounce of the Mango Jelly, this in turn brought us to the sweetened coconut with mousse and bird's nest, a light and fluffy end to our dinner.
T'ang Court is not only a restaurant with a world-class menu but one of the finest restaurant I have eaten at in Hainan, and for that matter, one of the finest in East Asia. Featuring some of the most incredible and creative takes on Chinese cuisine I have ever tasted, it is exemplary of Haikou's desire to be a destination that people come to for more than just sun and fun. The service was, for the most part, excellent, the wine pairing choices were razor-sharp in their accuracy, and the food was, for lack of a better term, superior.
In only a few short years Haikou has transformed itself as a 21st century foodie paradise and I for one am eagerly looking forward to the next development.
T'ang Court: 9/10
You can read our review on the Langham Hotel Haikou here