A tropical depressions is currently forming in the South China Sea. Hainan is expected to recieve strong gusts, heavy rainfall and storms from the 5-8 July.
According to the Hainan Provincial Meteorological Observatory, the tropical depression formed on the night of 5 July in the south eastern part of the South China Sea. Afterwards, the low pressure began moving to the northwest, gradually approaching the east of Hainan.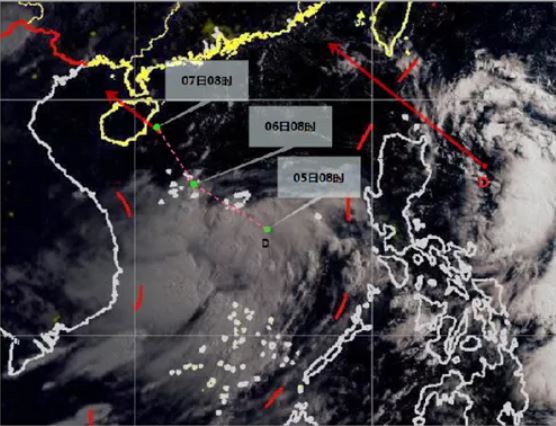 In addition, a tropical depression east of Luzon Island in the Philippines formed at 8 o'clock yesterday morning. Its centre is about 1100 kilometres east of Shantou, Guangdong Province.
It's epected that it may develop into a typhoon in the next 12-24 hours and it will be close the junction of Guangdong and Fujian from the afternoon to the evening of the 6th. Coastal landing: tropical depression or tropical storm level, 7-8 level, 15-20 m/s.
Affected by the tropical depression in the South China Sea, there will be strong wind and rain in the south-eastern part of the South China Sea, Xisha, Zhongsha and Hainan Island from July 5th to 7th; strong wind and rain will occur on Hainan Island from 6th to 7th.
Related article: Hot tips for keeping your doggies cool this summer