Two districts in Haikou make the Huren top 100 list for regions with most investment potential.
On December 6 the Hurun research institute released the "2020 Hurun China's Top 100 Regions with the Most Investment Potential"
This year, Haikou City's Longhua and Meilan Districts made the list, with Meilan District's green development ranking tenth with 93.5 points.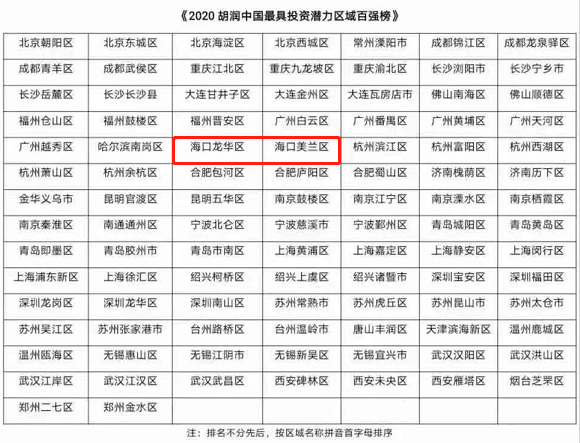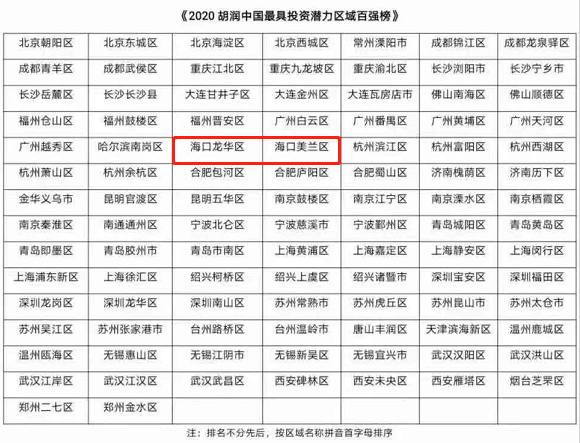 The list is a comprehensive assessment of the regional investment potential covering 570 regions across the country.
The Hurun Report is an authority that tracks changes in China's entrepreneurial community. Hurun first created the list in 1999 and since then has also compiled a global & China's rich list, amongst others, each year. it also owns the magazine Hurun Report along with a series of forums and events.
The top 100 areas with the most investment potential are selected based on environmental ecology, characteristic culture and technological innovation. List assessment also takes into account factors including economic strength, population size, education and medical care.
Pudong New District of Shanghai topped the list, followed by Shenzhen Longgang District, Beijing Chaoyang District, Shenzhen Baoan District and Beijing Haidian District.
The selection is based on 8 primary categories, and 20 secondary categories.
Different levels are assigned according to the importance of each category.
Primary elements measured are divided into economic indicators including economy, population, transportation with soft economic indicators including social governance, green development, technological innovation, public resources and culture.
Secondary elements measured include GDP per capita disposable income, business environment, urbanization rate, permanent population size, transportation location, community services, diversity of participants, smart community construction, ecological environment, ecological construction, "double innovation" platform construction, R&D potential, technological innovation vitality, education, medical care, cultural industry clusters, cultural and creativity promotion, historical and cultural inheritance and comprehensive reading rate of residents.
Urbanization rate of the permanent population: The data comes from publicly disclosed information such as the China City Statistical Yearbook, Statistical Bulletin, corporate annual reports, industry reports, and relevant economic data, combined with information compiled by expert interviews.
According to data from the National Bureau of Statistics, as of the end of 2019, the urbanization rate of the permanent population in China had reached 60.6%, an increase of 1% over the previous year.
In the 2020 Hurun China's Top 100 Regions with the Most Investment Potential list the urbanization rate of permanent residents in 15 regions including Nanjing Gulou District, Shenzhen Bao'an District, Guangzhou Tianhe District, and Yanta District of Xi'an reached 100%, which is 60.6% higher than the national average.
In terms of GDP: Shanghai Pudong New Area had the highest GDP in 2019, reaching 1.27 trillion yuan, an increase of 7% over 2018.
In terms of per capita disposable income of residents: Xicheng District of Beijing had the highest per capita disposable income in 2019 reaching 88,000 yuan, an increase of 8% over 2018.
In terms of environmental ecology: Wenling City in Taizhou performed best in terms of environmental ecology. Last year, the number of days with good air quality was 362 days, with an excellent rate of 99.7%.
In terms of research and experimental development funding: In 2019, the national investment in research and experimental development was 2.2 trillion yuan, an increase of 12.5% year-on-year, and the ratio to GDP was 2.2%, an increase of 0.1 percentage points from the previous year.
Related article: Hainan's GDP increased by 1.1% within the first three quarters of 2020
Tropicalhainan.com launched it's official mini programme and WeChat account, scan the Qr code to keep up to date with news, sports, entertainment, travel, opinion and more.