Unlock Central Hainan – A practical guide to ticket purchase and catching the bus on Hainan Island.
Hainan Island is full of interesting places to go visit. Clearwater bays, mountains, fresh water lakes, ancient villages and there's even a volcano.
Due to the high speed rail road which loops around the island the most accessible parts of the island are the coastal towns; Haikou, Wenchang, Qionghai, Wanning, Lingshui, Sanya, Dongfang, Danzhou, Lingao etc.
Purchasing a ticket and catching a train to one of the above destinations is regarded as a simple affair by most and in less than a couple of hours, it is possible to reach some of the hottest spots on the island.
Unlocking more of Hainan will take a little more planning and exploration. In this article we will highlight some new areas and guide you on how to discover central Hainan.
The high speed rail loop doesn't pass through central Hainan, so if you wish to venture inland, your options are taxi, bicycle and bus.
There are four bus stations in Haikou.

Haikou Transportation Center 海口汽车总站
Address: 龙华区迎宾大道5号
No.5 Yinbin Avenue, Longhua District

Haikou East Station 海口汽车东站
Address:琼山区海府路148号
No.148 Haifu Road, Qiongshan District

Haikou West Station海口西站(省际总站)
Address: 秀英区海秀西路156号
No.156 Haixiu West Road, Xiuying District

Port Station (Xiuying port)港口客运站(秀英港)
Address: 滨海大道102号 No. 102 Binhai Avenue
Haiqi Group
The bus routes are run by Haiqi Group, which was founded in November 1951 and it is the leading enterprise in the Hainan road transportation industry.
Their transportation services cover line passenger, tourism, taxi, logistics express delivery, car maintenance and more.
How to purchase a ticket
Using the Haiqi Group Wechat official account users are able to book travel tickets up to five days in advance. It is also possible to buy travel tickets directly at the bus terminal.
Documents accepted for ticket purchase: Chinese ID card, Passport, Permanent Residence ID.
The account is in Chinese, but if you follow the steps below you shouldn't have much trouble.

Find the official account by searching 海汽客运 Hai qi ke yun in the Wechat search bar.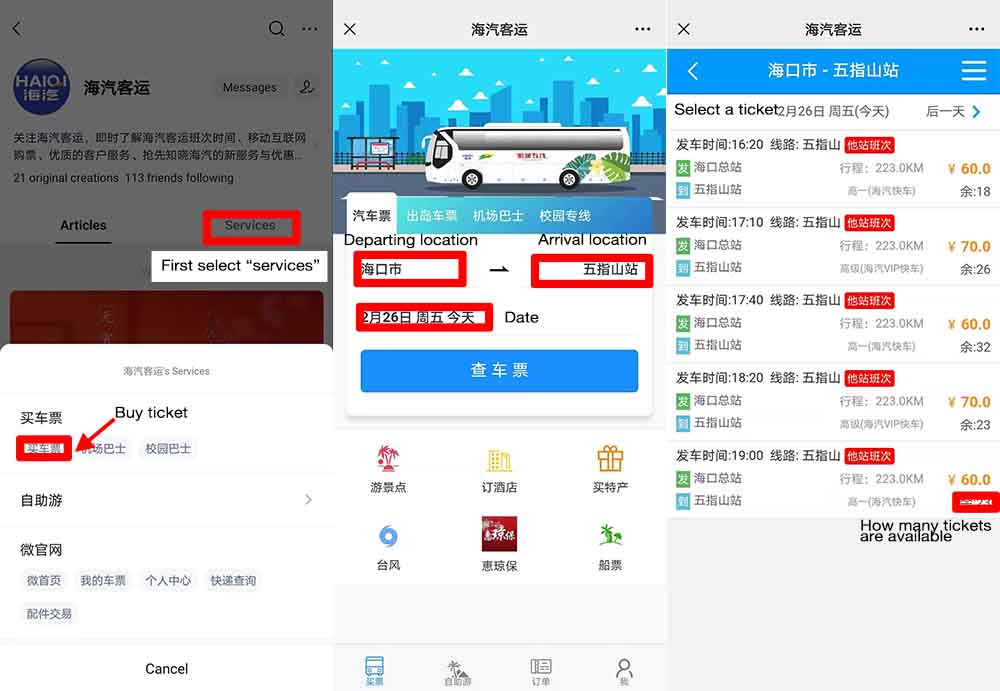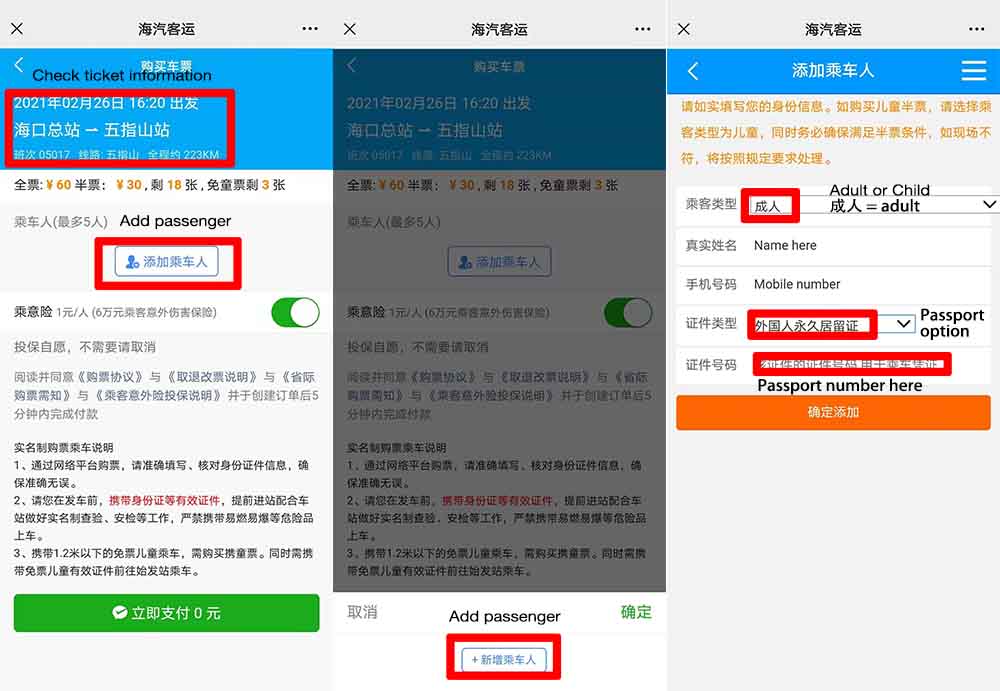 Related article: China Mainland to Hainan by car – How to
Tropicalhainan.com launched it's official mini programme and WeChat account, scan the Qr code to keep up to date with news, sports, entertainment, travel, opinion and more.