Everyone in Old Town Haikou knows Dongmen Market. It is one of the three major wholesale markets in Haikou City.
It is one of the largest and oldest traditional farmers market in old Haikou and it is known locally as the place to go to for dry goods.
The market is located on the intersection of Xinmin East Road, Sanya Street (the two are connected) and Dadong Road.
Today's farmers' market covers an area of hundreds or possibly even thousands of square meters.
Stalls on both sides of the street are permanent structures dating back to the 20's and 30's with corrugated rooves and extendable awnings so people can shop in the shade.
As a rough guide, Xinmin East Road specialises in dry goods and seasonings, along Sanya Street you can buy seafood, the intersection with Dadong Road mostly sells poultry, eggs, meat, and snacks while the central area sells vegetables.
It is said locally that "in Dongmen Market, any type of food can be found anytime". Whatever the festival, if you want to buy traditional festive foods and snacks, Dongmen market is to place to go to.
Different counties in Hainan will each have their own preferences for flavours and ingredients but generally speaking, zongzi here are made from glutinous rice, salted egg yolk, barbecued pork or preserved meats.
Hainan is particularly famous for Dingan black pork zongzi, Danzhou Luoji zongzi and Chengmairui xi zongzi, all of which can be found in Dongmen market.
And should you feel particularly brave and adventurous, you can also pick up all the raw ingredients necessary to make your own.
Dongmen market (although not as busy now as it was before COVID), can get quite hectic at times, especially during early mornings with traffic whizzing along the narrow streets on e-bikes, bicycles, tricycles and on foot.  
As Hainan has a tropical climate, keeping food chilled is essential. With Dongmen being such an old market there is limited space for refrigeration and a huge demand for a constant and steady supply of ice.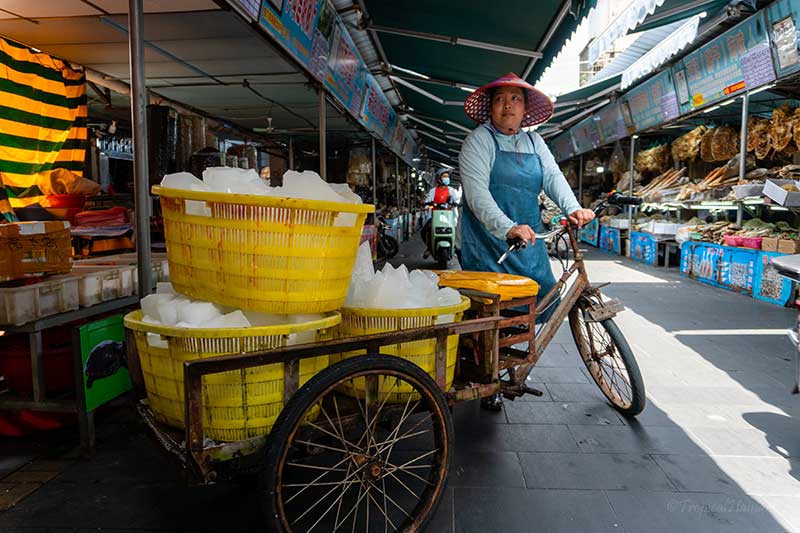 Dongmen market is full of the energy, sights, sounds and aromas of Old Town Haikou. So, whether you're looking for fresh seafood, herbs and spices, dried goods or tradition foods and snacks like zongzi and sticky rice buns, this is the place to go.
Location: type 海口东门市场 into Baidu maps or Didi.
Related article: Night Food Market in Haikou
If you would like to make a comment, compliment or complaint about any aspect of living or working in Hainan Island, we'd love to hear from you. We pass all communications on to the relevant services. Please keep it polite and to the point.