Hainan Province 2020, annual average wage across the island
September 8th, the Department of Human Resources and Social Security for Hainan Province issued a notice on average wage data of employees in Hainan Province for 2020.
According to the notice, in 2020, the average annual wage of employees in the province was 89,642 Yuan.
The average annual wage for workers in Chengmai County ranks highest with 102,995 Yuan.
According to the "Notice", the following had an average annual salary of;
More than 100,000 Yuan; Chengmai,
More than 90,000 Yuan; Haikou 90277 Yuan, Sanya 93152 Yuan, Wuzhishan 90875 Yuan, Yangpu 91755 Yuan, and Changjiang 93,291 Yuan.
The average annual wages of employees in other cities and counties are;
Wenchang 87,026 Yuan,
Qionghai 88,179 Yuan,
Wanning 76,331 Yuan,
Ding'an 73,253 Yuan,
Tunchang 78,974 Yuan,
Lingao 82,068 Yuan,
Danzhou 86,907 Yuan,
Dongfang 84,179 Yuan,
Ledong 89,649 Yuan,
Qiongzhong 85,515 Yuan,
Baoting 83,860 Yuan,
Lingshui 84,583 Yuan,
Baisha 82,917 Yuan.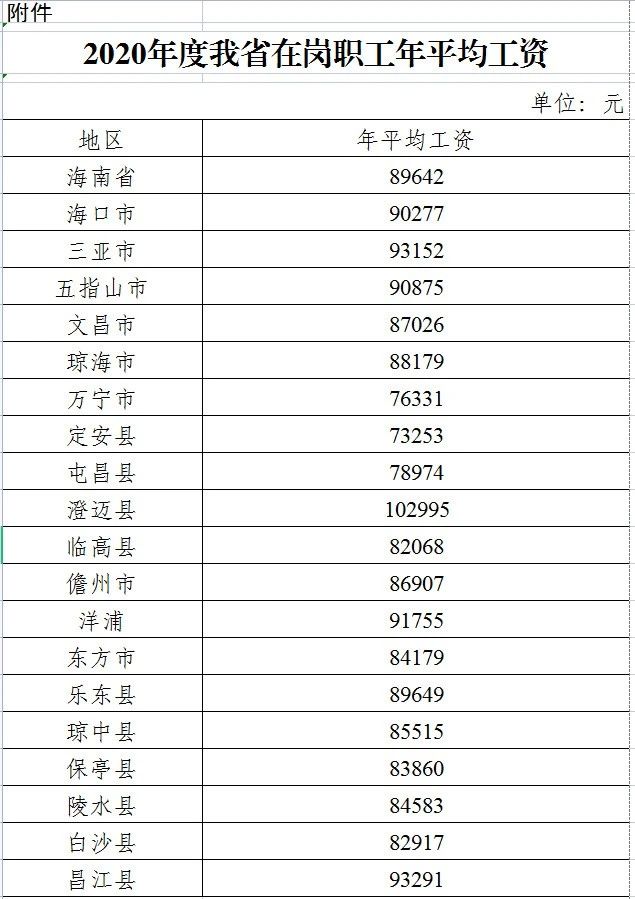 Related article: Here's why you could pay as much as 15 yuan for your next coconut