Haikou Blue sky's: three-year action plan to clean up the air we breathe
2020 saw the successful conclusion of a three year action plan to safeguard the blue skies of Haikou.
Haikou had a good air quality rating of 98.6% throughout 2020.
The average annual concentration of PM2.5 reached level 1, and it ranked the first among 168 key cities in China.
According to the World Health Organization there are around 7 million deaths each year as a result of fine particles in polluted air and 91% of the world's population live in places where the air exceeds WHO guideline limits.
For a comprehensive look at the pollutant levels in any city around the world visit www.iqair.com. The website also includes live weather, wind and pollution maps.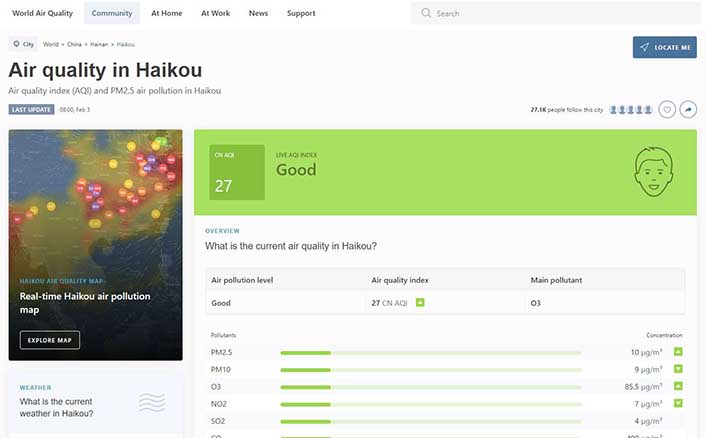 A spokesperson for the Municipal Bureau of Ecology and Environment said that Haikou's 3-year action plan to protect the city's blue sky is not only a dazzling number on the "report card", but also a continuous breakthrough in improving air quality.
"It is not accidental that the environmental air quality ranks first, and the outstanding results are not by chance. It took a long time to get this result."

Municipal Bureau of Ecology and Environment
Haikou has substantially improved open-pit mining, banned straw burning, controlled fireworks and firecrackers and enforced stricter management on the catering industry's oil fume control.
Dust control
In recent years, Haikou City has paid close attention to dust control for construction sites, and multiple departments have cooperated to carry out all-weather muck truck renovation.
Supervision has been improved and muck trucks that have violated laws and regulations have been penalised.
Construction enterprises have been urged to strictly implement various dust control measures.
At present, a total of 467 projects under construction in the city have been installed with online smart video devices to monitor the levels of dust.
Sewage treatment
On January 21, 4 key township sewage treatment plants for Xinpo Town, Shishan Town, Hongqi Town and Dapo Town in Haikou City held trial operations with a total daily sewage treatment capacity of 2,200 tons, (yep … that's a lot of poop).
After disinfection, deodorization and phosphorus removal the sewage is transformed into a stream of clear water which can then flow into canals.
Haikou has continued construction of clean environmental water development schemes, implementing long-term protection systems for rivers and lakes, water conservation protection and restoration projects and the construction of urban sewage treatment facilities.
Haikou has become the first in the country to implement a long-term, Bay pilot protection project and achieve a water source quality of 100% for urban centralized drinking water.
The Yawei xi water environment comprehensive management project won the national water conservancy advanced practical technology "excellent demonstration project" title.
Wetlands
Next to the CBD of Jiangdong New Area, Haikou has planned a regional ecological restoration project for the Maiya River covering an area of 8,517 acres.
Haikou has promoted the ecological restoration of wetlands and in recent years it has redeveloped the Wuyuan and Meishe River National wetland parks.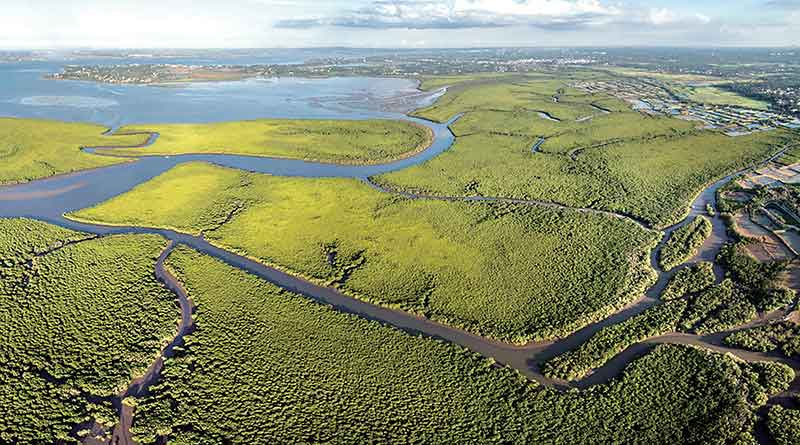 It was included in the world's first batch of "International Wetland Cities" and was awarded the Paulson Sustainable Development award in the "Nature Guardian" category.
Haikou Wuyuan River is the first wetland public welfare protected area in China, it has been listed as "Ant Forest".
Garbage disposal
On December 28, 2020, Haikou's domestic waste disposal bid farewell to landfill and entered a new era of incineration.
On the same day, the Haikou Waste Incineration Power Plant held a commissioning ceremony, so far the municipal solid waste incineration treatment capacity has reached 4,200 tons/day.
Recycling
As of January 20, 2021, there are 4,228 public institutions, enterprises and residential communities in Haikou that have implemented garbage sorting and there are currently 4,081 garbage sorting supervisors.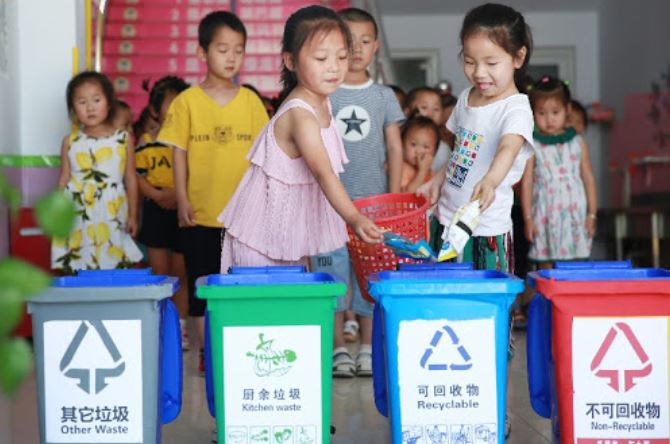 The recycling rate of waste resources has been raised to over 30%, and the reduction effect has been significantly improved.
Since January 2021, Hainan officially implemented a "ban on plastic".

It prohibited the production, sale and use of disposable non-degradable plastic products in Haikou, and it has implemented the key task of production, sale and use of disposable non-degradable plastic products in Haikou.

Clean Energy Vehicles
Since the release of the Hainan clean energy vehicle development plan in March 2019, the number of new energy vehicles in the city has increased significantly.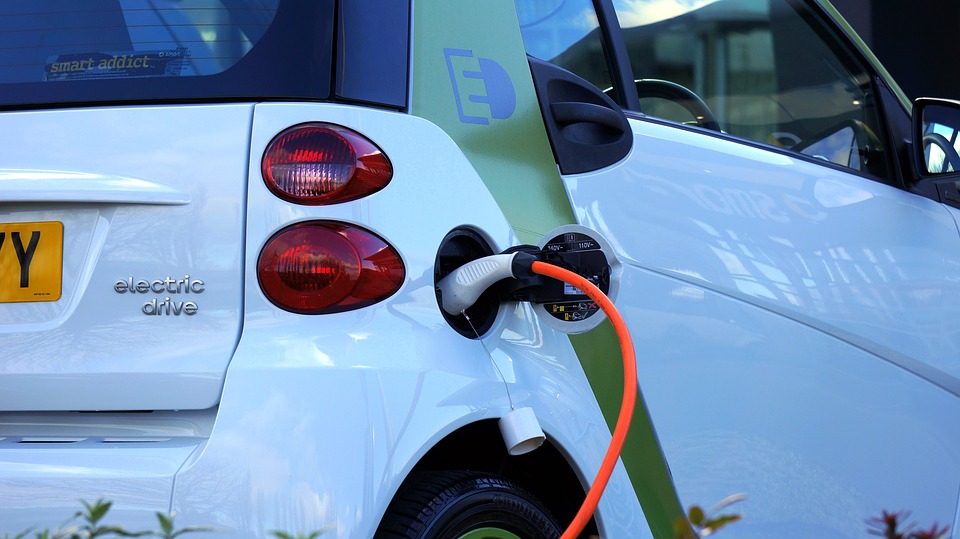 At present, Haikou has constructed 9,791 various types of charging facilities. Currently, there are around 26,791 new energy vehicles in Haikou, this is a vehicle-to-pile ratio of 2.7:1 across the city.
Continuous improvement of the ecological environment
In 2020, Haikou's air quality ranked first among 168 key cities in China, with an excellent rate of 98.6%.

All indicators of air quality have improved comprehensively, the comprehensive index improved by 0.36 year on year, and the concentration of six key pollutants decreased significantly compared with the same period in previous years.

The average annual concentration of fine particulate matter (PM2.5) was 14 micrograms per cubic meter, for the first time it has reached Level 1 since the implementation of new standards for ambient air quality in 2012.

In 2020, the water quality of Haikou's centralized drinking water source and surface water cross-sections under national and provincial control have reached 100% of standards, with the elimination rate of dirty and odorous water now at 100%.
Improved supervision
The period from 2019 – 2021 include plans to invest 134 million yuan to build a national level environmental monitoring system and implement an emission permit issuance and registration scheme. Currently, there are 1,478 enterprises that have completed the issuance and registration.

The urban and rural environment has improved
The city's forest area covers 87,900 hectares, with a forest coverage rate of 38.39%. The green coverage rate in the built-up areas has reached 40.3%, and the per capita public green area in the urban centre was 12.1 square meters.

The coverage rate of household garbage collection points in the city's administrative villages has reached 100%, and the harmless disposal rate of household garbage was above 95%.

It has built 2 national wetland parks, 5 provincial wetland parks and 46 wetland protection communities, with a wetland protection rate of 55.53% and a wetland protected area of 16,155.67 hectares.
Haikou has been awarded as the first batch of "International Wetland City" in the world.
Related article: First legislation on protection of wetlands in China
Tropicalhainan.com launched it's official mini programme and WeChat account, scan the Qr code to keep up to date with news, sports, entertainment, travel, opinion and more.