Hiking conditions in Hainan:
Hainan is best known for beaches, but the jungle filled mountainous central region of this tropical island is a true hiking paradise! Hiking is the perfect way to see places and meet people you'd never get a chance to otherwise. There are so many different landscapes to hike through – each with unique scenery: cities, villages, beaches, cliffs, rainforests, riverbanks, mountains, bridges…. The choices are endless! Collect seashells on Hainan's over 1,000 km. long coastline, and share a fresh caught fish dinner with a local fisherman's family. Wander down a winding village path, shaded by hundred year old trees, and breathe in the tranquility of the countryside. Challenge yourself to reach the peak of Seven Fairy Mountain, where you'll have to scramble up sheer rock faces with only a chain draped over the edge of the cliff to pull yourself up with! There are hundreds of completely different hikes to take in Hainan, and hundreds of adventures await beyond every bend in the trail.
East and West Coast Hikes
Backpacking is becoming more and more popular in Hainan, and hikers can often be seen in Haikou's popular Haidian Island, or on the hiking trails stretching from West Beach to Holiday Beach. On the rugged and wild West coast of Hainan, hikers will enjoy the sights of cliffs and rocks shaped by the tides. Other popular beach and coastal hiking destinations include: Haitang Bay, Sanya; Baoping Ancient Village, Yacheng, Sanya; Dongluo Island, Yazhou Bay; Bingma Cape, Yangpu; and Dahua Cape, Wanning.
Central Hainan Hikes
Here you will find challenging mountain hiking adventures, where you can challenge yourself to reach new heights, and really level up your hiking abilities. These mountainous regions are almost completely covered by virgin tropical rainforests, along with some small mountain villages inhabited mainly by the Li and Miao minority peoples, where you can eat local minority dishes, stay in family style inns, and get to know a different side of Hainan.
Hainan Recommended Hikes
Route 1: Haikou Volcano Park
Haikou Volcano Park (雷琼世界地质公园) a national park located approximately 15 km west of Haikou, Hainan, China. It is named for a crater, one of many extinct volcanoes on the island. The eruption of the ancient Qiongbei Volcano left many intact volcano craters here. According to geologists, the last eruption happened about 13,000 years ago. Now, 36 volcano craters can be seen here, the highest being Saddle Hill, which is about 222.8 meters high.
Today, the park has a volcano cultural garden, ecological garden, green corridor, and the crater garden. The pleasant hike up the extinct volcano crater is not taxing, and only takes about half an hour or so.
The area is filled with greenery and lakes and there are lots of other paths to explore, and even some volcanic caves. The Volcano Park has a restaurant, gift shop, and geological museum, which make this a great family friendly hike.
Tickets: 68 RMB/person
Route 2: Haidian Island Coastal Hiking Path
Starting at Baishamen Beach (directly behind Baishamen Park) you will have easy access to the coastal hiking path that circles this small island. There is no fee to use this path, and it's also great for runners or bikers, as it's flat and obstruction free for the entire length, and enjoys cooling ocean breezes.
Route 3: Haikou Mangrove Forest
On the outskirts of Haikou there is a large mangrove forest (东寨港红树林自然保护区) filled with migrating birds and other native Hainan wildlife. The mangrove forest is crisscrossed by newly built boardwalks, which provide a great way to hike through the wetland area. If you get tired of walking, there are boat tours, rest pavilions, and restaurants here as well.
Walking along the boardwalk costs 22 RMB/ person, and boat tours cost 60 RMB/ person.
Route 4: Bamen Greenways
The Bamen Greenways, a network of biking and hiking trails, pass through four towns, namely Wencheng, Dongge, Wenjiao and Dongjiao. The greenways encompass a total of 45 km of paths, and another 9 km of side routes. The trails pass over mangrove forests on boardwalks, through small local villages, coconut groves, and along riverbanks. There are many convenient tourist stations set up along the paths to provide information, snacks, shelter, rest areas, and more.
Route 5: Mission Hills Haikou Eco-Trail
Mission Hills Haikou is a massive golf resort, with 10 golf courses, a luxurious clubhouse, hotel, spa, hot springs, and more. The complex was built on volcanic rock, which has been used throughout the resort in construction and decoration. While hiking the Eco-Trail, you will need good hiking shoes because the whole trail is covered in these volcanic rock boulders. The trail skirts the edges of the massive golf courses, and is bordered by strips of the original local forest. The resort is happy to provide a guide who will tell you all about the flora and fauna, and even call a golf cart to pick you up if you get too hot or tired from the hike.
The 1 kilometer circle trail takes about 45 minutes to complete. After finishing the trail, take a nice long soak in the hot springs. Try the Dead Sea Spring, the Vanilla Spring, Hot Sake Spring, or one of the hundreds of other hot springs infused with different healing herbs and scents!
Hainan also has many great biking trails, which can be hiked. For information on these biking trails, please check our Biking Hainan section.
Recommended Hiking Locations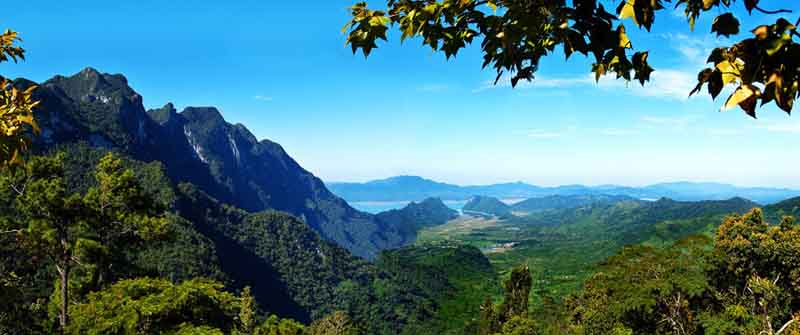 1. Diaoluo Mountain 吊罗山
When is the last time you went on an adventure? Here is your chance. Diaoluo Mountain is one of the 5 tropical rainforest regions on Hainan Island. The biggest difference between Diaoluo Mountain and other mountains is water, with waterfalls, streams and ponds everywhere! The most famous one is the 100-meter-high Fengguoshan Waterfall cluster, a natural tourist draw of the mountain.
Located northwest of the Diaoluoshan National Rainforest Park in Lingshui County, the Fengguoshan Waterfall is the largest waterfall in Hainan. The waterfall actually consists of 4 separate falls, namely, Xianlei Waterfall, Bingxin Waterfall, Sigui Waterfall and Caihong Waterfall. The changing seasons transform the natural scenery of the waterfall throughout the year. The most magnificent fall is over 60 meters wide and has a maximum drop of more than 150 meters. It flows swiftly year-round.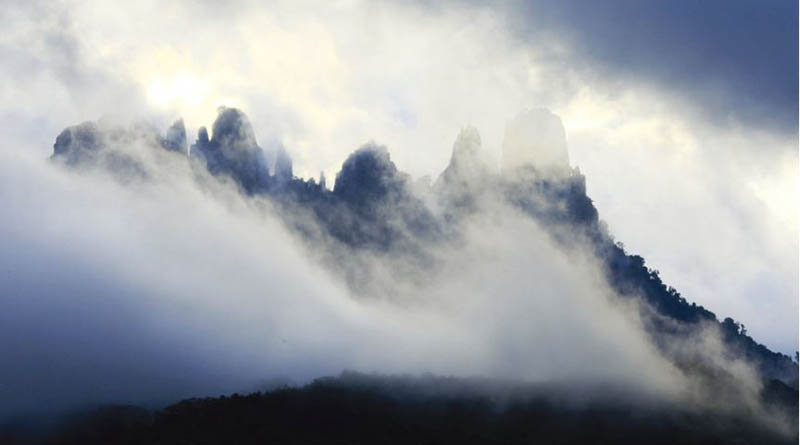 2. Seven Fairy Mountain, Baoting 保亭七仙岭
Seven Fairy Mountain, located in Baoting, offers a fairly, but not extremely, challenging hike. Hikers can take a tram to the trail entrance, and back down again. The trail is paved with steps, and there are occasional rest points which sometimes sell beverages and snacks.
The trail parallels a stream, and small waterfalls and pools can be seen and even waded in, providing a cool and refreshing diversion. The surroundings are full of life, from the lush rainforest, to the birds, insects, and small animals you will be able to spot as you climb. The last 200 meters to the peak is more difficult, involving a vertical climb which can be accomplished by pulling yourself up ladders and chains which have been secured to the rock face.
Even if you decline to climb this section, the rest of the hike is well worth the trip. After the climb, why not soak away any aches and pains in the many local hot springs?
Height: 1126 meters
Tickets to enter the Seven Fairy Mountain Park: 48 RMB/person
3. Haitang Bay, Sanya 三亚海棠湾
The 19 km. long shoreline at breathtaking Haitang Bay is shining white sand, shaded by waving palm branches, making this a great beach hiking destination. Nearby Nantian Hot Springs will help you work out the aches and pains, or head across the bay to Wuzhizhou Island for another great hike.
4. Chess Bay, Changjiang 昌江棋子湾
This S-shaped bay extends for 20 km., and is known for the many oddly shaped stones and reefs scattered along the shores. Wild pineapples, dates, and other fruits grow here, and the Bay is near another great hiking destination: Bawang Ridge Forest Park.
5. Jianfeng Ridge, Ledong 乐东尖峰岭
This vast rainforest preserve is crisscrossed by clear mountain streams tumbling over boulders that are just perfect for scrambling over. The trails in the park are for the most part natural paths, unlike the cement paths and thousands of artificial steps that hikers in many other Chinese parks must endure.
Visit Heaven Lake, hike up to the magnificent waterfalls, catch a glimpse of rare endangered forest life, climb the mountain peaks, or just spend some time relishing a chance to get away from the crowds and into a truly wild natural environment. While the hikes in this area are not terribly difficult, transportation to the area is somewhat inconvenient. It's best to arrange a private car. Entrance to the park costs 40 RMB/person.
6. Dongshan, or East Mountain, Wanning 万宁东山
This is one of Hainan's easiest mountain hikes, as Dongshan only reaches an elevation of 184 meters high. However, there's plenty to see and do on the way up: ancient temples to see, mysterious caves to explore, and ancient springs to dip fresh water from. This easy hike is perfect for families with young children, who will surely enjoy the cable car ride down the mountain.
Tickets: 50 RMB/person
7. Bawang Ridge, Changjiang 昌江霸王岭
The Yajia Waterfall is located on the Yajia Ridge with a height of about 1,000 meters. As roaring water falls down, visitors can almost feel the force of it against the rocks. When in full flow during the monsoons, 15,000 cubic meters of water fall down the cliff every second.
The hike between Bawang's mountain pass and peak is mostly straight up and takes around two and a half hours. While it's often humid, the park's altitude and unique ecosystem result in an average temperature of 19.7C. On a clear day, climbers who make it to the top of Bawang are rewarded with a 360-degree view.
With over 250 species per square hectare, enthusiasts can easily lose track of time while exploring the multitude of ancient paths and secluded caves in the rainforests of Hainan. The area is also one of the best places to see rare birds and insects, including a kingdom of butterflies with over 400 different kinds of butterfly species alone. Trail walkers who pass through quietly can spot exotic birds, indigenous flowers and fruits, as well as small clouded leopards roaming the forest and indigenous black gibbons sprawling along the roads and flying through the treetops.
Bawangling National Nature Reserve
海南霸王岭国家级自然保护区
Admission: RMB 30 per person
8. Dazhou Island (Bird's Nest Island), Wanning 万宁大洲岛
Dazhou Island is a pristine, completely undeveloped and uninhabited island located 5 km. off the coast of Wanning. The undeveloped island is the only home of China's unique Jinsi Swifts. Their nests are harvested here on Dazhou island to make bird's nest soup, a delicasy in Chinese cuisine. Other wildlife abounds here, including pangolins, lizards, partriges, eagles, herons, petrels, and more, making this the ideal location for an island nature hike.
No tickets are required to visit the island. You will need to bring everything you need for your hike, especially plenty of water to drink.
The island can be reached only by boat.
9. Daxiao Dongtian Cave Park, Sanya 三亚大小洞天
Sanya's Daxiao Dongtian Cave Park, sometimes called Fairyland, features an alluring rocky coastline, mountain hiking trails, caves to explore, outdoor picnic areas, whimsical stone statues, and a small fossil museum with dinosaur eggs and other local fossils.
The expansive area of the park provides lots of places to get away from the crowds and enjoy nature. The beach is not suitable for swimming, but is terrific for rock climbing.
Daxiao Dongtian Cave Park is rated a 5A tourist attraction.
Ticket Price: 135/person
Hours: 7AM – 6 PM
Phone: 0898-88830188
Address: Daxiao Dongtian, Yacheng, Sanya
三亚市崖城大小洞天
Website: http://www.sanyapark.com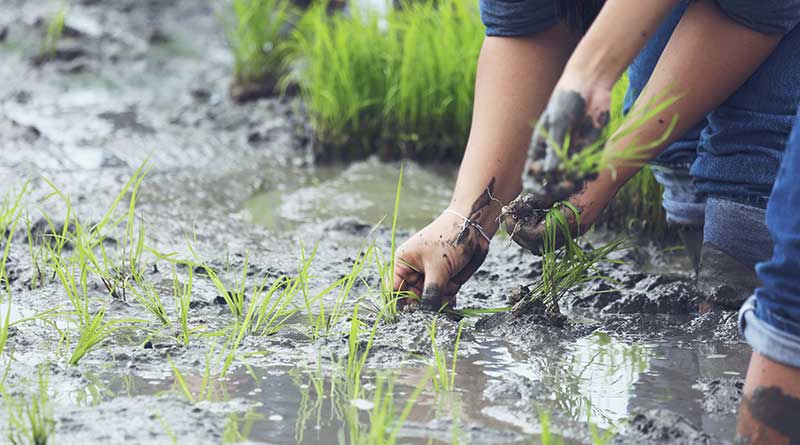 10. Yahu Rice Terraces in Wuzhishan City 五指山牙胡梯田
Yahu Terrace Field in Wuzhishan city offers breathtaking terraced vistas unlike any other area of Hainan.
Located within Maoyang Township, 40 kilometers away from Wuzhishan City, a vast region of terraces stretches layer upon layer along the slopes, from mountain tops to the borders of verdant forests. The Yahu Rice Terraces are the perfect hiking spot for photographers and lovers of scenic views.
The Yahu Terrace Field is beautiful natural landscape that can be explored in every season. There is no charge to enter the area.
In addition to the amazing scenery, Wuzhishan is also of great cultural interest, as most of the inhabitants are Li and Miao minority peoples. Experience the traditional Li and Miao way of life and culture, visiting the small villages where people live in the same way they have for thousands of years. Visitors can visit with local families and enjoy Wuzhishan cuisine such as Shanlan Wine and Three-colored Rice.Hainan
Hiking Tips
What to bring on your hike
Hiking for several days in a row? You may want to bring a tent, flashlight, power bank, sleeping bag, some snacks, sunscreen, and a towel. Wear hiking shoes and breathable, light clothing. Don't forget a first aid kit and bug spraySafety Tips
For safety, it's best to hike with a buddy, never alone. Keep your friends and family updated about where you are and where you plan to go. Get some basic first aid training before your trip.
Don't hike at noon or in the early afternoon, when the sun is hottest.
Hiking along the highway is forbidden (and very dangerous). Choose smaller roads and hiking trails instead. Even here, please be aware of traffic, and try to stay out of the main vehicle lanes where possible. These smaller roads are also more likely to lead to interesting views and attractions, as well as providing easy access to roadside shops, hotels, and restaurants.
You aren't likely to run into any large or dangerous animals, except for perhaps snakes in wilderness regions. In any case, keep your distance from any wildlife you do encounter.
Emergency numbers:
Police: 110
Ambulance: 120
Expressway Emergency Assistance: 12122
Hainan Emergency Response: 0898-65388812
Fire: 119
Traffic Police: 122
Hainan Expressway 24-Hour Helpline: 0898-66711392
Related article: Cycling in Hainan – Routes, rentals and where to stay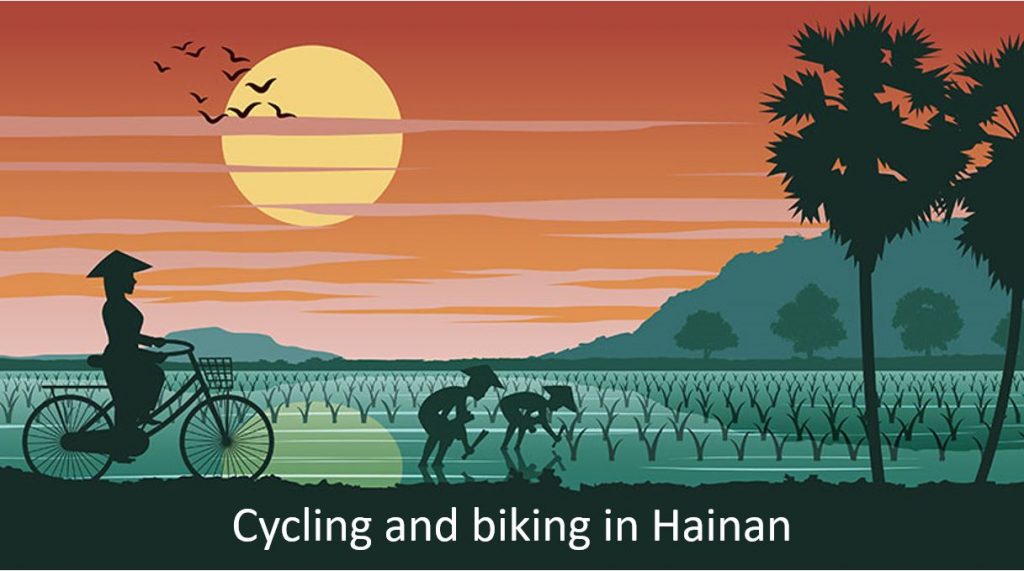 If you would like to make a comment, compliment or complaint about any aspect of living or working in Hainan Island, we'd love to hear from you. We pass all communications on to the relevant services. Please keep it polite and to the point.