Hainan island has recently changed its policies to allow international tourists the opportunity to gain a temporary driving license. We figured it was time to put some day trip itineraries together to unlock more of Hainan island.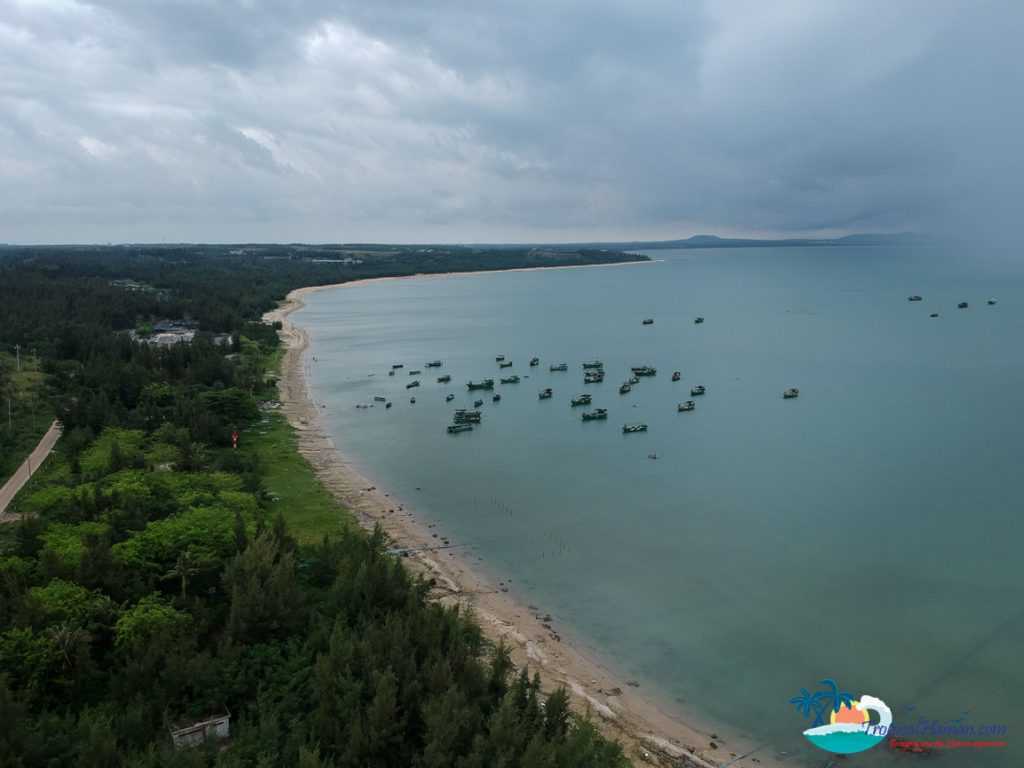 The new policy change was announced earlier this month. Now tourists and expats can transfer their driving license from their home country into a temporary Chinese license.
To change your license you will need the following:
Two passport photos
Driving license from your home country.
Translation of your driving licenses in Chinese.

Sanya and Haikou airports can now issue temporary licenses. The process takes around 30 minutes. Staying longer on Hainan island and want the permanent license then click HERE for a full guide.
In this article The Haikou Guide heads east of the capital to Wenchang, visiting Puqian town and Mu lan lighthouse and beach.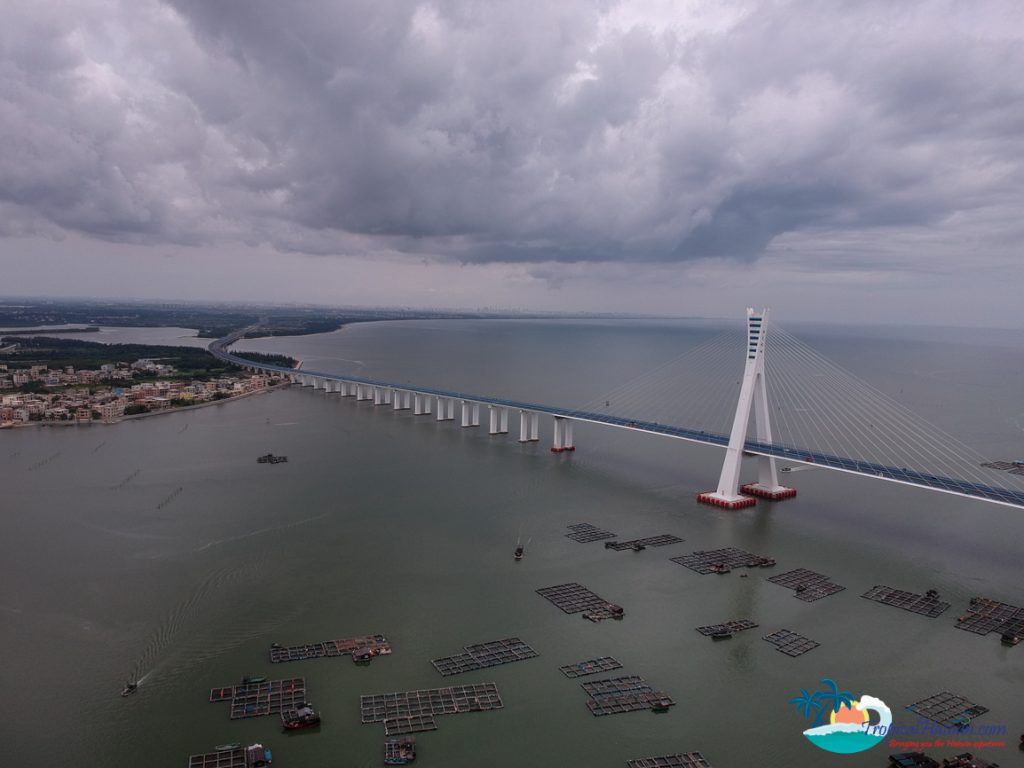 Travel to Wenchang has been made easier since the construction of the Hai wen bridge, drastically cutting travel time down from Haikou to Wenchang. More information on Hai wen bridge can be found by clicking HERE.
We would recommend starting early morning for two reasons, the first to stay out of the heat and secondly, it's best to experience Puqian before 9 am when all the fishing boats are coming into the harbour.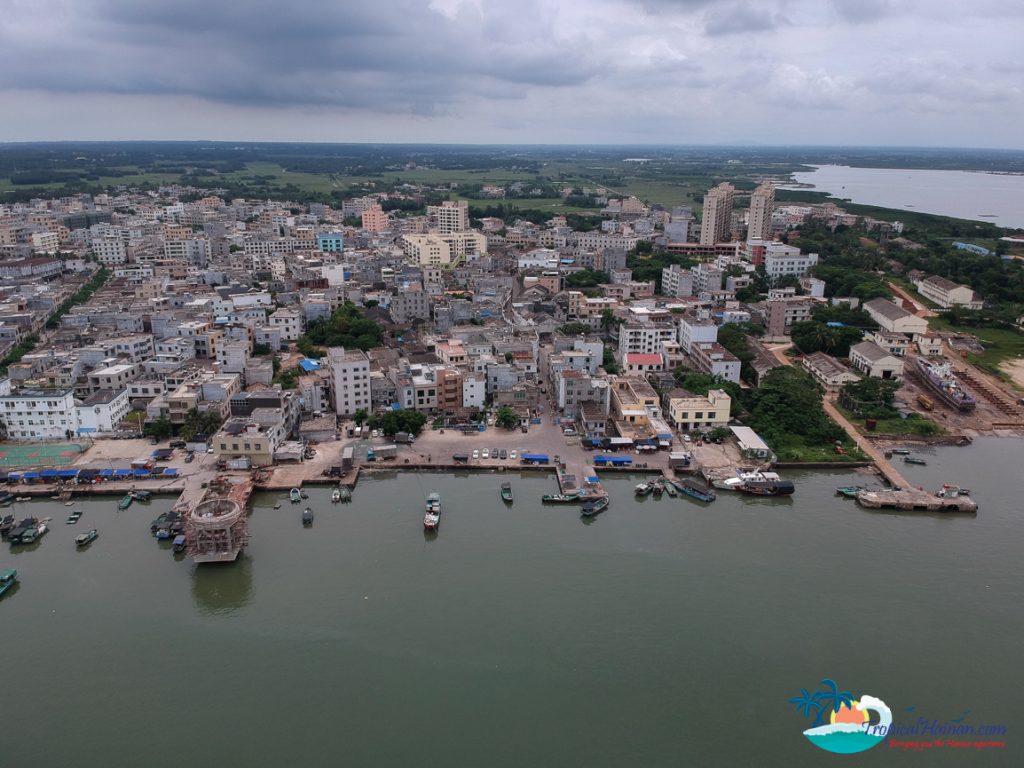 Puqian is a large fishing town with a population of around 42,000. The town is located on the right-hand side as you cross Hai wen bridge. Covering an area of 137.7 kilometres squared, the town sits on a 38 kilometre stretch of coastline and has three ports, Mulan Port, Puqian Port and Xinyi Port.
Since the construction of the new bridge, the town has undergone development but much of the old town remains.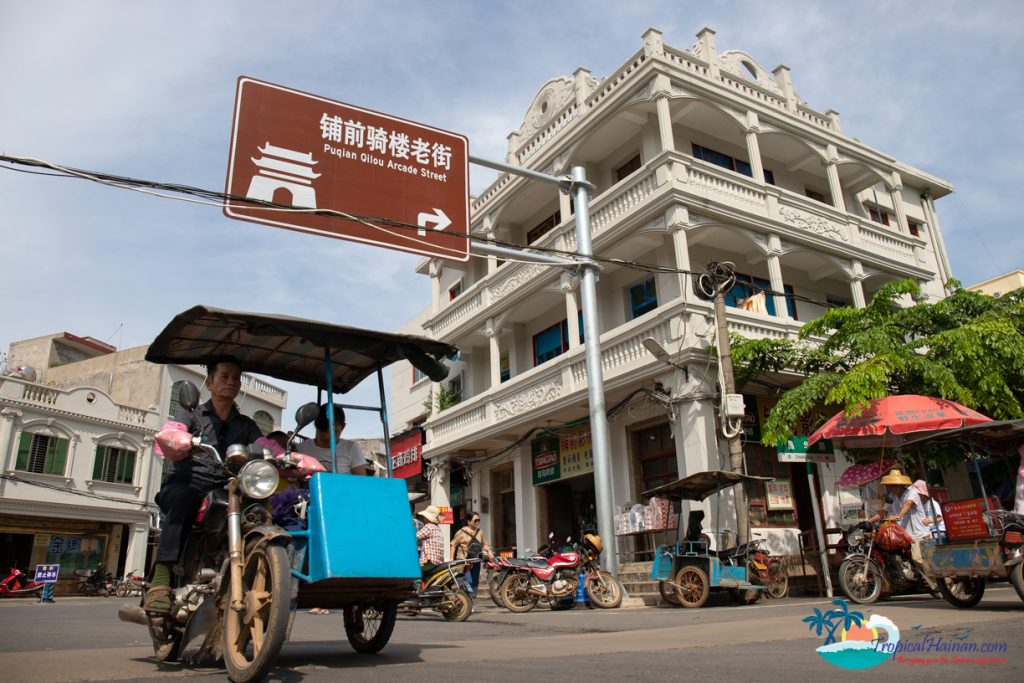 Early mornings are the best time to visit if you wish to see the town and fishing port in full bloom. As it gets hotter later in the day, many of the locals retire to their homes.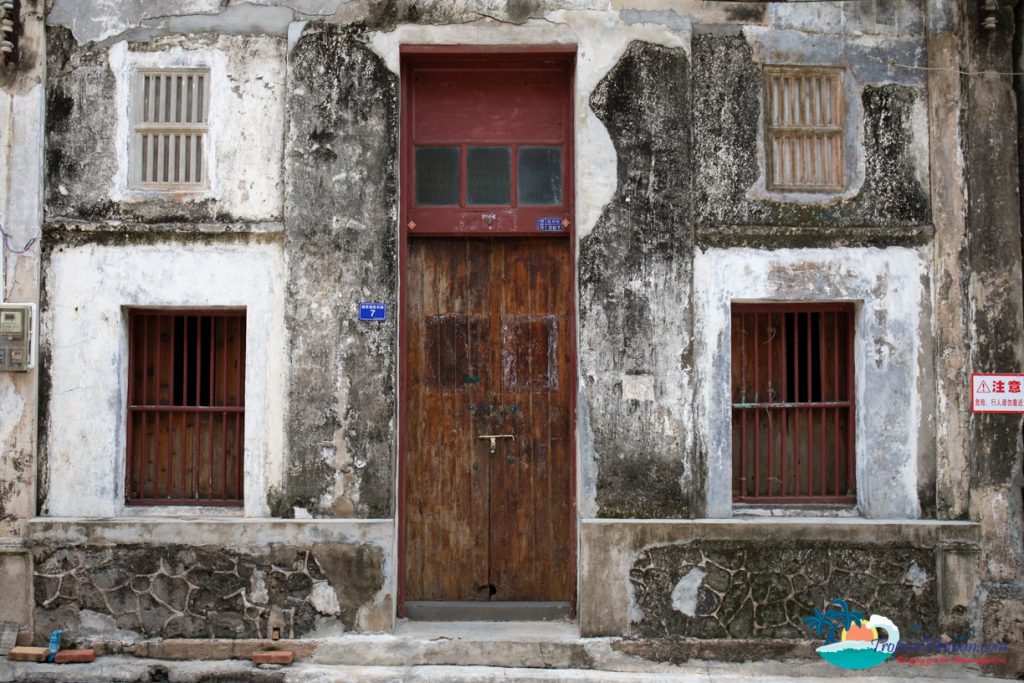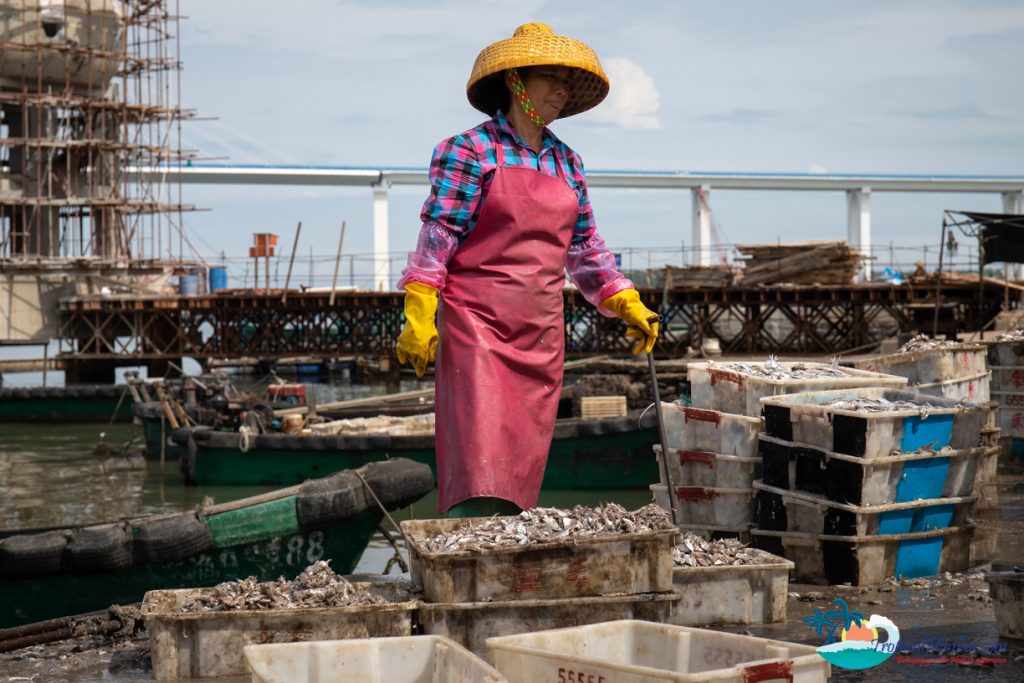 Bei gang island.
Just across the water, is a small island called Bei gang and you travel to the island by boat. More information on Bei gang island and how to get there can be found HERE.
You may also be interested in reading about Bei gang island school, which is a small elementary school of a few students and just four teachers. More information on the school can be found HERE.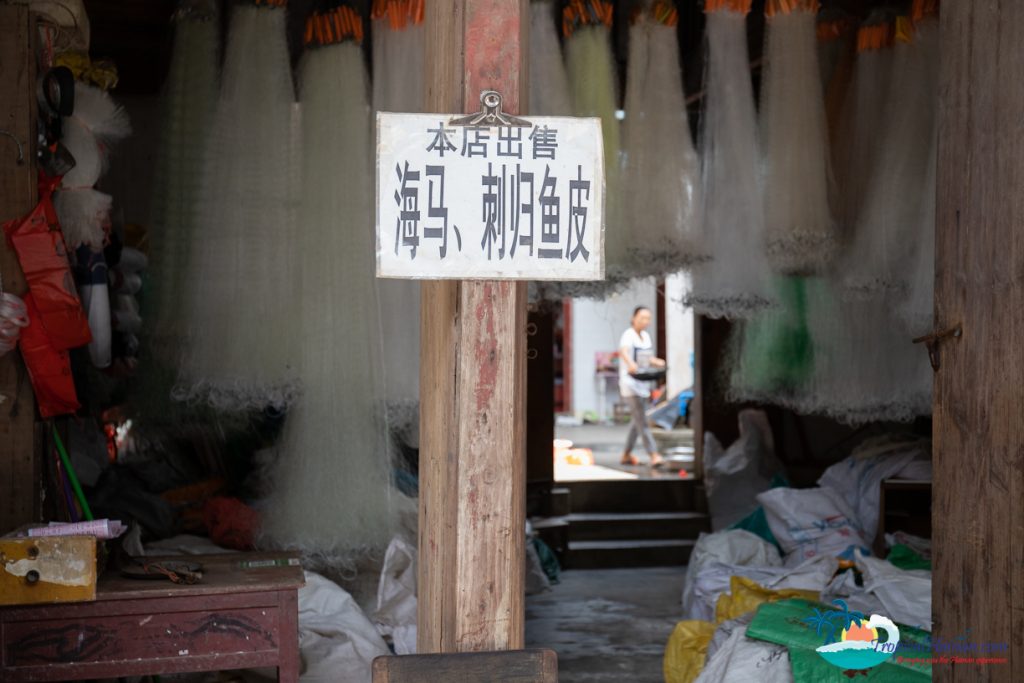 Dried fish is also very popular in Puqian. Early mornings it is left out on racks to dry in the sun.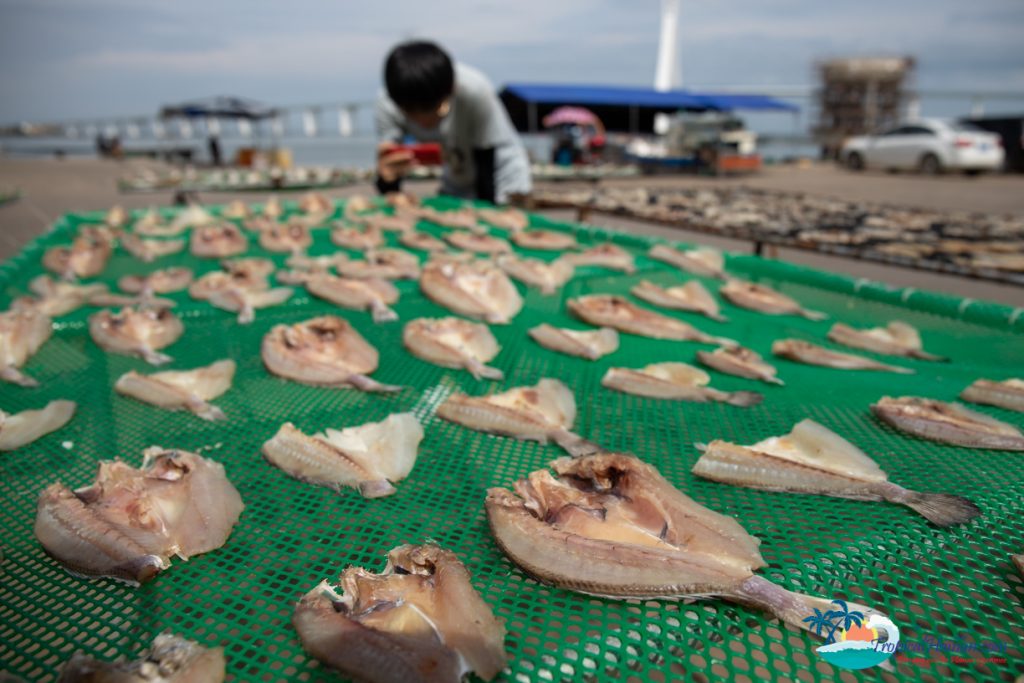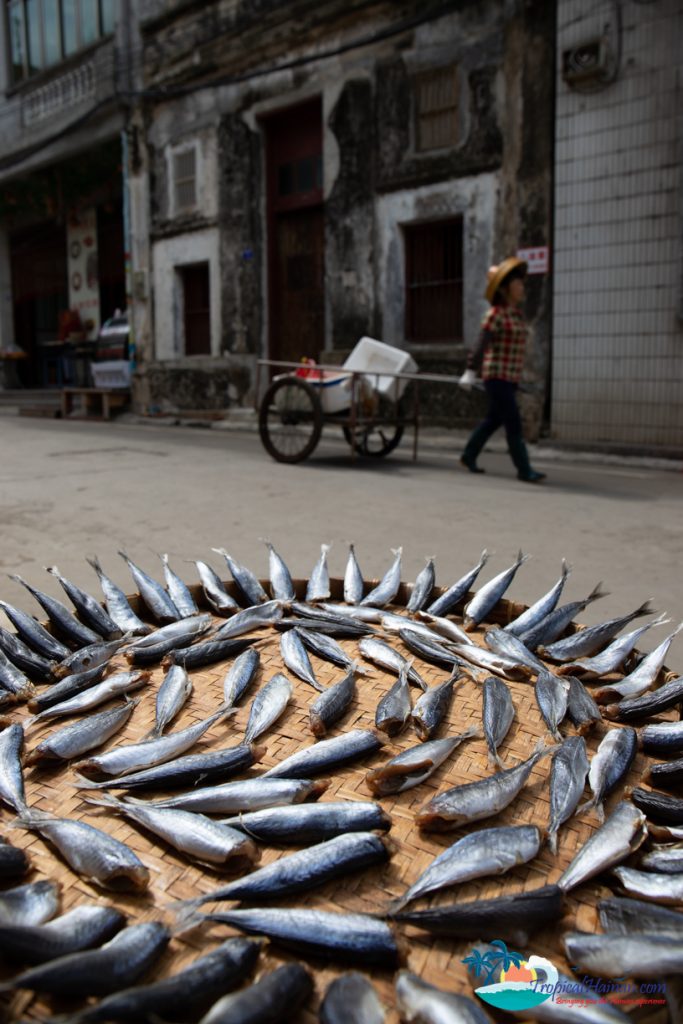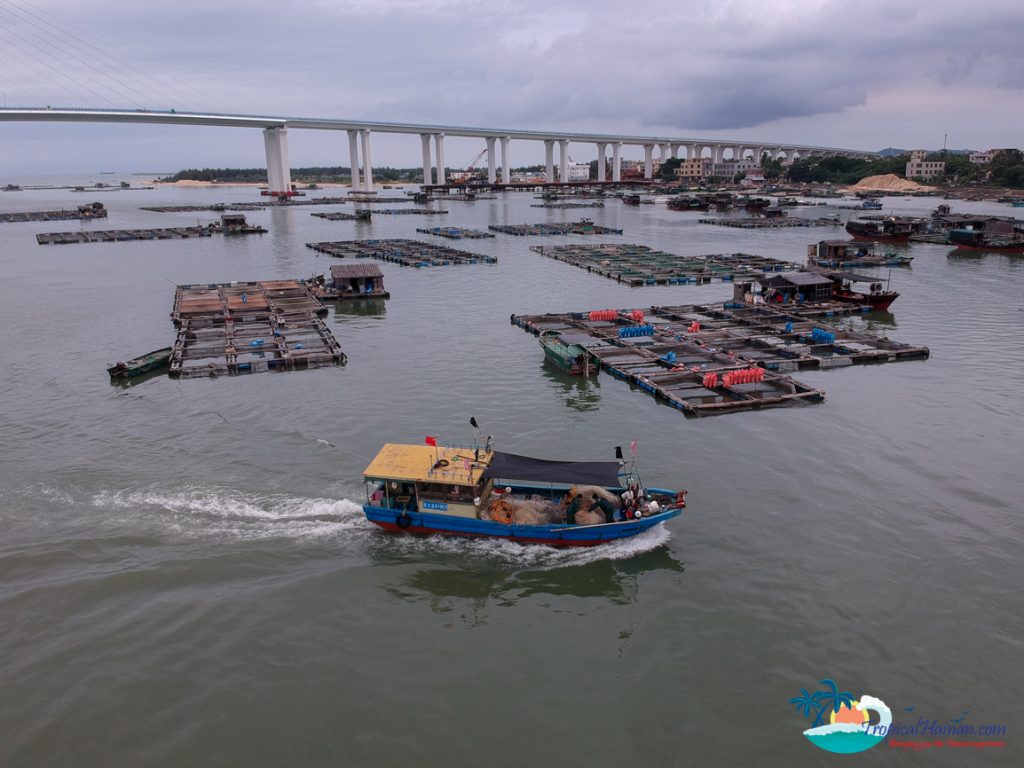 Traditional style foods.
Puqian is famous for its seafood, Zao bo cu and salty chicken. We recommend giving both a try. Zao bo cu costs around 15-20 yuan per bowl and salty chicken costs around 70 yuan per bird.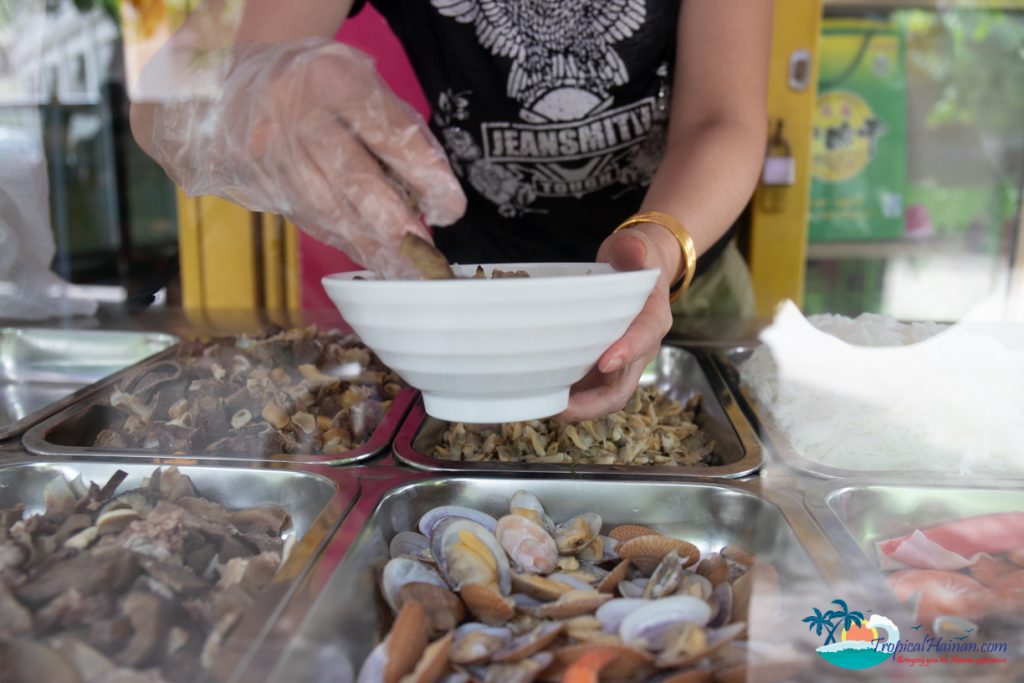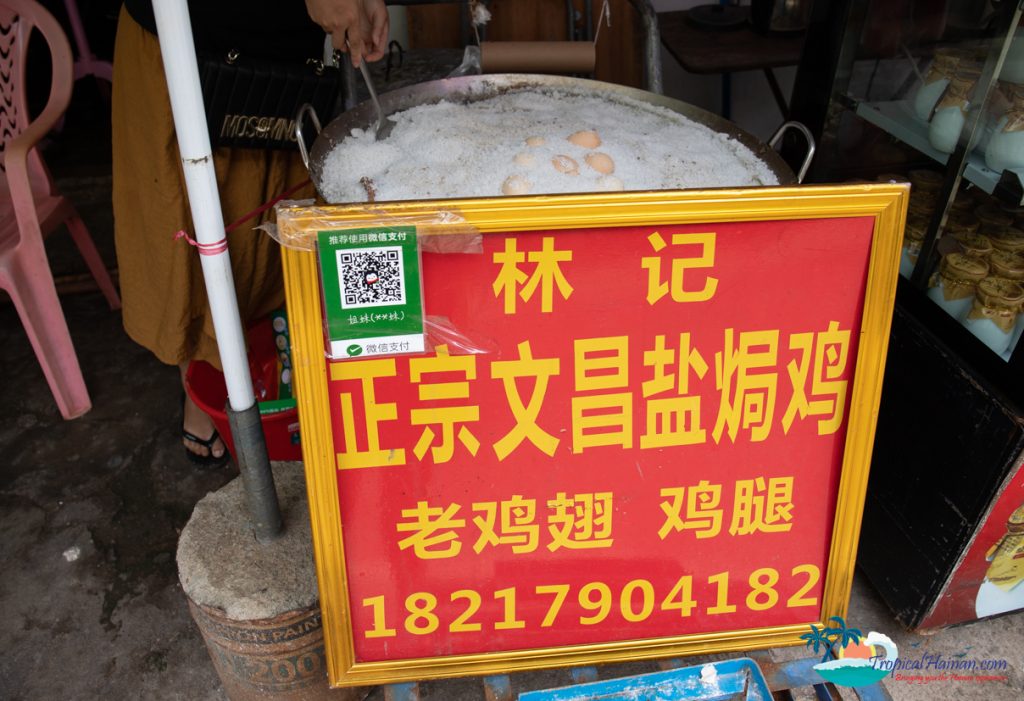 Wenchang salty chicken.
If you see this sign, it's for Hainan Salty chicken (盐鸡). The preparation of salty chicken takes around two days, the chicken is seasoned with Hainan sea salt and left to stand overnight. The following day it is wrapped in baking paper (traditionally lotus leaves) and then slow-baked in a wok of Hainan sea salt for several hours.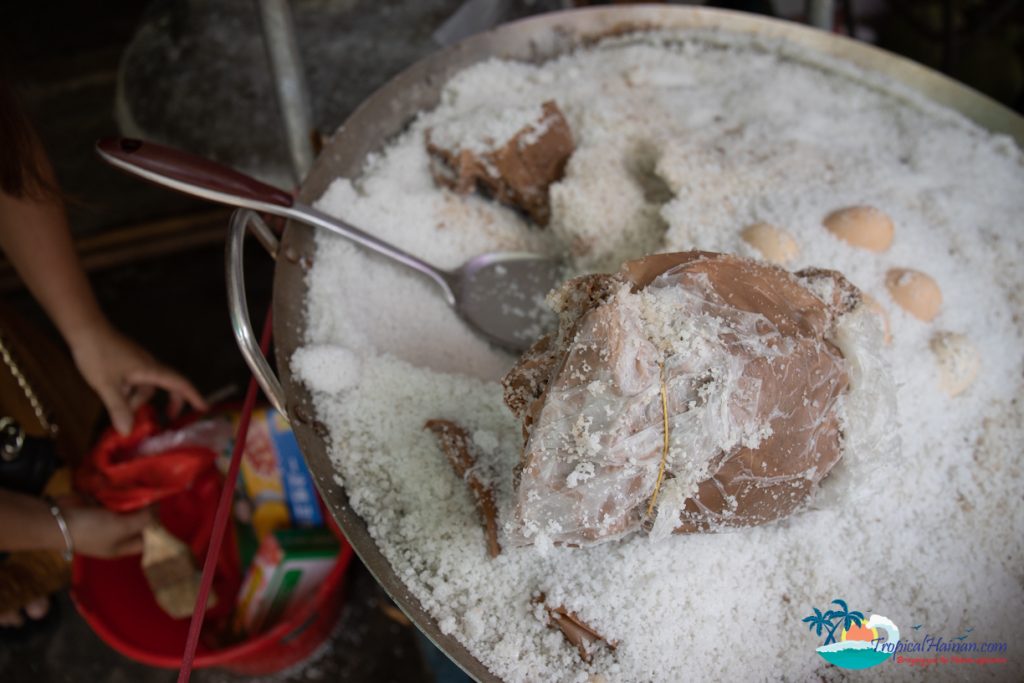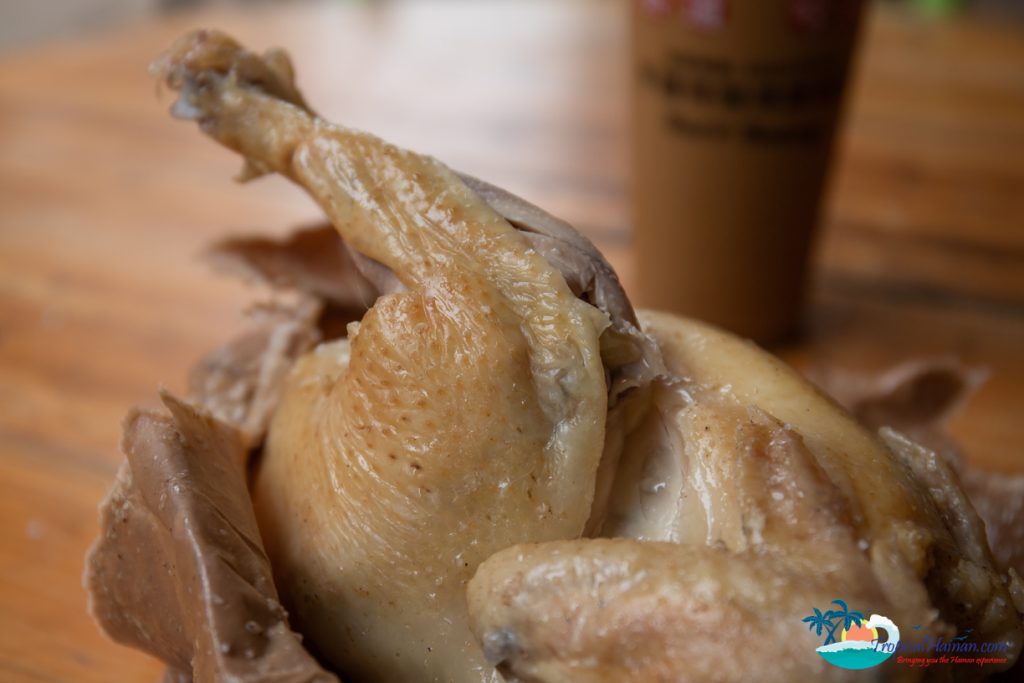 Puqian style noodles.
Zao po cu (糟粕醋) can be found everywhere in Puqian town. The dish contains noodles, kelp, seaweed, seafood, vinegar, taro and beef. It has become very popular in Puqian with many Chinese tourists travelling there to try this sour and spicy appetiser.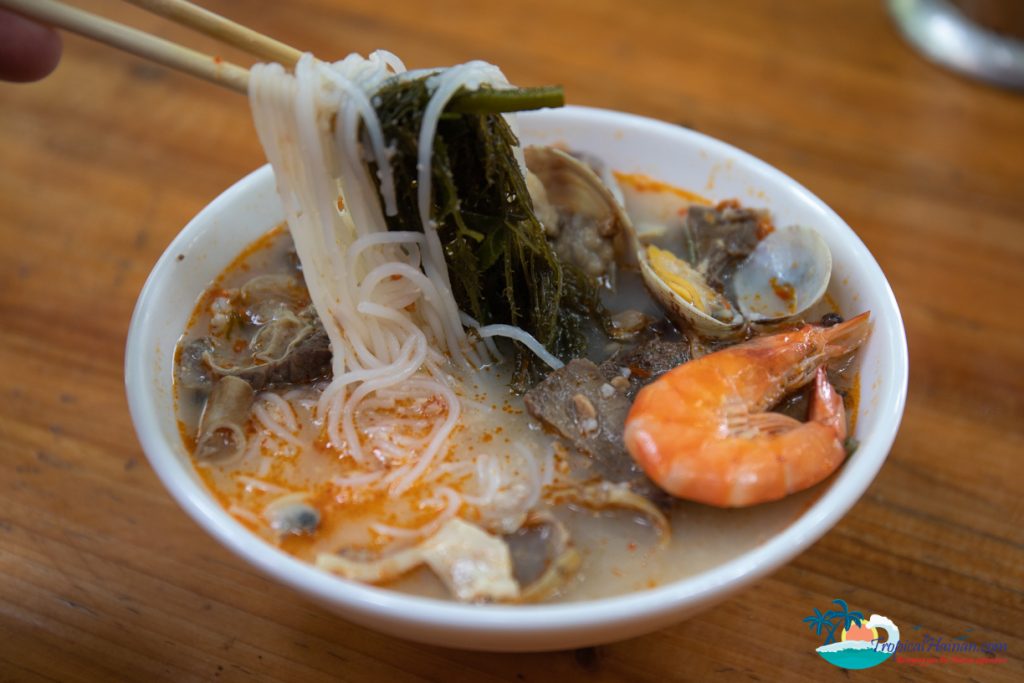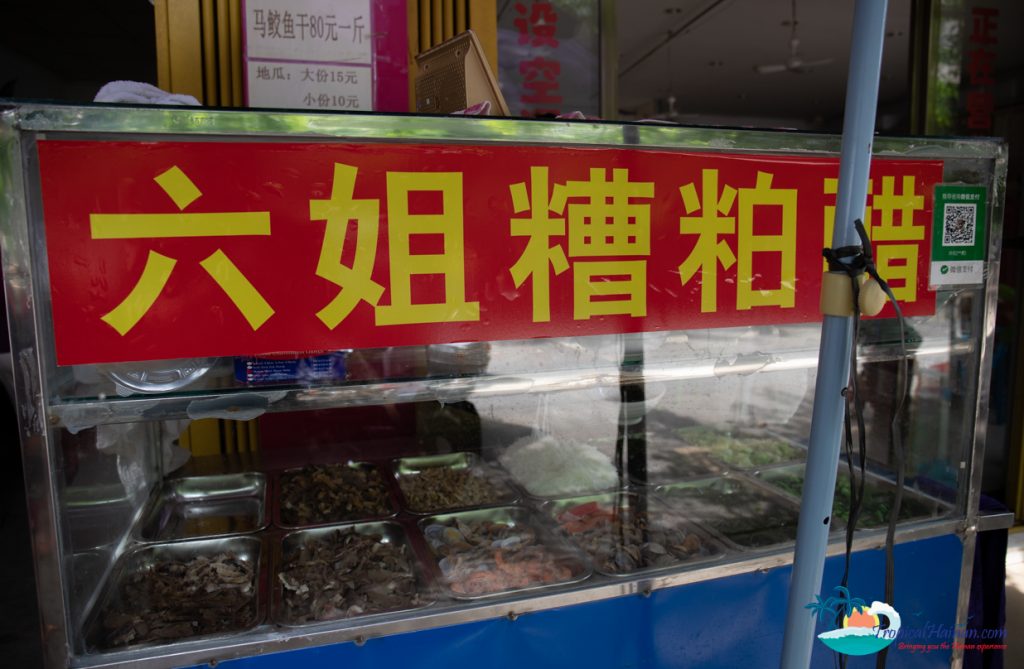 You may also come across these large vats with medicinal animals inside. More often than not, they contain sea horses, alcohol and Chinese herbs. Sea horse's (海马)have been used for many years as a natural viagra and also to cure, baldness, asthma and arthritis. These large jars also contain dried snakes.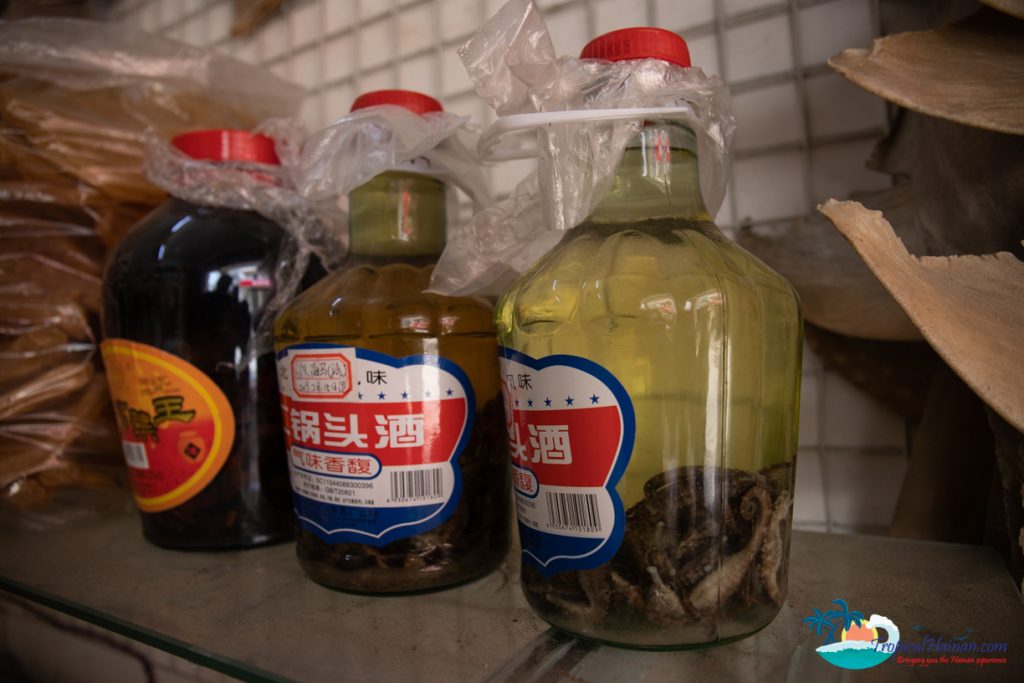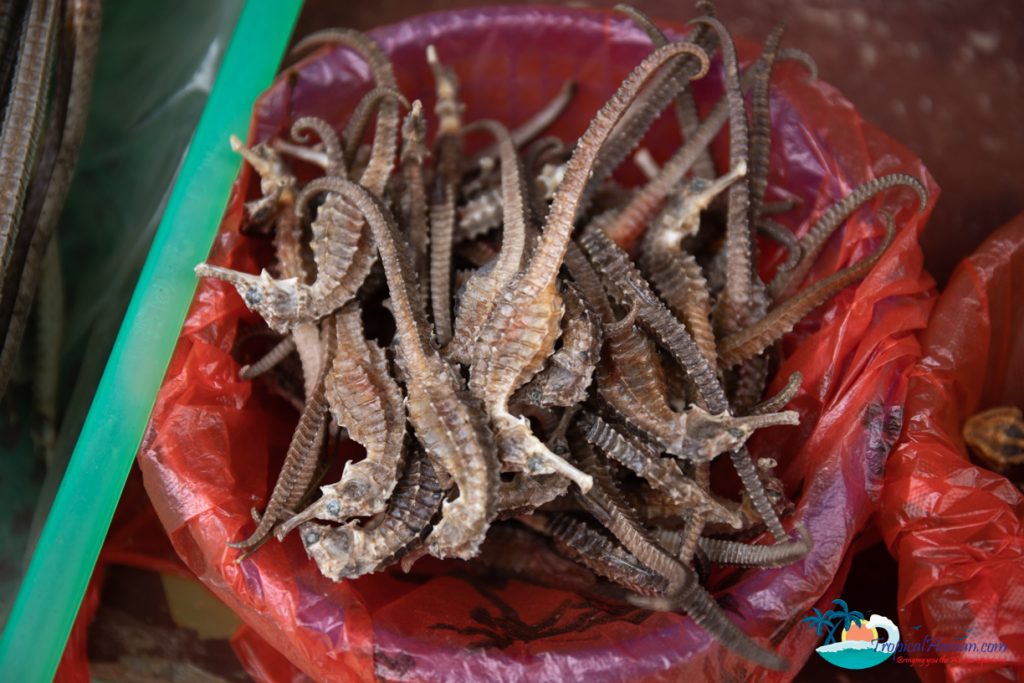 Shark fins have been used in Chinese medicine since the Ming Dynasty. The fins are usually made into a soup which is believed to have properties of boosting sexual potency, enhancement of the skin, increase in energy levels, prevention of heart diseased and lowering of cholesterol.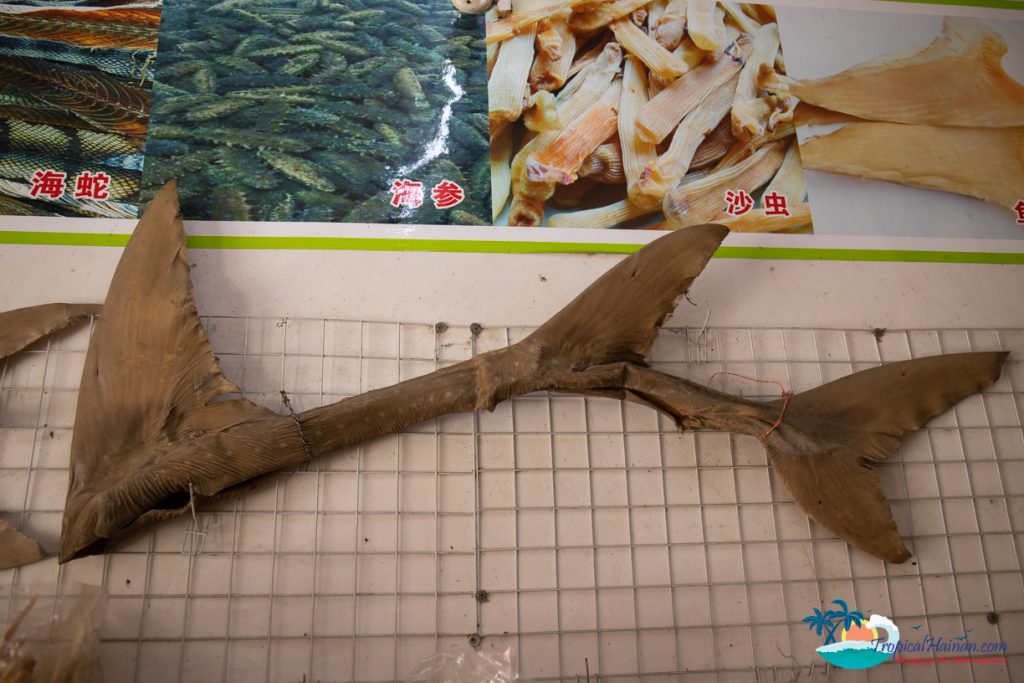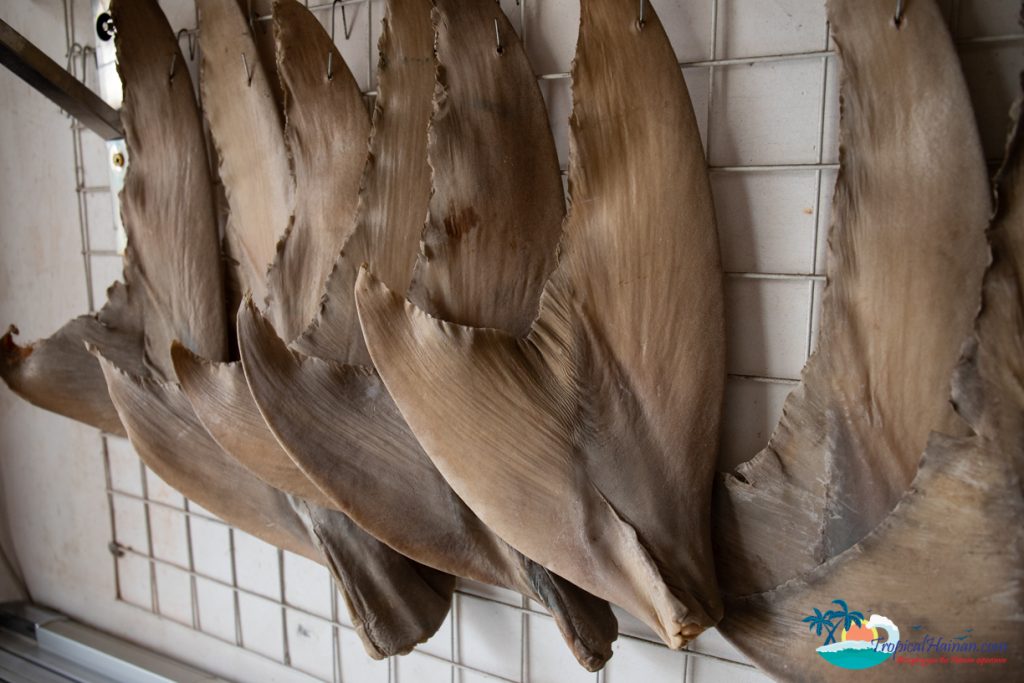 Mu lan bay lighthouse.
Next up is Mu lan bay, which is situated around 35-45 minutes drive away from Puqian town. The bay hosts some of the clearest waters this side of the island which can also be good for snorkelling.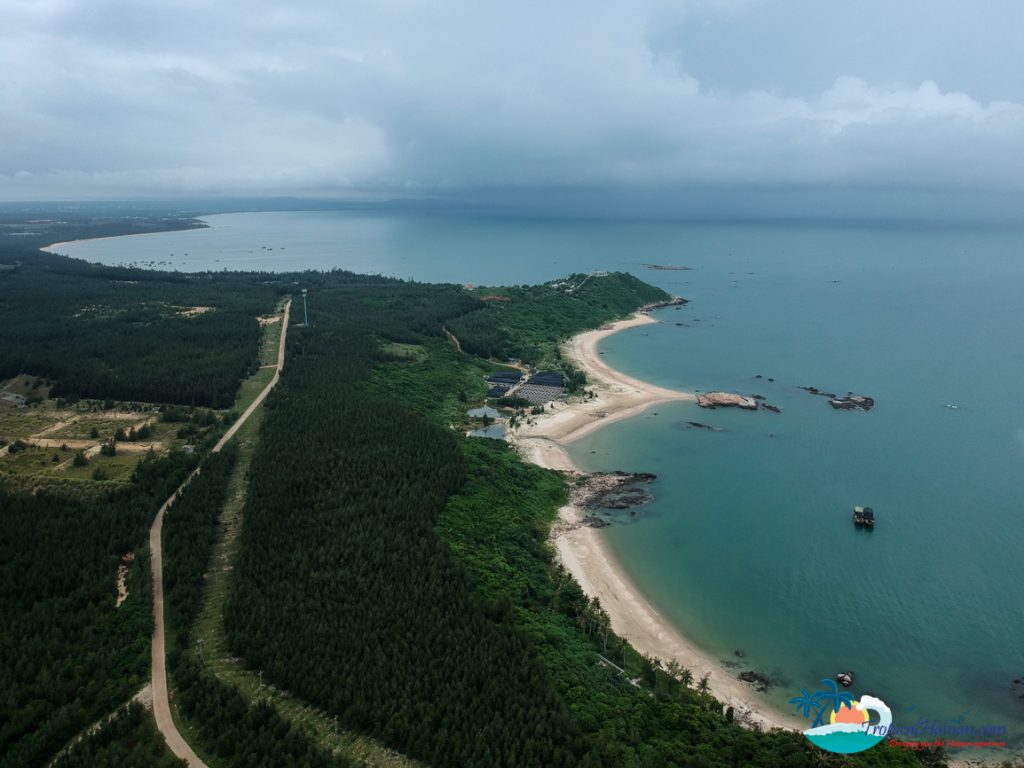 It's worth mentioning that the roads to the bay are country roads, be on the lookout for slow-moving farm vehicles, and motorbikes. The roads can be especially tricky when wet and are also prone to flooding during heavy rains.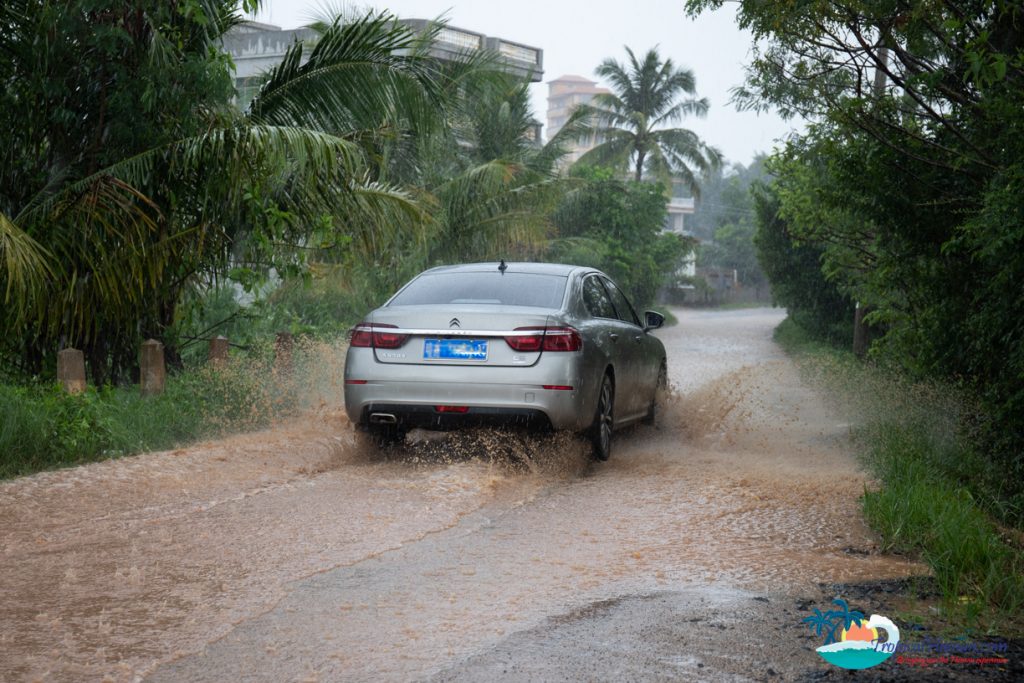 Hainan driving tip:
If the road is flooded, wait to one side until someone else goes through first. Chances are they are going to be local and know the road much better, avoiding any potholes or deep spots on the road. Try to follow in their tracks.
Around 2-3km short of the lighthouse on the left-hand side of the road are some quiet little beaches, which are mainly used by local fishermen. If you have the time, they are also worth stopping at.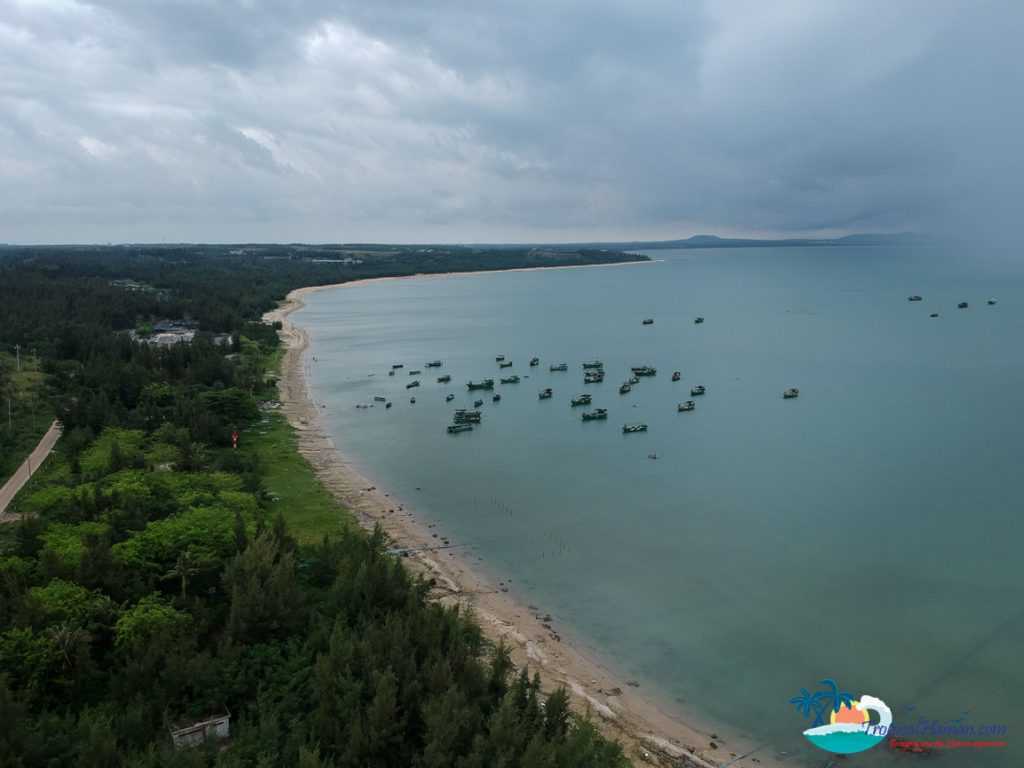 ​The Mu lan bay lighthouse stands 97.2 metres above sea level on the northernmost tip of Hainan island. The lighthouse is 72.12 meters tall and can be seen by ships that are 24 nautical miles out. According to sources online, the tower is the second-highest beacon lighthouse in Asia.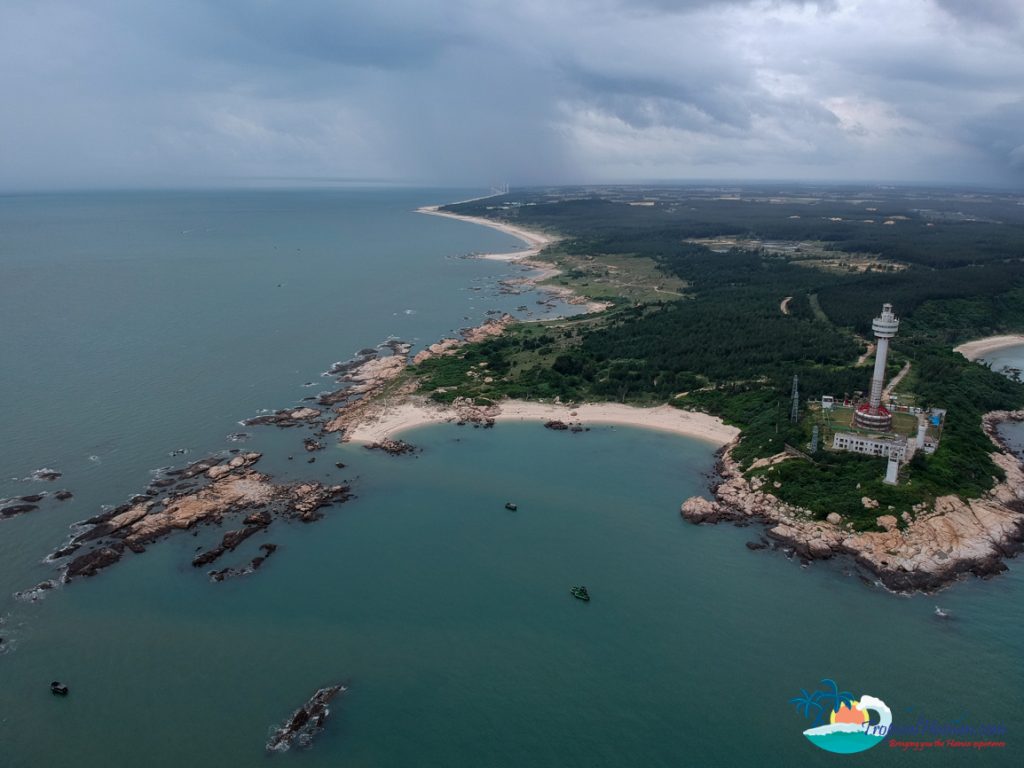 The tall beacon was built in August 1995 and is now due to its geographical location has become one of the most important navigational marks for ships in the northeast of Hainan island.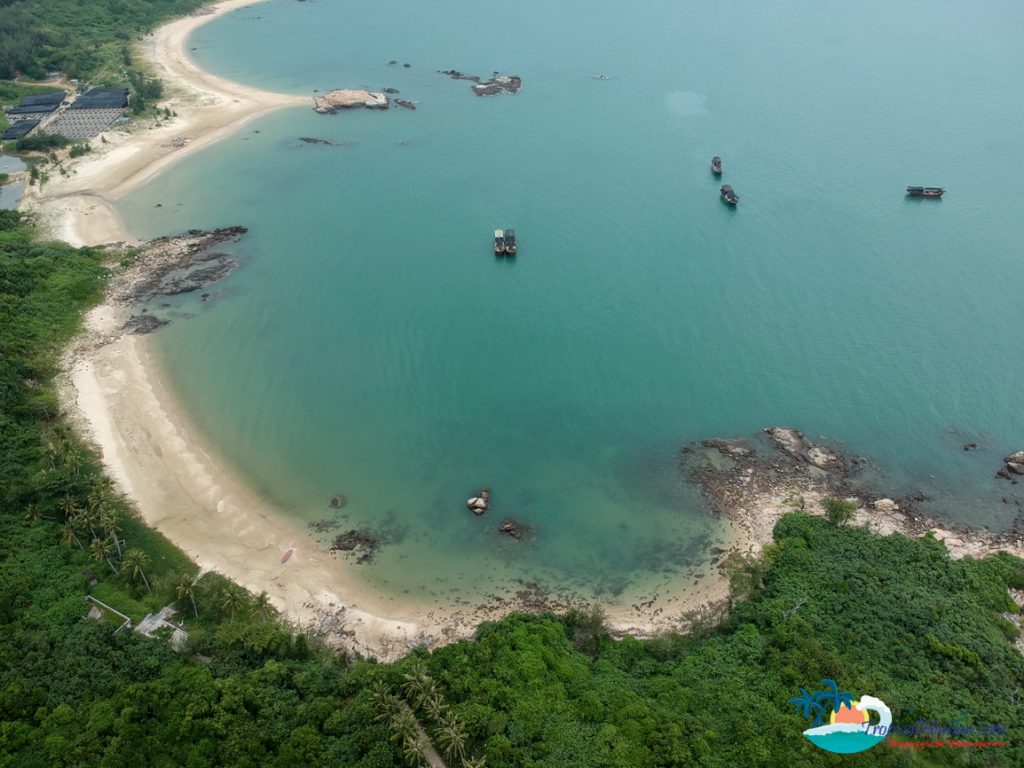 Around 500 meters short of the lighthouse is a small track on the left-hand side, this will take you to the bays on the North, which is a little bit cleaner than the southern bays.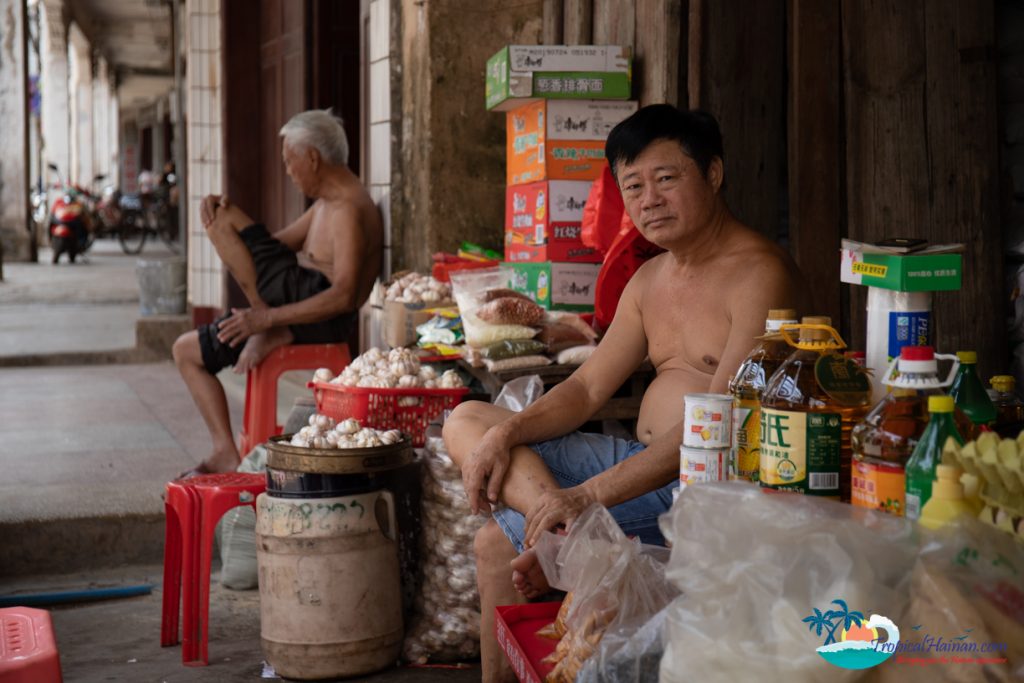 From the entrance to the lighthouse taking a right turn down the track will take you to the southern bays. Both are worth exploring, and if you have a snorkel take it along as the water is clear and there are fish around the rocks.
Route information
Puqian town address: 海南省文昌市胜利街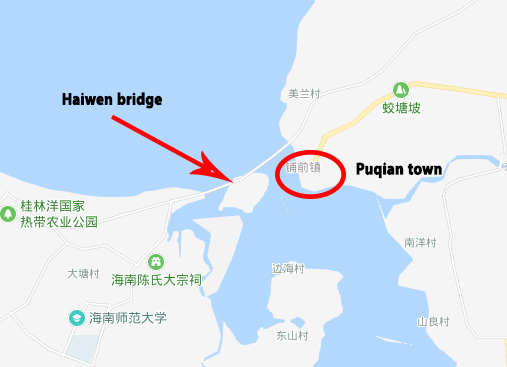 Mulan Bay address: 海南省文昌市木兰湾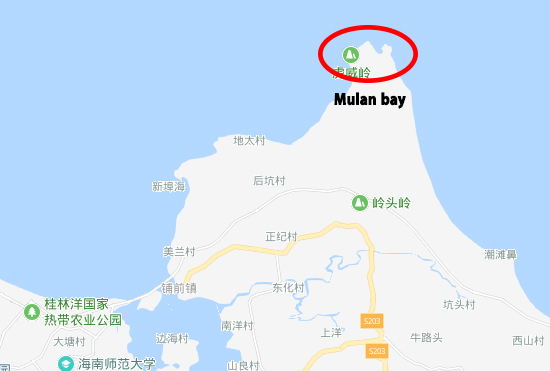 Simply copy and paste the above addresses into Baidu maps.
That's it for this weeks route. If you do use the guide to take this trip, please write in and let us know what you think. Your thoughts and suggestions can help us improve our service to the international community here in Haikou. Until next time, happy adventures!
Related article: Check out more things to do in Hainan