The Ju ren waterfall in Lingao is located around 2 kilometers northwest of Juren village. It has a drop of around 20 meters and is almost 20 meters wide. The pond below it is around 10 meters deep.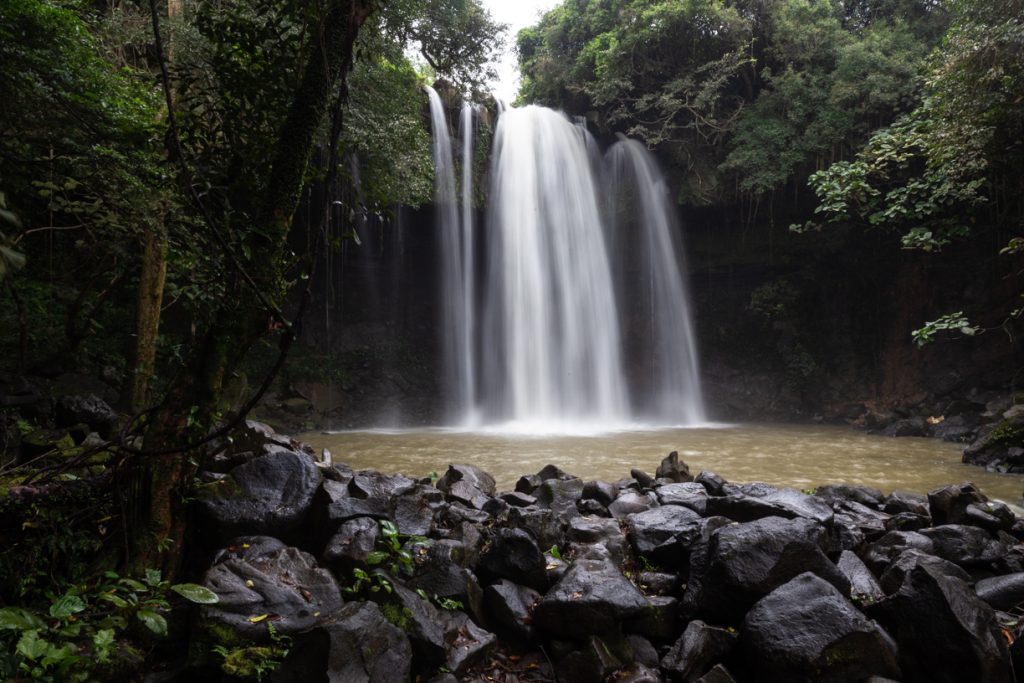 Over the years the waterfall has also been named the "Ancient Silver Falls" which in the rainy season, when the falls are crashing white water, it's easy to see why it was coined with such a name.
Rainy Season
If you wish to see the waterfall in full force then it's best to visit between June – October when the average rainfall in Hainan is much higher.
To get to the falls, it's a short walk of around 1 kilometer from the car park and restaurant area. The walk is mostly concrete steps and mud/gravel footpaths.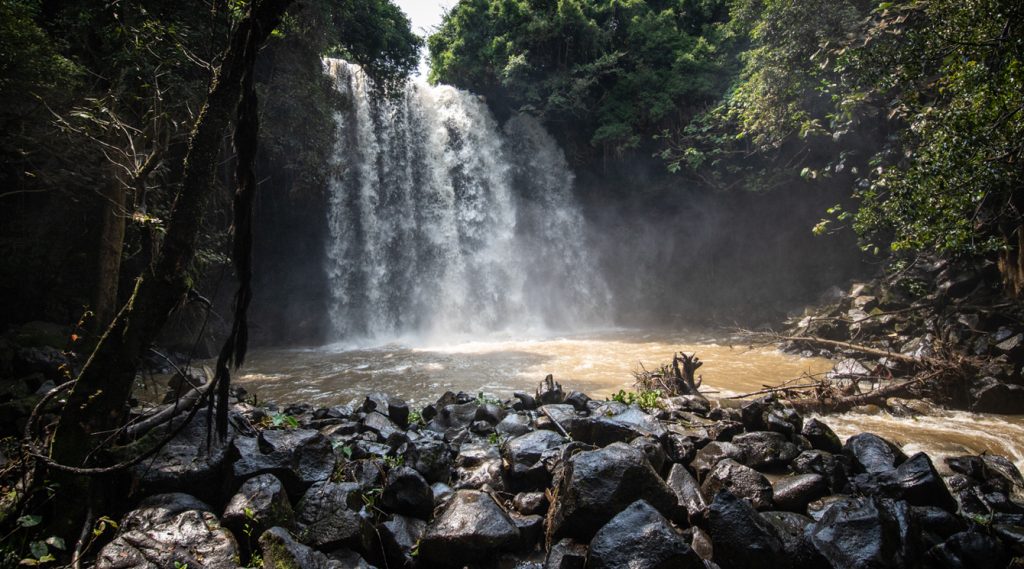 If you are unsure of which direction, just follow your ear, you'll hear the crashing water before you see it.
Roast Pig
There are a few restaurants and small shops on site. A local delicacy in Lingao is the suckling pig, which is usually roasting on a spit outside the restaurants.
Prior to around 2017, finding the waterfall and access to it was a bit of a challenge. In recent years, it has been rejuvenated, proper roadside signage, wooden footpaths and railings have been installed.
The footpaths run a few kilometers downstream, which also make for a pleasant walk after visiting the fall.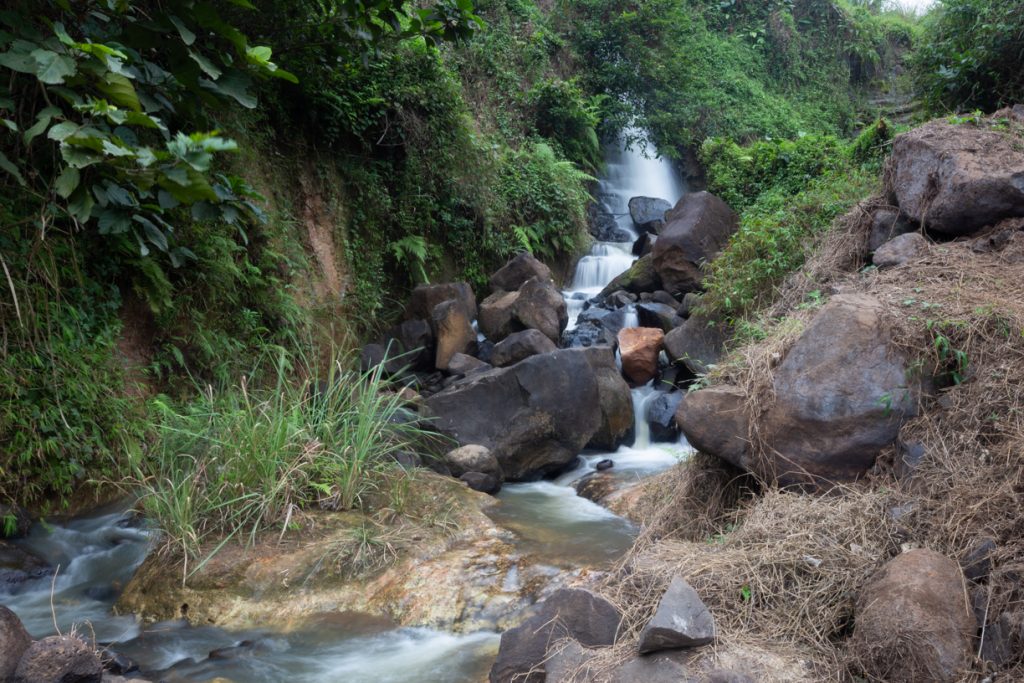 During peak tourist season and on weekends the waterfall can get quite busy with tour groups visiting. If you are looking to get a photo without many tourists in then it's best to visit early morning. You'll also escape the humidity during the summer months.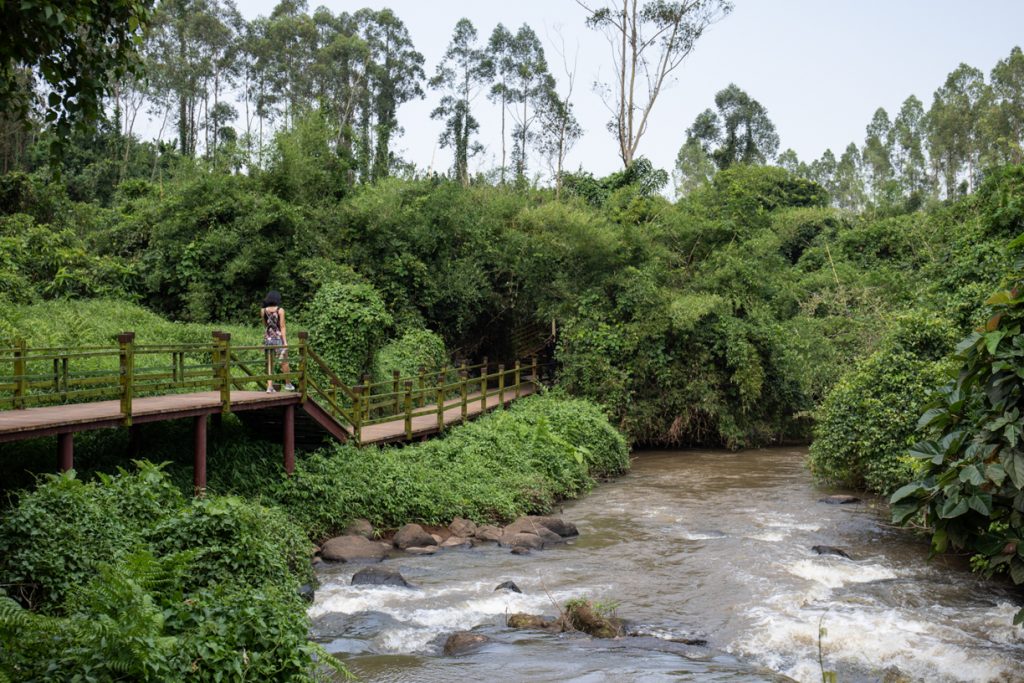 Downstream of the falls you'll find smaller streams and rocks pools which are no deeper than 0.5 meters and are safe enough to go for a cool dip.
Location
The location of the Ju ren waterfall is located around 80 kilometers west of Haikou city and should take around 1 hour 20 minutes to get there by car.
If you wish to travel by public transport then the best option would be to travel to Lingao south train station from Haikou east by train. It takes around 35 – 45 minutes and a ticket will set you back around 30 yuan.
From the Lingao south train station, a taxi will take around 20 minutes (show the driver the address below or paste it into Di Di)
Address: 居仁瀑布位于海南临高县皇桐乡居仁村西部附近
Related article: 3 reasons you may want to visit Lingshui
Tropicalhainan.com launched it's official mini programme and WeChat account, scan the Qr code to keep up to date with news, sports, entertainment, travel, opinion and more.