One of the things I love about Hainan is that even after living here for almost eight years I can still jump in the car, drive out of Haikou for an hour or so and discover something I have never seen before.
Both Jake Canning and I are professional photographers and recent converts to videography and last week we did just that. We'd heard of a traditional Hainanese sugar making factory, (one of only two left in Hainan), that still made brown sugar using traditional techniques that date back 600 years to the Tang Dynasty.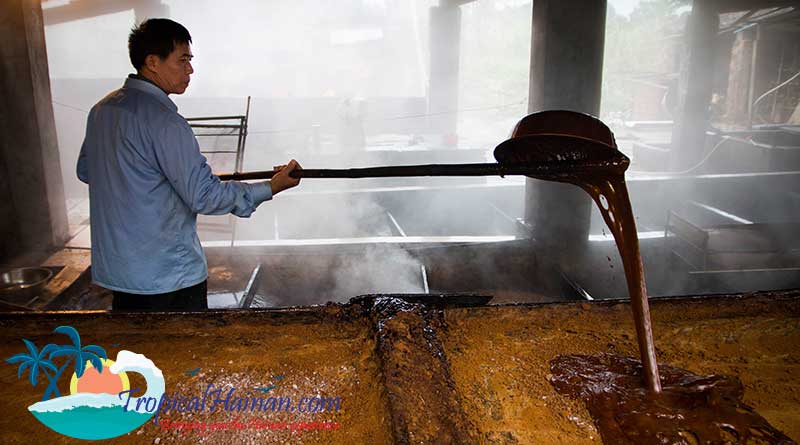 We drove to Zun Tan town where we met with Mr Huang who has run the factory for the past 30 years, (ever since his graduation from high school) and is the fourth generation of his family to continue on the sugar making process.
Known in Hainan as "Oriental chocolate" the brown sugar is made from local sugarcane (which is rich in selenium), blended with three year old dried ginger powder to give it a very local and distinct flavour and contains no artificial ingredients.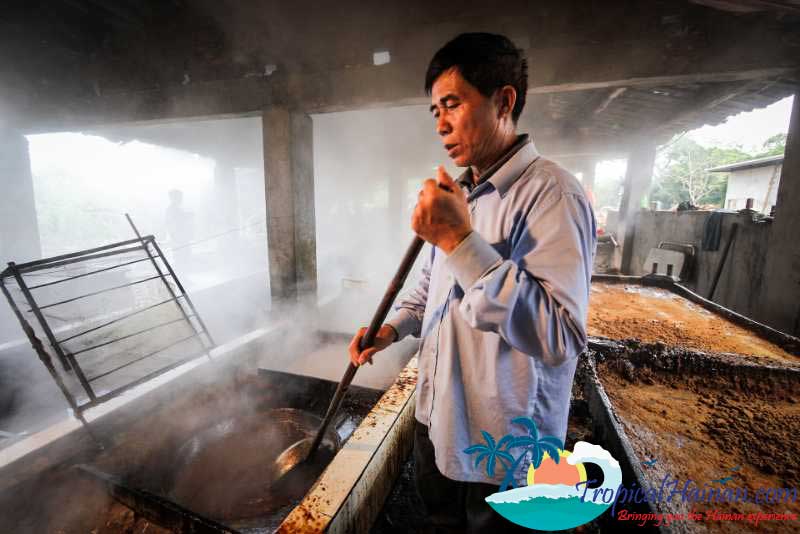 There are four stages to the process, juice extraction, filtration, boiling & reducing and crystallisation. Out of these the most important step in determining the quality of the final product is the boiling & reducing.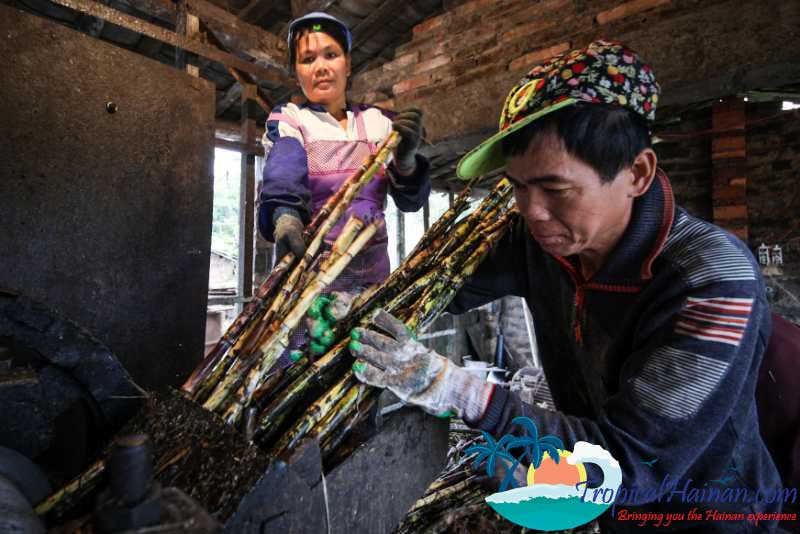 The crushed sugarcane stalks are fed into an underground furnace which must be maintained at a precise and steady temperature. Traditional pots sit above the furnace from large to small where the sugarcane extract is boiled and reduced in stages and must be stirred continuously.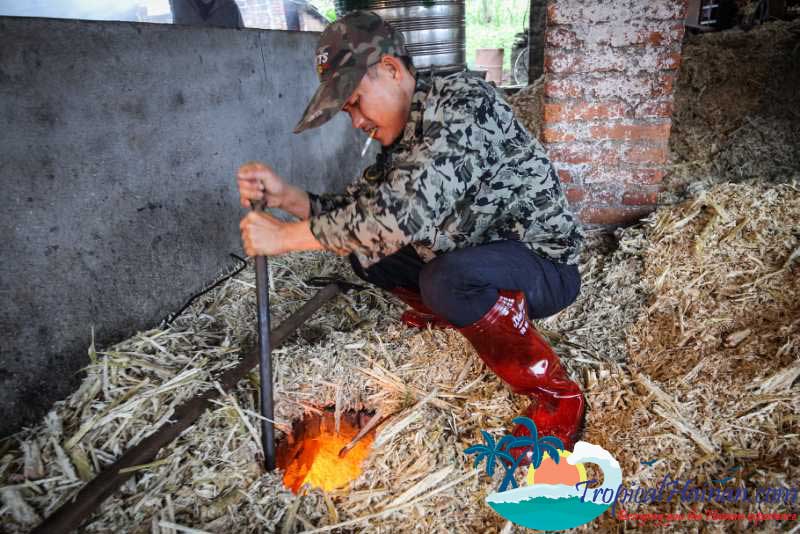 The optimum moment for crystallisation is determined by taste. With a good batch, the surface of the sugar will have a characteristic snowflake pattern. When the extract is considered ready it is poured onto a drying table where it crystallises rapidly and is pounded and worked into a loose powder, it is also poured into molds and sold as cubes or bars.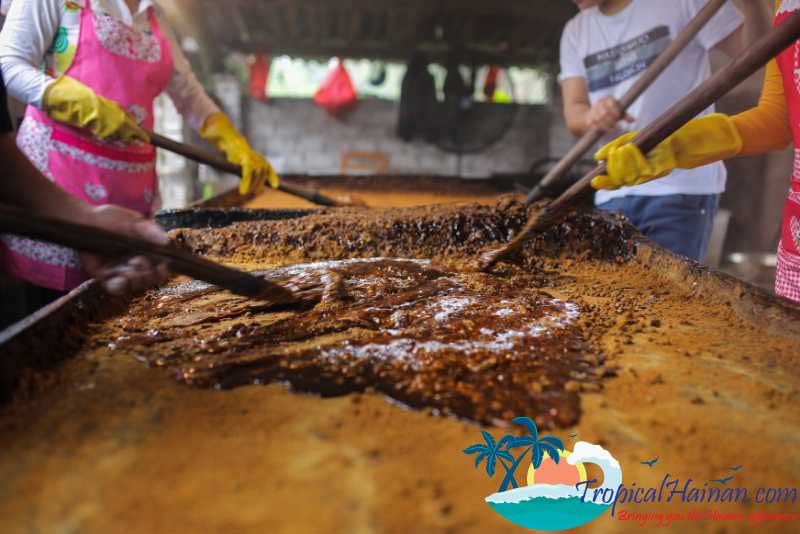 The factory which employs 25 staff, begins operation in either December or January each year, runs for about three months and produces anywhere from 30 to 60 tonnes of sugar which is sold mainly to Haikou and surrounding townships.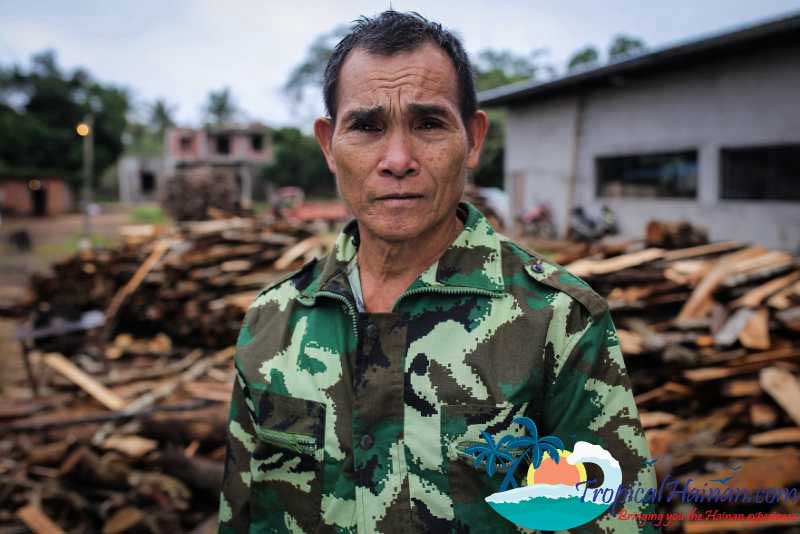 Nowadays the factory is adapting to more modern local tastes and their products include sugar infused with rosebud petals which is proving to be popular.
In ancient Chinese culture, long before the advent of western medicine, everything was examined and studied for its medicinal value, including food. Local Hainanese would cook noodles with the sugar for its health benefits and make "nian gao" 年糕 a sticky rice pudding and popular local dessert. During the yue zi, a set of diet and lifestyle restrictions traditionally practiced in China in the month after birth to restore a woman's health it is boiled and drank as sugar water.
Whether for health benefits or you're out to explore some truly ancient Hainan tastes it doesn't come more authentic than this.
(c) Copyright tropicalhainan.com all rights reserved, images or text may not be copied in part or full without express permission in writing.
Location of sugar factory
Long Lat 19.9929943, 110.4675978