Heatherwick Studio has been selected to design a tropical performing arts centre for Hainan Island.
The studio was chosen following a competition, organised by Haikou Tourism & Culture Investment Holding Group, to envision a landmark building for a new cultural quarter in Haikou.
The studio's design provides three performance spaces – an opera house, a concert hall and a theatre – that come together as a focal point under a sweeping canopy, which references the island's incredible geology.
"Our inspiration came from the volcanic landscape and the costumes, colours and movement of Hainanese Opera," said Eliot Postma, Partner and Group Leader at Heatherwick Studio.
"Many opera houses are cut off from their surroundings and only come to life when a performance is on. We wanted to create a space that is an extension of the city and will contribute to life on the street throughout the day.
"As a result, the canopy shelters a mix of different spaces that form an open-air village, of which the halls are a part. It blends the formality of performance with the informality of island culture, making opera more accessible and offering everyone a space to meet whether you have a ticket or not."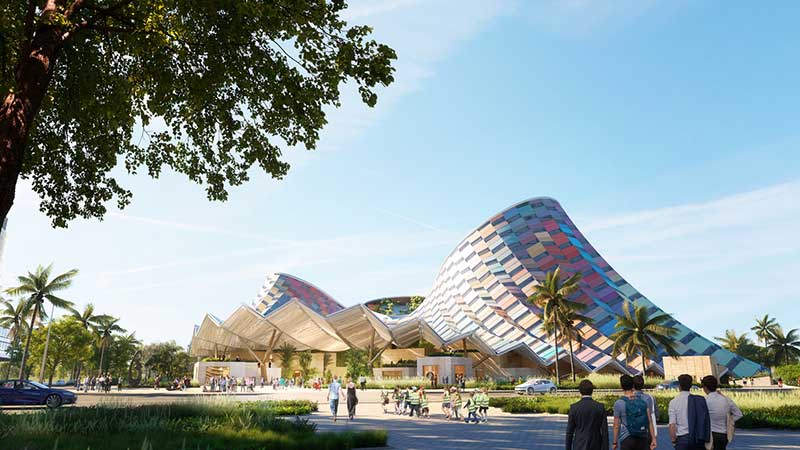 The new performing arts centre will have capacity for 3,800 people and integrate arts, creative learning, rehearsal and performance spaces. The venue aims to stage international productions that range from large-scale opera, ballet and musicals to avant-garde drama, fashion and immersive multimedia performances. It will form a key component of the Jiangdong cultural quarter, located just east of the historic city centre.
Construction is expected to start towards the end of 2022.
Related article: Haikou: Asia's largest duty-free shopping city to open in 2022

If you would like to make a comment, compliment or complaint about any aspect of living or working in Hainan Island, we'd love to hear from you. We pass all communications on to the relevant services. Please keep it polite and to the point.