Carvers in Seychelles have learned new techniques in coconut carving from two experts from China who were hosting several workshops in the island nation. Wu Mingju, the vice chairman of Hainan Folk Artists Association, and also the Hainan Provincial Successor of Coconut Carving Arts, said that as coconuts are in abundance in Seychelles, they were here to show Seychellois how they can be used effectively for revenue.
"Coconut is a popularly used raw material in the creation of art in the island nation. It is light and can take very fine detail. It is also less expensive and very much easier to work with than stone," said Wu.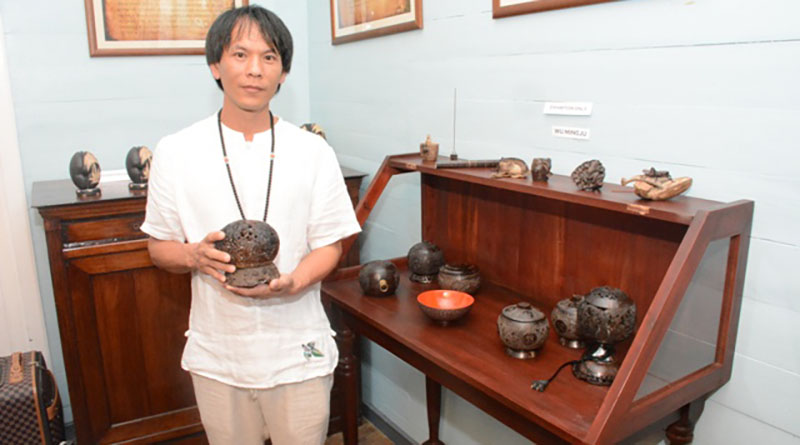 Wu Mingju one of the best coconut carving experts with his exhibits. (Seychelles Nation)
Wu, who was accompanied by Lin Hui, assistant carving artist of Haikou Mingju Carvings company, is considered as one of the best coconut carving artists.
Both artists come from Hainan Island, which like Seychelles, an archipelago in the western Indian Ocean, abounds in coconut trees.
"In China, coconut carving dates back more than 500 years. Coconuts are available all around the islands and we are here to show Seychellois how to gain the maximum from the abundance of coconuts available here," Lin said.
Hainan island in China developed a special folk art of coconut carving more than one thousand years ago using the shell of coconut as the material.
During their visits, the Chinese experts conducted several coconut carving workshop and hosted a coconut carving demonstration last weekend at the Mayor's Office in the capital Victoria.
Donatien Freminot one of the local participants in the wood carving workshop. (Seychelles Nation)
"Before I was using only four types of chisels, now I have learned how to use other tools, which helps you create a much finer end product," said Freminot. One of the Seychellois wood carvers who participated in the workshop, Donatien Freminot, said he has learned some new techniques from the experts.
The local artist who took one year to master the art of carving said that the exhibition will encourage residents and artists to use resources that we have in the environment to generate an income.