On October 8th, a rare species endemic to Hainan, the Roudouye Mountain Damselfly, was discovered at the Meishe River National Wetland Park in Haikou.
Lu Gang, the director of the Haikou Wetland Research Institute, explained that on October 8th, during an ecological survey conducted at the Meishe River National Wetland Park, they discovered three rare Roudouye Mountain Damselflies, which were found in close proximity to human activity.
Just how rare is the Roudouye Mountain Damselfly?
Dr. Zhang Haomiao, an entomologist with a Ph.D. from the Kunming Institute of Zoology at the Chinese Academy of Sciences, explained that the Roudouye Mountain Damselfly is one of the rarest "豆娘" (dòu niáng) damselfly species on Hainan Island and perhaps throughout all of China. It represents the sole known member of the family Gomphidae within China.
In 1999, after its initial discovery in Wanning, Hainan, this species disappeared from sight for a time. In 2018, the research institute, commissioned by the Haikou Wetland Protection Management Centre, began conducting dragonfly monitoring in both the Wuyuan River Wetland Park and the Meishe River National Wetland Park in Haikou. Recently, they detected the Roudouye Mountain Damselfly in both of these locations. 'We have altogether found over ten Roudouye Mountain Damselflies, which is a pleasant surprise,' Lu Gang stated.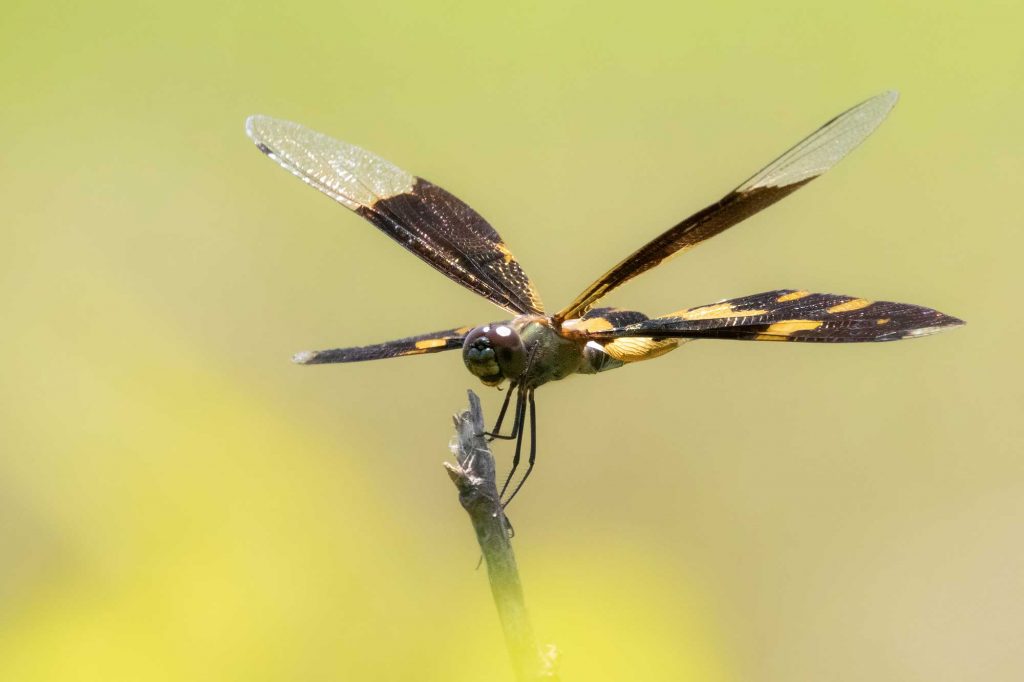 Lu Gang explained that 'dragonflies' is a collective term for insects belonging to the Odonata order within the class Insecta, broadly divided into the suborders Anisoptera and Zygoptera.
Damselflies are any of numerous odonata insects (suborder Zygoptera) distinguished from dragonflies by laterally projecting eyes and usually stalked wings folded above the body when at rest.
The main physical difference between a dragonfly and a damselfly is in their wing shape and wing positioning:
Wing Shape: Dragonflies have broader, more robust wings that are often wider near the base and taper toward the tip. Damselflies have narrower and more delicate wings that are roughly the same width throughout their length.
Wing Positioning at Rest: When at rest, dragonflies typically hold their wings horizontally, stretched out to their sides. In contrast, damselflies usually fold their wings together above their body when at rest, giving them a more slender appearance.
Currently, China has documented over 700 species of insects belonging to the Odonata order. Hainan has identified 165 species of Odonata, with 22 of them being unique to Hainan Island.
Ecological requirements of the Roudouye Mountain Damselfly
The Roudouye Mountain Damselfly has unique ecological requirements and is commonly found in low-altitude tropical regions. It typically inhabits dimly lit and dense forests and calm waters. The males of this species have brown compound eyes, with yellow and green patterns on their faces.
Their thoraxes are black with short and wide yellow-green stripes in front of the shoulders. They also have broad yellow-green or yellow-purple stripes on their sides. The abdomens are dark brown, with pale yellow or blue-green spots on several segments at the base and faint yellow spots on middle segments.
The dorsal side of the mid-abdominal segments is light brown, while the abdomen's end is primarily black, and the sides of the tail display large white spots.
"The appearance of the Roudouye Mountain Damselfly is a testament to the diversity of Haikou's wetlands and the increasing efforts of Haikou's wetland conservation efforts, particularly in species monitoring," stated Lu Gang. In the past, smaller groups such as dragonflies received little attention. However, with the growing significance of environmental protection, these smaller groups are now receiving professional monitoring and are entering the spotlight.
Related article: Mei She River Wetland Park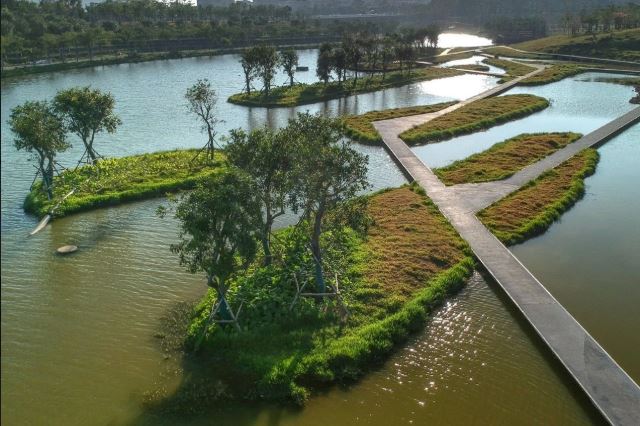 If you would like to make a comment, compliment or complaint about any aspect of living or working in Hainan Island, we'd love to hear from you. We pass all communications on to the relevant services. Please keep it polite and to the point.