​If you want to experience a new place and dive into the local culture, part of this immersion should include tasting the local cuisine. Listed below are some of the most popular snacks and foods amongst the Hainan locals.
Lao ba cha 老爸茶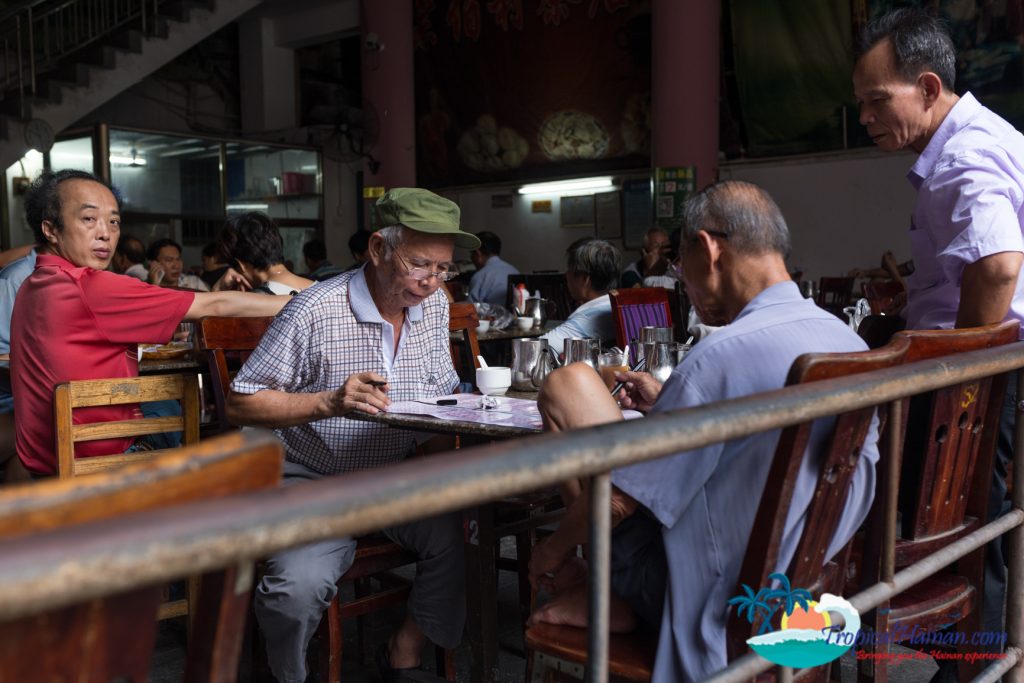 Lao ba cha or daddies tea is famous in Hainan, it's particularly popular with the elderly and where most go to socialise. Lao ba cha is mostly seen in older parts of town such as Qi lou (Old Town). It's basically a cafe that sells green tea, coffee and some small snacks, usually dim sum and sweetbreads.
Wenchang chicken 文昌鸡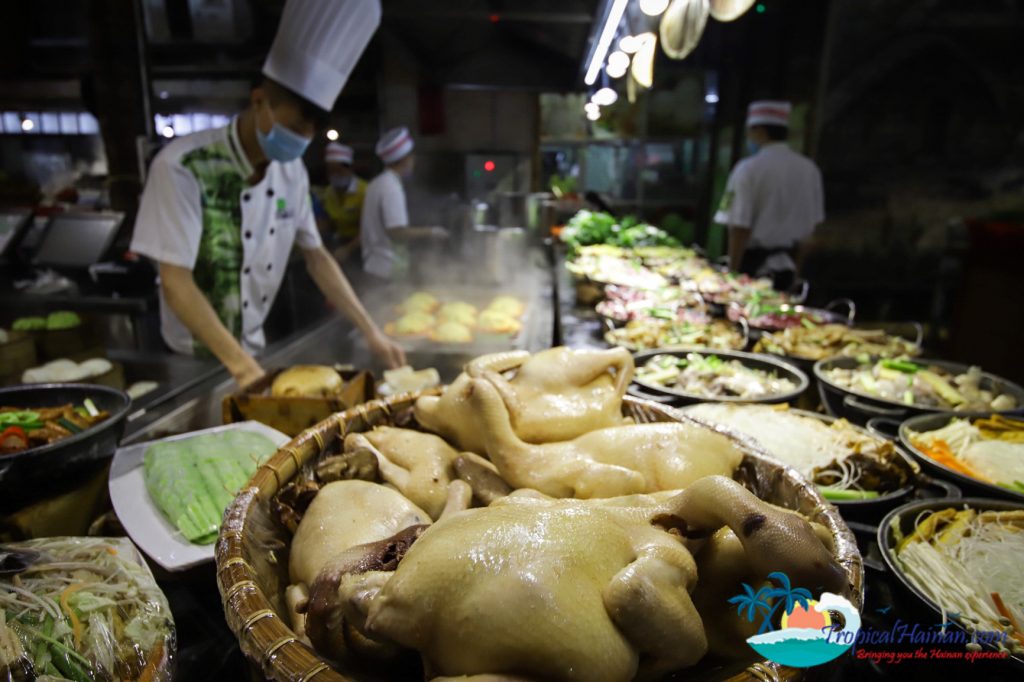 Originating from Wenchang province, it's a local chicken breed in Hainan. It has a history of more than 400 years. This boiled chicken dish has a distinct flavour like no other, you can usually spot Wenchang chicken by the colour of the skin, it's a hue of yellow. No part of the chicken goes to waste, it is usually served with the head and feet on the same plate.
Salty chicken 盐鸡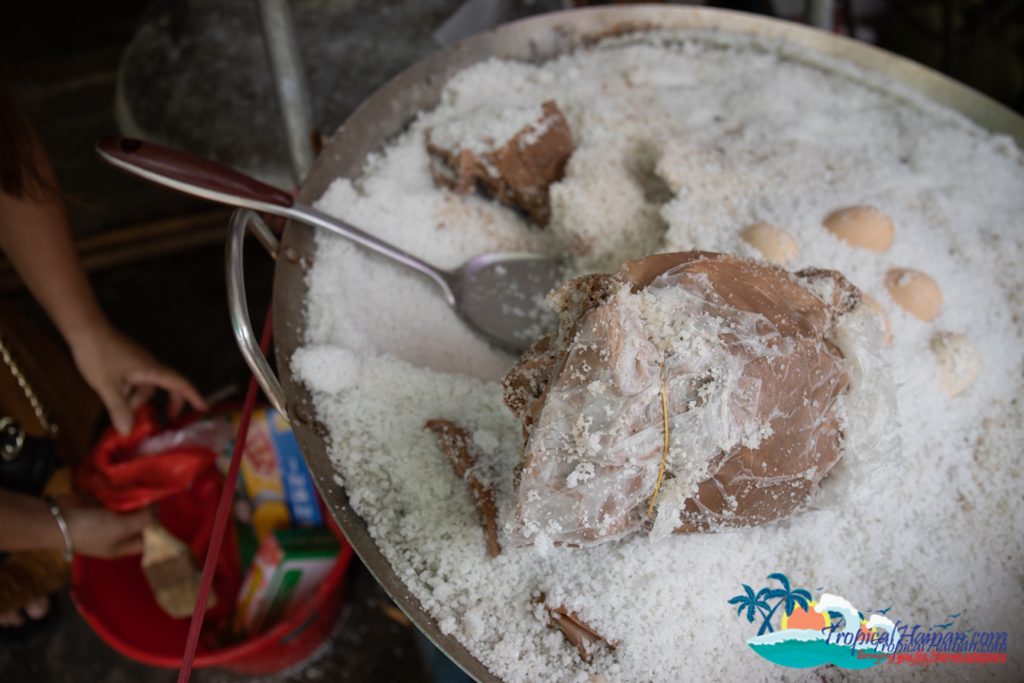 The preparation of salty chicken takes around two days, the chicken is seasoned with Hainan sea salt and left to stand overnight. The following day it is wrapped in baking paper (traditionally lotus leaves) and then slow-baked in a wok of Hainan sea salt for several hours.
Zao po cu 糟粕醋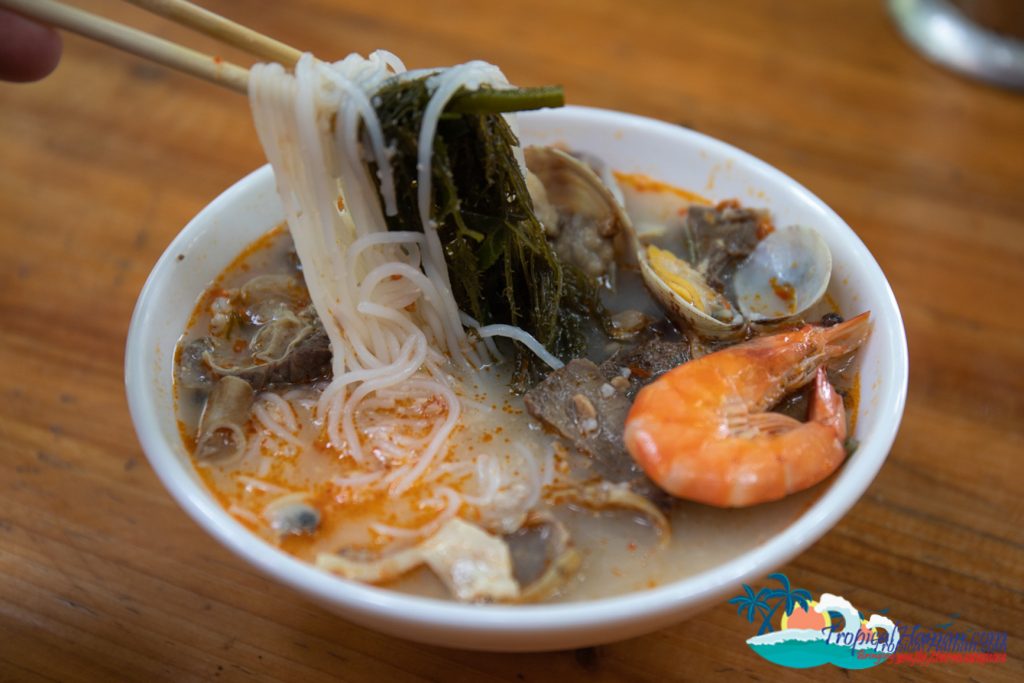 Typically found in Puqian town. The dish contains noodles, kelp, seaweed, seafood, vinegar, taro and beef. It has become very popular in Puqian with many Chinese tourists travelling there to try this sour and spicy appetiser.
Hainan fen / Lingshui fen 海南粉 /凌水粉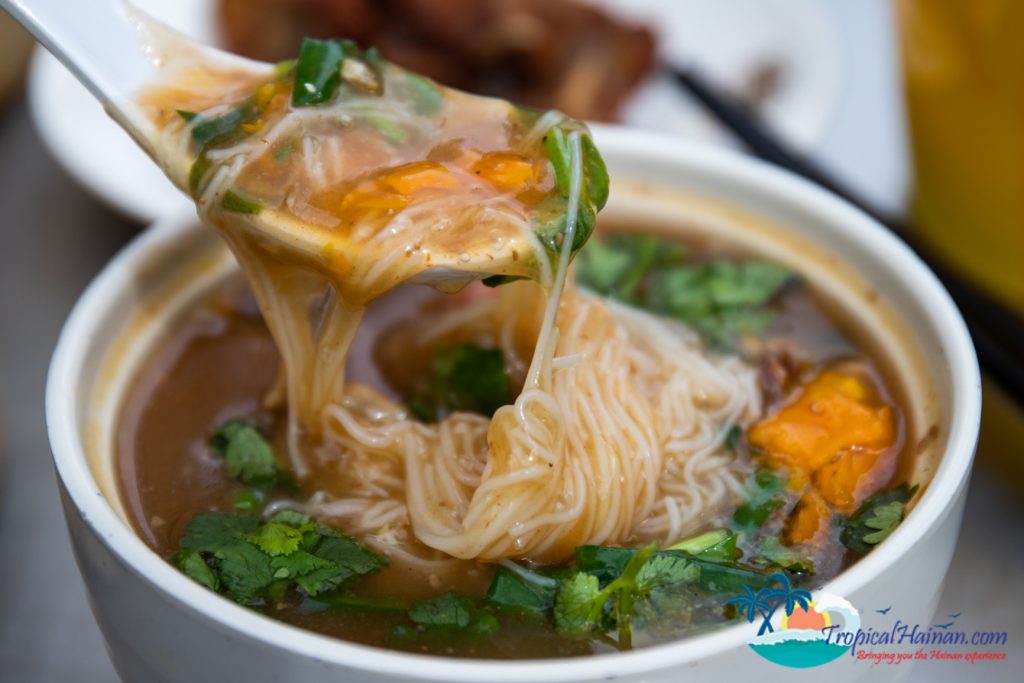 Hainan/Lingshui fen is a sweet and sour tasting noodle dish, it's cheap and widely available through Hainan. Depending on where you are on the island the ingredients may differ slightly. Typically there will be dried fish, dried meat, noodles and some vegetables in there.
Qing bu liang 清补凉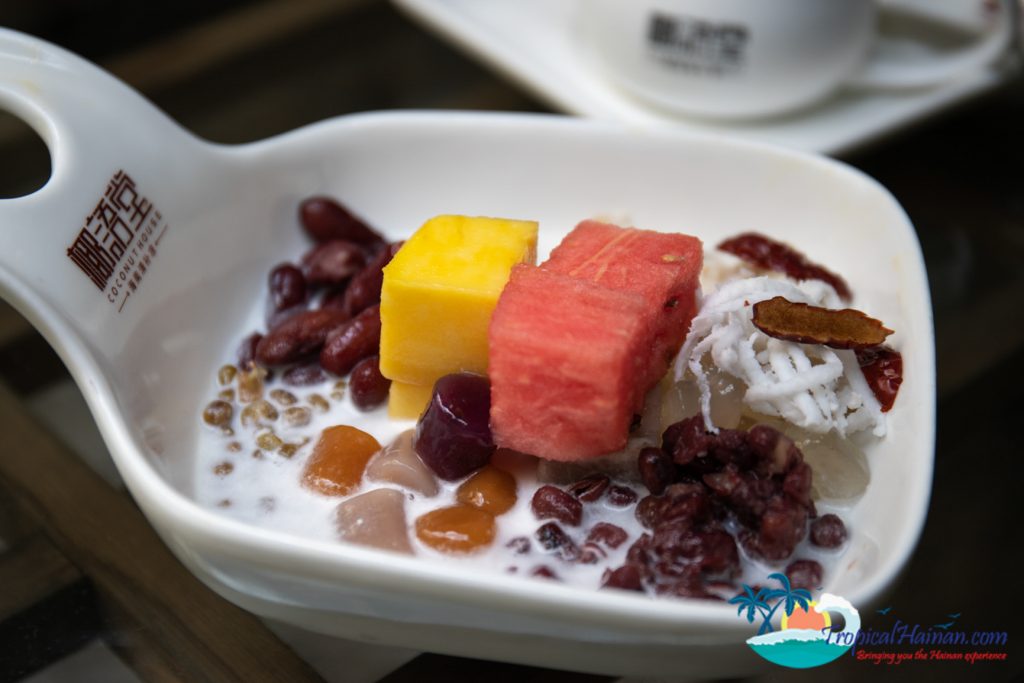 Qing bu liang 清补凉 is a popular summertime snack all across Hainan. It has many variations but is typically made with ice cream, iced coconut milk and filled with mung beans, watermelon, taro, jelly, sweetcorn and quail eggs.
What's that?…..quail eggs and sweetcorn in a sweet soup? Most find it strange at first but give it a try, you'll be surprised.
Mango roll芒果卷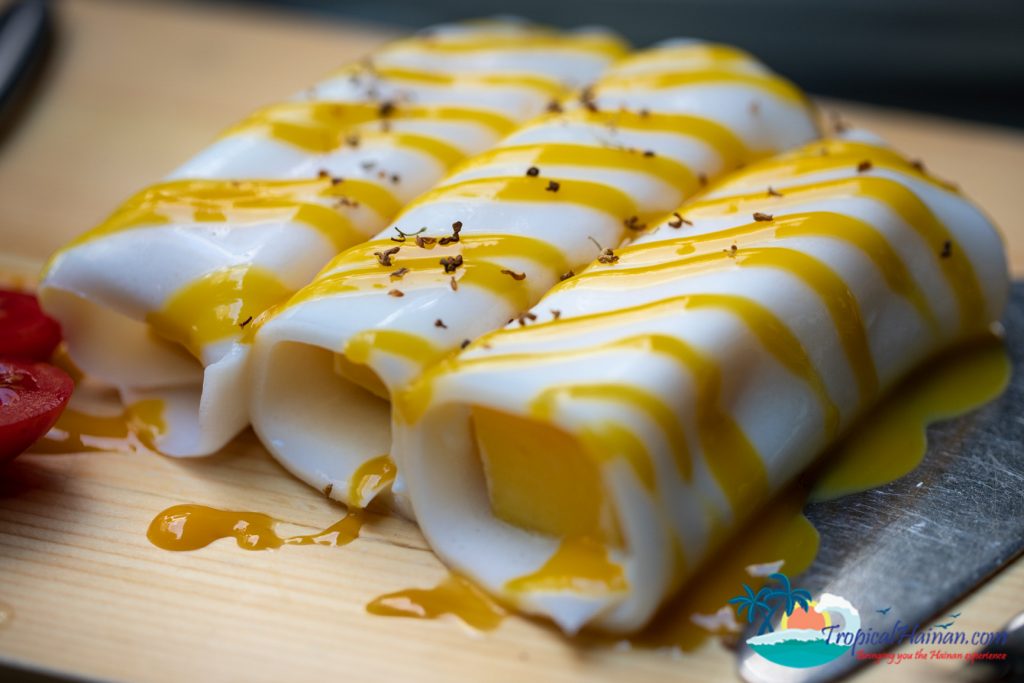 The coconut mango roll is a combination of two locally grown fruits. The snack is also famous across Hainan. The rolls consist of rectangular cuts of mango wrapped in coconut gelatin wrap.
Coconuts 椰子 /椰子肉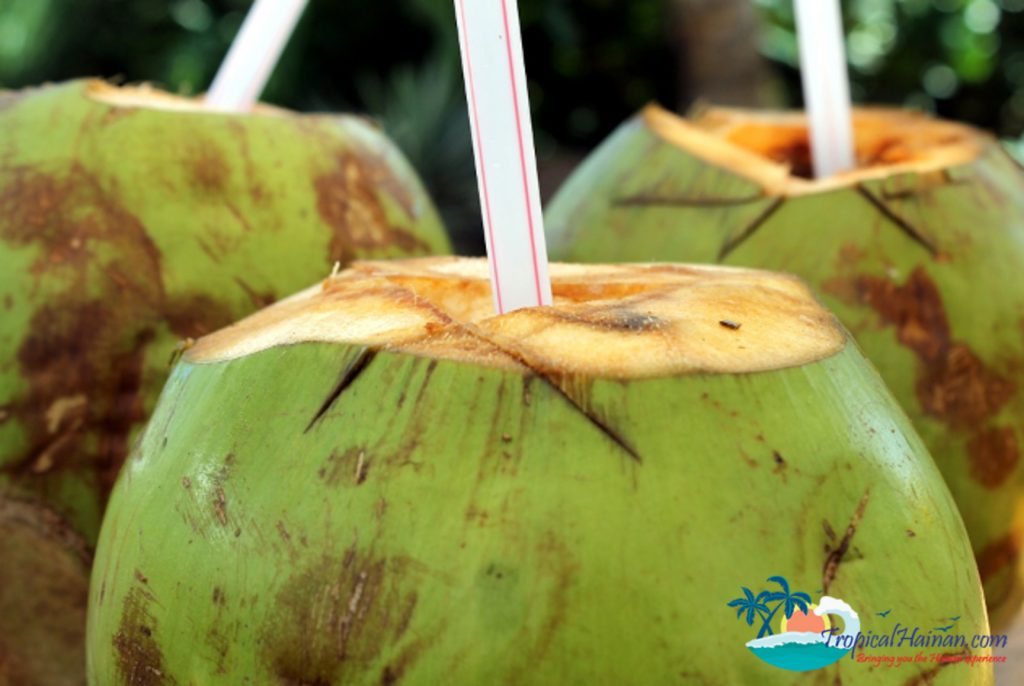 Hainan is an abundance of coconut trees and it's not hard to miss the stacks of coconuts outside shop fronts. After drinking, ask the shop owner to open your coconut, so that you can eat the 'coconut meat' 椰子肉 it's very popular with the locals, you'll even see the meat laid out to dry on racks.
Chickens feet 凤爪 /鸡爪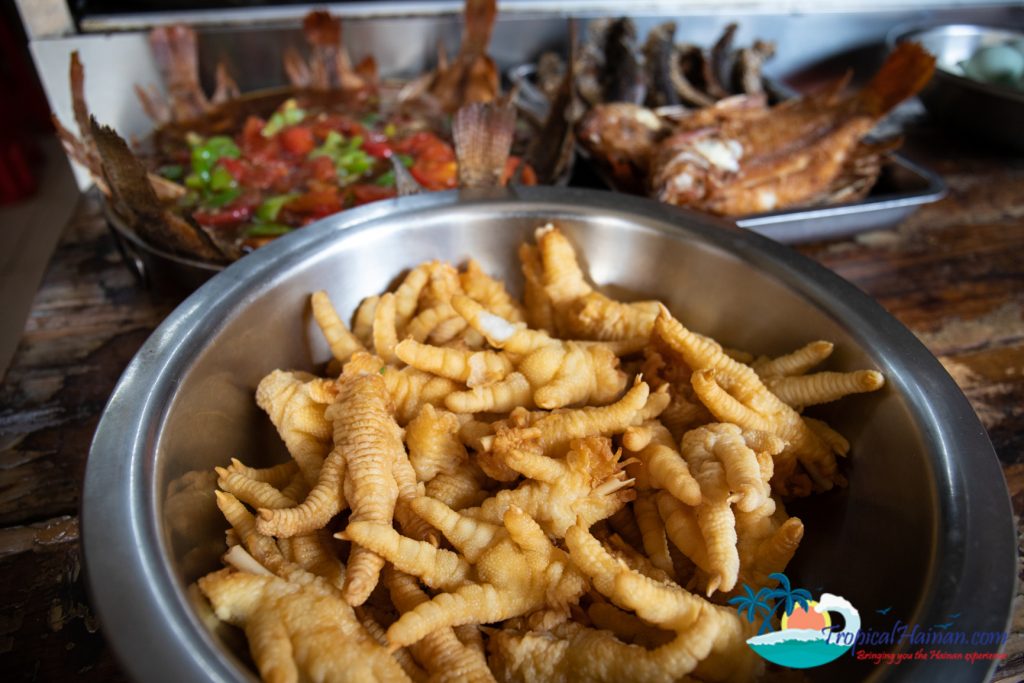 This 4 fingered gelatinous snack is popular throughout China, boiled, fried, stewed and pickled, chickens feet can be found in most restaurants, snack stalls or lunch boxes. Ordered too many chickens feet at the restaurant? Not to worry, chickens feet can be kept in your refrigerator for up to two days before going bad.
Shrimp pancakes 虾饼
This affordable snack can be found around most markets in Hainan. It's made up of one whole shrimp, vegetable and potato. It's deep-fried so don't worry about de-shelling the shrimp.
La tang 辣汤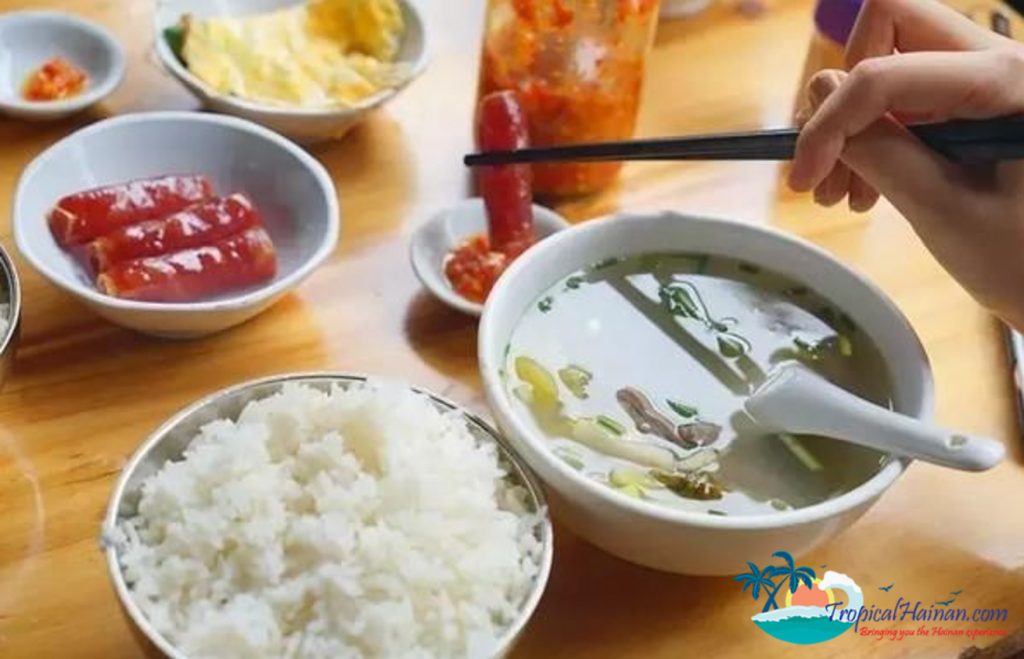 La tang can be a little harder to find, and like lao ba cha it is found in the older areas of town. It's basically a peppery soup containing some vegetables, and the insides of an animal, it's usually served with a red fatty sausage which is like the Hainan version of chorizo, fried egg and rice.
Roast pig 烤猪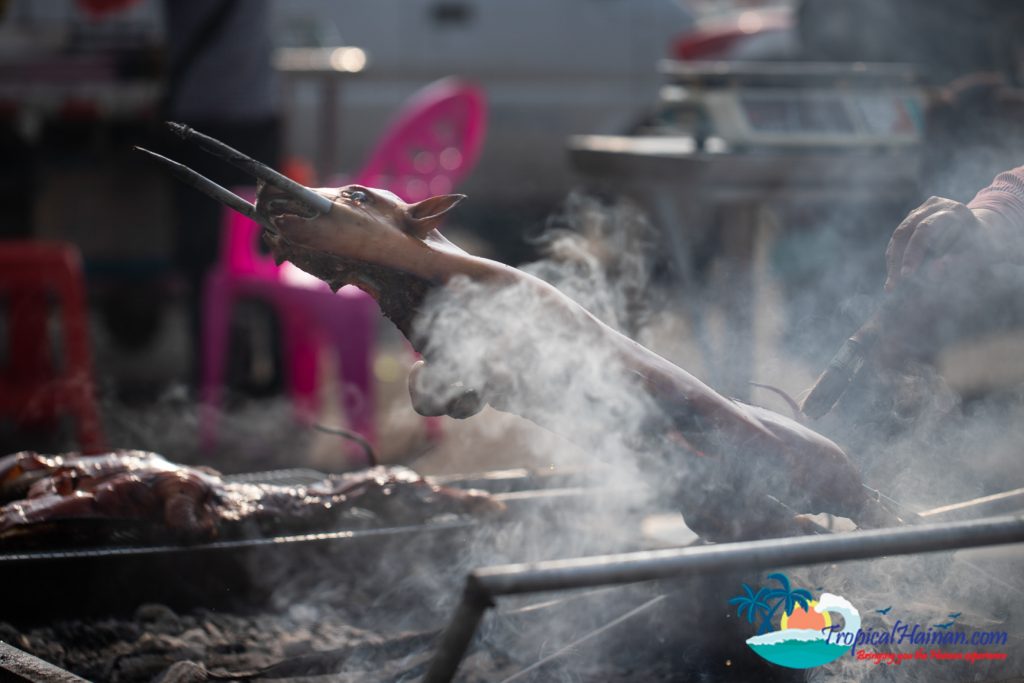 Roast pig is most popular in Dongfang and Ling gao, the dish is not so common in Haikou and Sanya, but people do still eat it. You'll know when there's a roast pig place nearby because you'll smell it before you see it. Look out for the pigs being roasted street side.
Seafood at the market 海鲜广场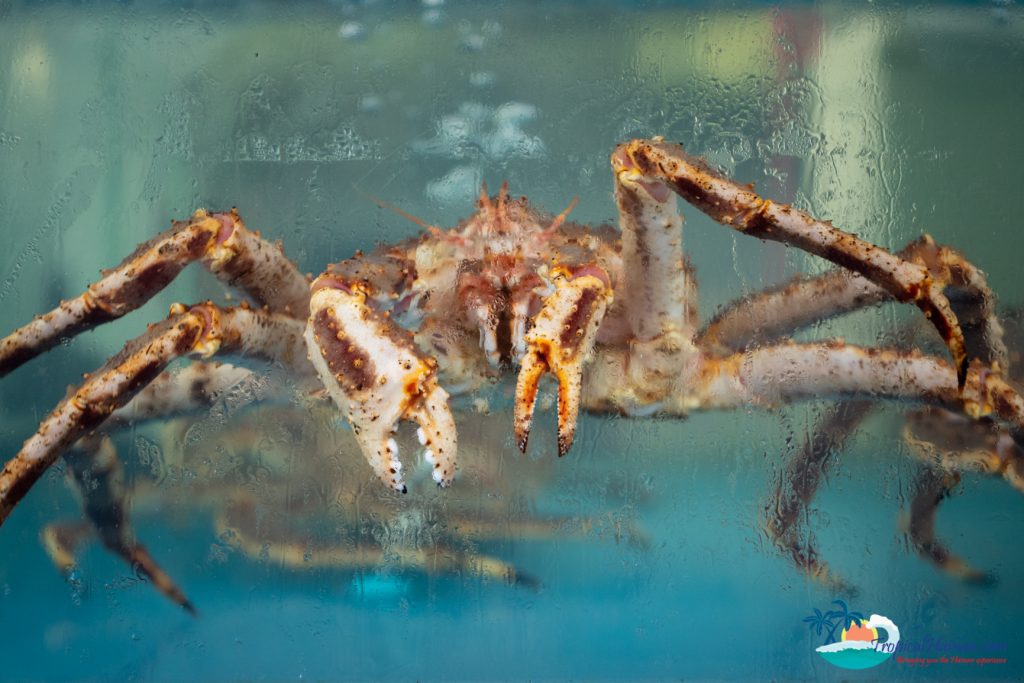 One of the benefits of being on a tropical island is the wide variety of seafood that the surrounding waters have to offer. Visit a local seafood market, buy your own and take it to a restaurant, that's the Hainanese do it here. Buying from the markets is also a little more affordable.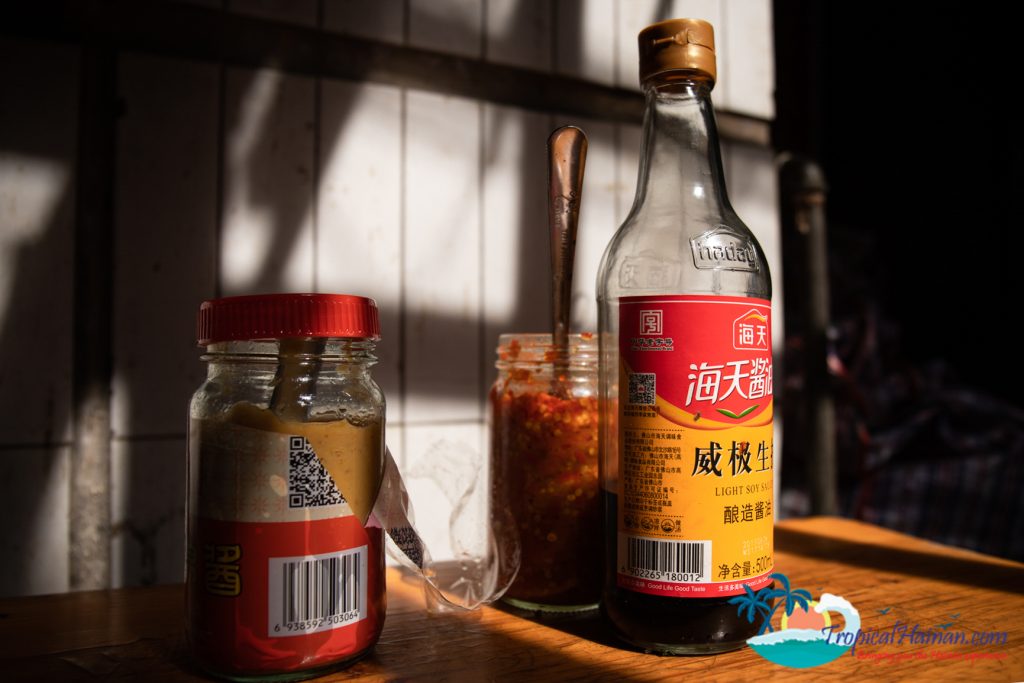 Related article: Old town fish market