May 17th marked the annual "World's Telecommunication and Information Society Day".
Internet development in Hainan
By the end of 2020, the number of Internet users in Hainan reached 7.6353 million, an increase of 123,000 or 1.6% compared with the end of 2019.
In terms of age, under 30 year olds comprise the largest group, with Internet users between 19 and 24 years old accounting for 27%, the highest proportion.
In terms of education, netizens with a bachelor's degree are the largest group, accounting for 47.4%.
In terms of occupation, students are the largest group, accounting for 19.2%.
The number of mobile phone users in Hainan Island is stable with the number of 5G users growing rapidly.
By the end of March 2021, there were 11.374 million mobile phone users, 1.97 million 5G terminal users and 3.643 million fiber access users in Hainan, accounting for 97.4 percent of the total broadband users, ranking third in China.
By the end of 2020, the number of websites in Hainan had reached 28,000, an annual increase of 4,000 and a growth rate of 16.7%.
Hainan has 19,000 registered website topics, with an average of 1.47 websites per topic, an increase of 0.21 compared with 2019.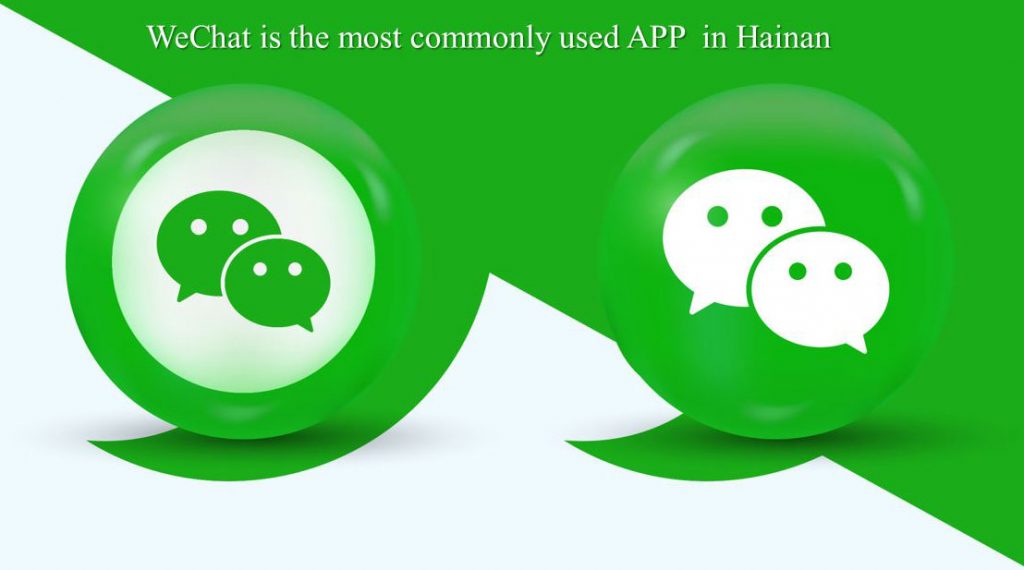 Comprehensive search engine sites are favored by users
WeChat is the most commonly used APP
On the PC,
In 2020, comprehensive search engine websites ranked first among all websites, with a user coverage rate of 99.1%
For mobile devices,
Video services ranked first place, accounting for 96%.
Instant messaging, mobile shopping and short video services are the most commonly used APPs among Hainan netizens.
Among them, WeChat has topped the list with 82.8% of mobile users.
Mobile Taobao ranked second with 50.7% and Douyin third with 48%.
By the end of 2020, Hainan had installed 7,863 5G base stations in cities and counties across the island with 532 more to be installed by the end of 2021.
Progress of 5G base station installation in Hainan exceeds the national average with the number of Internet users having reached 7.64 million.
Operation of the information and communications industry in Hainan
From January to December 2020, total revenue from the telecommunications industry in Hainan was 10.75 billion Yuan with a year-on-year growth of 2.8%.
From January to March 2021, total revenue from the industry was 2.96 billion Yuan, up 10.1% year on year, and the year-on-year growth rate was 3.6 percentage points higher than the national average level (6.5%).
Investment in fixed assets continues to grow, and investment in 5G continues to increase
In 2020, Hainan's information and communications industry had fixed asset investment of 3.23 billion Yuan, up 4.5% year on year.
Of this, 370 million Yuan was invested in 4G and 1.19 billion Yuan was direct investment in 5G.
From January to March 2021, the industry had fixed asset investments of 980 million Yuan, up 58.5% year on year, 52.1 percentage points higher than the national average (6.4%), ranking 5th in the country in terms of growth.
This included 32.439 million Yuan 4G investment and 470 million Yuan 5G direct investment.
Enhancing the capacity of optical network construction
By the end of March 2021, there were 8.854 million fixed Internet broadband access ports in Hainan, a year-on-year growth of 10.4%, ranking 7th in China.
Deployment of 5G base stations across Hainan Province
By the end of 2021 outdoor coverage of main urban areas in Haikou, Sanya and Qionghai (including Bo'ao) will be completed.
Hotspots in major urban areas of other cities and counties will be covered, and 5G application will include areas such as hospitals, schools and key tourist attractions.
Universal telecommunications services have narrowed the gap between urban and rural areas in Hainan Province
At present, all cities and counties in the province have achieved full 4G network coverage. Coverage rate of 4G network and fixed-line broadband access has reached 100% in 195 townships in the province, and 100% of the 2,644 administrative villages have access to optical fiber and 4G.
Speed increase and cost reductions
In terms of network speed, the proportion of optical fiber users in Hainan has increased from 50.1% in 2015 to 80.8% in 2020.
In terms of tariff reductions, in 2020, the average tariff for fixed broadband and mobile data decreased by 33.2% and 96.1% compared with 2015, and the average tariffs for broadband and dedicated lines for small and medium-sized enterprises decreased by 45.4% and 32.8% compared with the end of 2019.
Targeted fee reductions to help alleviate poverty through the Internet
By the end of 2020, poverty alleviation assistance had benefited 216,000 users, with a total amount of 57.027 million Yuan.
Business environment optimisation and value-added telecom enterprises
Current reforms are focusing on delegation of authority, providing services, improving the review and approval system for telecommunications businesses and ensuring that the entire approval process can conducted without face to face meetings.
The time limit for review and approval has been shortened from 60 days to 8 working days and "one-stop" services for the filing of telecommunications facilities have been promoted to provide age-appropriate services.
The number of value-added telecommunications companies continue to grow with a total of 2,598 companies operating value-added telecommunications services, 916 of which are newly added, representing a year-on-year growth rate of 140.3%.
Tropicalhainan.com launched it's official mini programme. Scan / long press the Qr code to keep up to date with news, sports, entertainment, travel, opinion, restaurants / bars, things to do, jobs and much much more.
Related article: Huawei to set up tech center for the Internet of Things in Hainan