A weekend at Yunshe Songtao is a nice break away to recharge the batteries whether for families, couples or even small groups. At the time of writing, it's still undergoing development with the first phase having been completed and receiving tourists.
Billed as an agricultural Zen life, tropical pastoral residence and a place of healing that advocates the natural world for rest and relaxation, Yunshe Songtao has lofty aspirations.
Located at Shi Jing Village, Nan Feng Town (海南省儋州市南丰镇油文村委会石井村(GPS:云舍松涛·海南中国村2号门), Tel: 0898-32623599, around 23 kilometres from Danzhou City and 150 kilometres from Haikou City, the tourist park covers a total area of around 5,000 acres.
As an agricultural cultural tourism vacation project, the park offers homestays, hotel rooms and camping and glamping with coffee shops, restaurants and Li and Miao minority cultural and creative displays, as well as agritourism activities (although not everything is open yet).
Yunshe Songtao is very clearly a large working farm and products include coconut, pineapple and bananas.
While there's no doubt that the park is very impressive, and we had an enjoyable weekend, the overwhelming feeling was one of a tourism project having been built by a real estate company whose entire focus is on how the park looks, and not on the customer experience.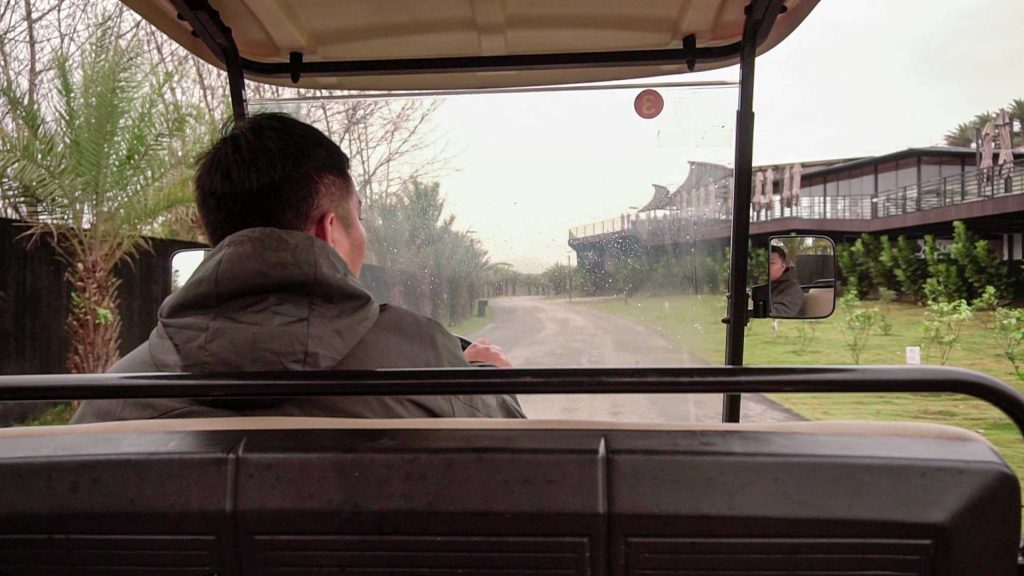 When you arrive, you drop your bags and passengers off at the check-in area at the gate, park your car outside and get an electric, golf buggy style vehicle to your room.
The reason for this is that the park is a scenic tourist area with a lot of people strolling around the grounds and cars are deemed unsightly and a hazard. While this is completely understandable, we could not find any staff who spoke English, which means that if you cannot speak Chinese, you will be unable to call for a pick-up. Every time you leave your room, you will have a long walk to reception, or you can simply wait on the road and hope the next vehicle will come along soon.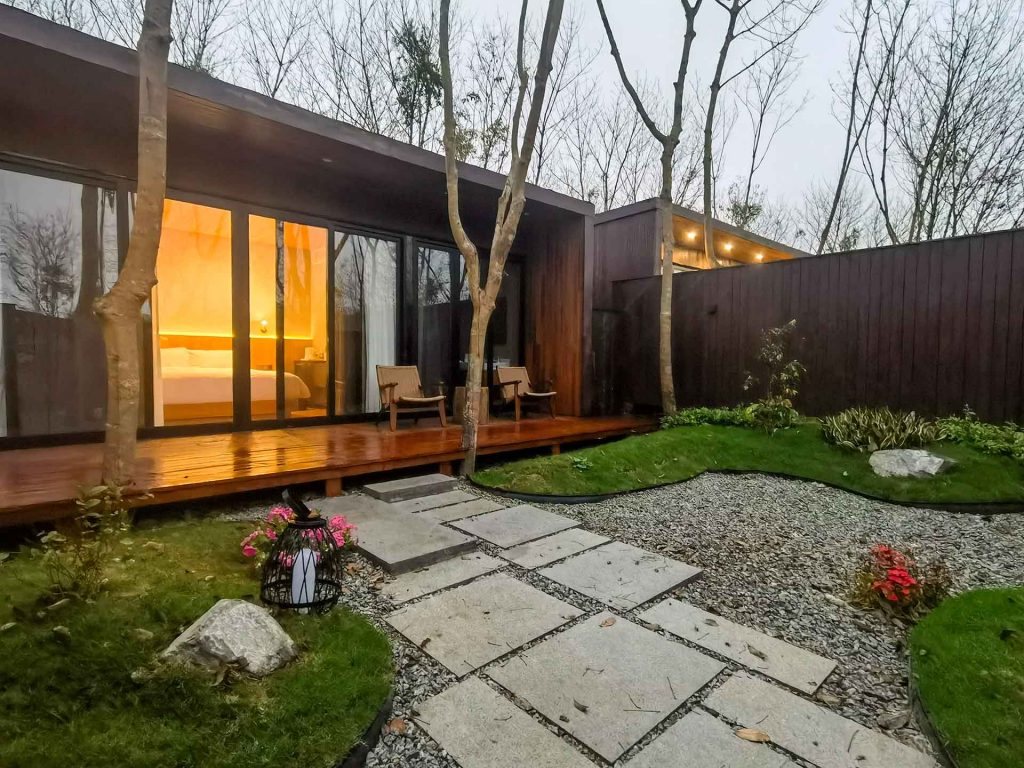 We stayed two nights / three days in the "Home Stay, Mountain Bedroom" which cost 558 yuan per night. The rooms were clean and comfortable with a nice private enclosed garden which we really enjoyed, but the room was very small.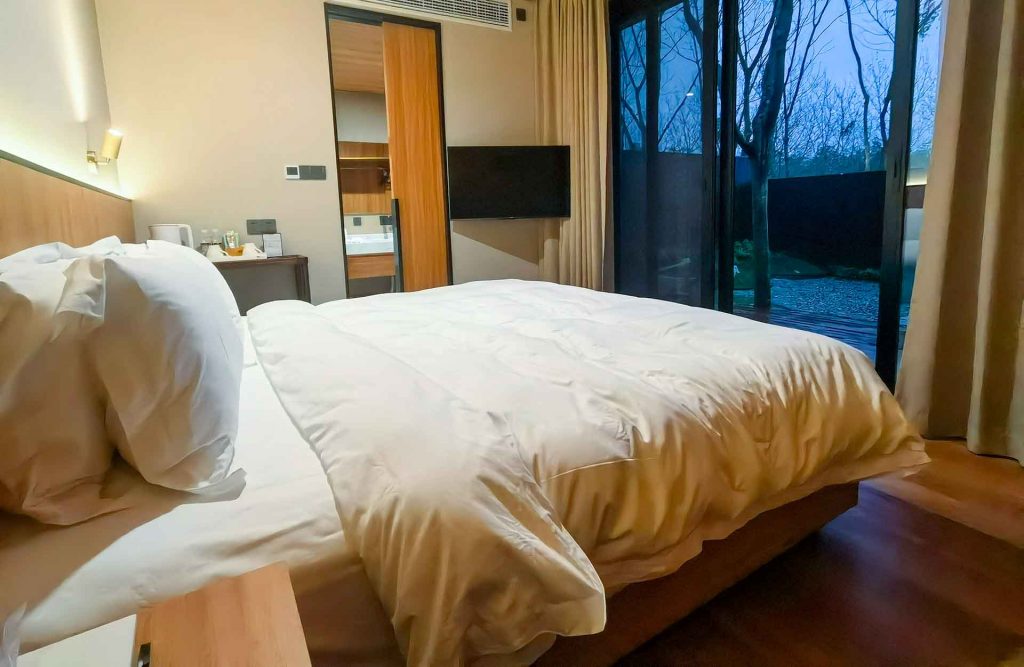 There was no desk or even room for a small table for a laptop, which may not be a problem for most people, but if you have work to do may be an issue.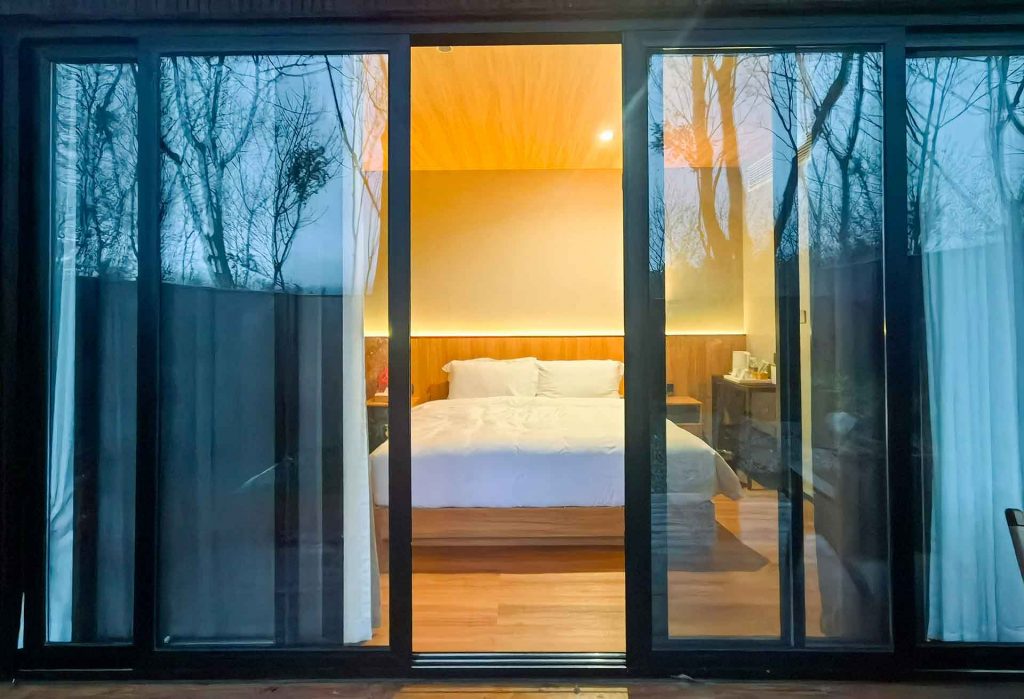 For three days no one came to check on the room to see if bins needed emptying, floor cleaning (which if you have children is almost a certainty), towels changing, or soap needed to be topped up etc.
Food and restaurant:
The restaurant is a short 5-minute buggy ride outside the park, it is bright, clean and airy with options for both indoor and outdoor seating.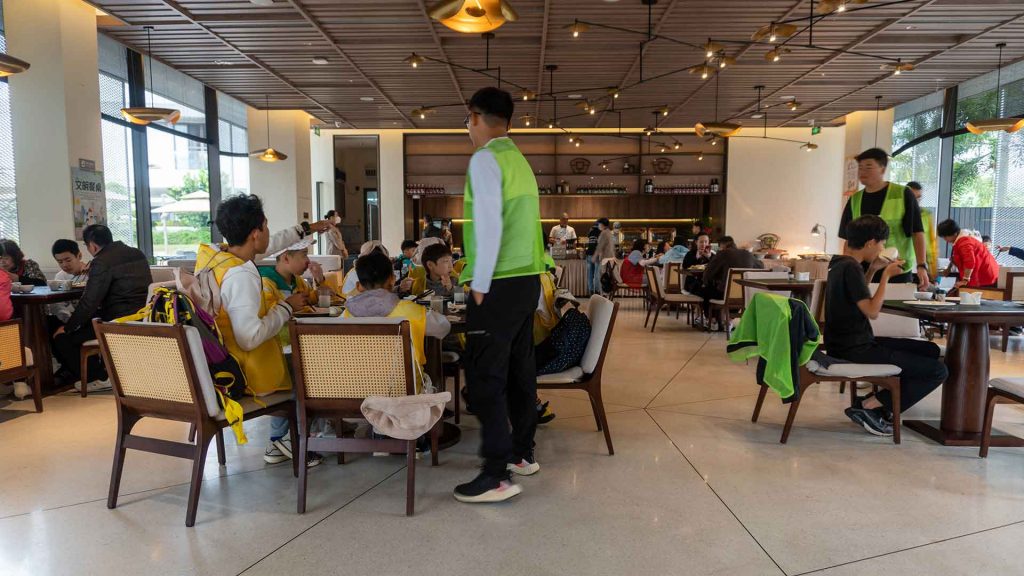 The food was really good and there was a nice spread for breakfast, which is served between 8 and 10.
What is there to do?
As agritourism activities are seasonal, they're not always available. If you have transportation, it's recommended that you get out and explore.
Nan Feng Town, Danzhou. Former site of the Qiongya Column
(海南省儋州市南丰镇中共琼崖特委琼崖纵队总部旧址, GPS: 中共琼崖特委琼崖纵队总部旧址)
About a 20-minute drive from the park is Nan Feng Town, and it's well worth a visit.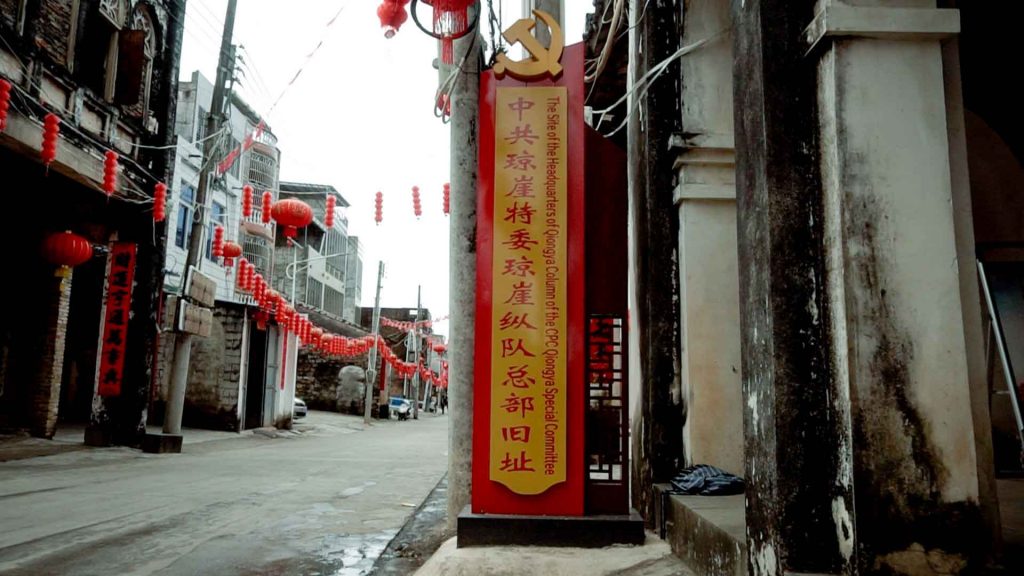 The Qiongya Column of the CPC played a pivotal role in the liberation of Hainan and the town is home to "the site of the headquarters of the Qiongya Column of the CPC Qiongya Special Committee", one of the smallest museums I have been to in Hainan. If you're interested in the history of Hainan Island, specifically the WW2 era and the liberation of the island from the Japanese, it's worth a visit. It's all in Chinese of course, but Baidu translate will do a good enough job so you can get the main ideas.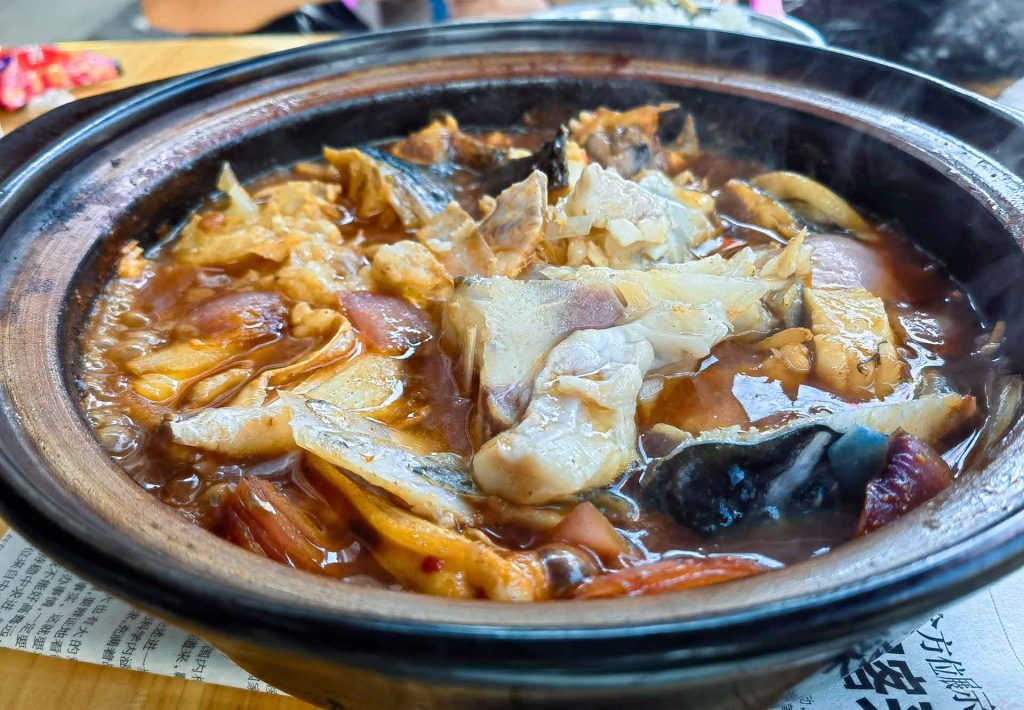 Further along the street, racks loaded with drying fish are strung out along the pavement. If you're a seafood lover, I can highly recommend stopping at one of the hole in the wall restaurants and ordering a fish pot. The food is inexpensive, incredibly tasty and the fish is freshly caught daily from Songtao Reservoir.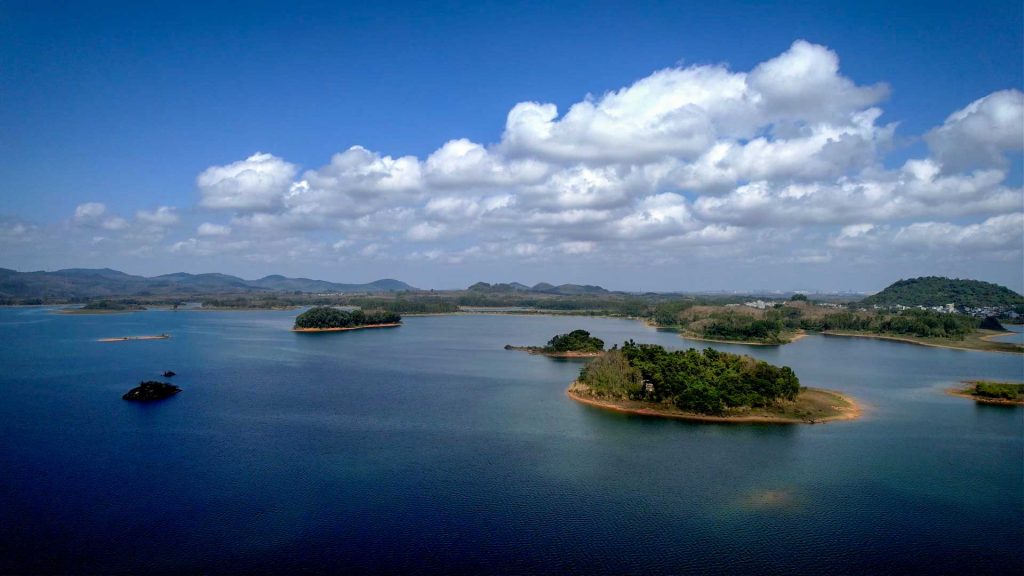 Songtao Reservoir (海南省儋州市南丰镇松涛水库 GPS: 海南省儋州市南丰镇松涛水库), is huge. Just a 5-minute walk to the bottom of the street, follow the dirt path through the trees and you're there. We only got to spend a half a day there, but it certainly looks like a great location for wild camping, even if you only set up for the day.
The Danyang Building, exhibition hall of the Danzhou Museum:
(海南儋州市那大镇中兴大道儋阳森林公园 GPS: 儋阳森林公园) If you're still in the mood for exploring, then located on the Ma'anling mountaintop, 6 kilometres southwest of Danzhou's city centre, sits Danyang Tower, (about a 25-minute drive from Nan Feng Town).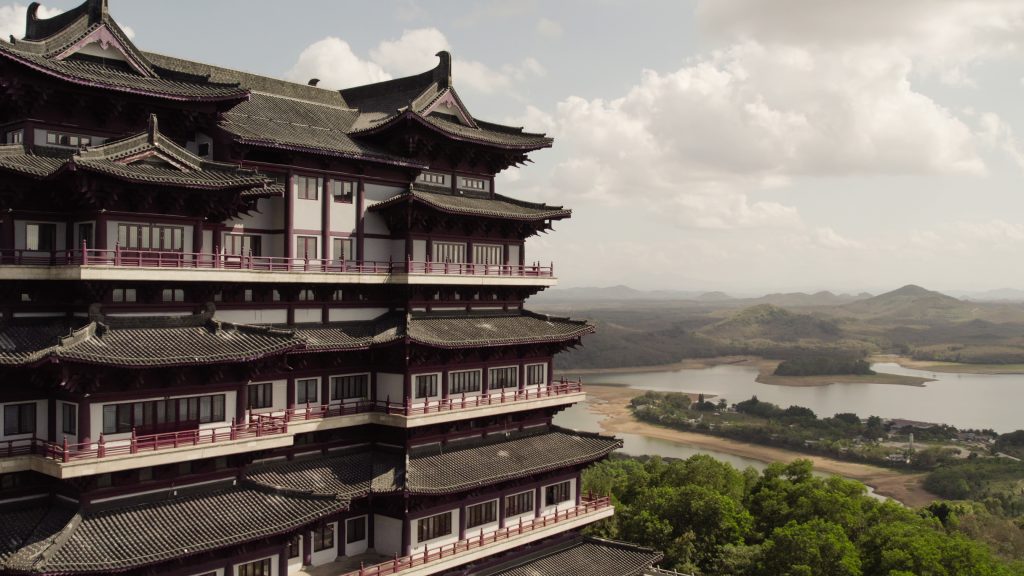 According to online sources, the tower is built in an imitation of the architectural style from the Song Dynasty, and is home to over 80 cultural relics, including stone axes from the Neolithic Age, bronze pots and drums from the Han Dynasty, and ceramics from the Ming and Qing Dynasties.
Entrance to the tower is free, however you will still need to get tickets, (the ticket office is at the entrance at the bottom of the hill), and you can get a return shuttle bus to the top for 20 yuan per person (recommended).
Allow yourself at least an hour to get through the museum, there's quite a lot on display and you have 6 floors to climb. Exhibitions are on every other floor.
The view from the 6th floor is worth the climb.
Who is it for?
I'd recommend the break for anyone, couples, families or groups so long as you have your own transportation.
Pros:
Fresh air, open countryside and a great natural environment with nice scenery, a lot of history and cultural heritage on display and the food was really good.
Cons:
It's a lot of driving, especially if you intend to visit from Haikou, so your own transportation is a must. Customer service is practically non-existent, but as the park is in its early days and still under development, it's possible that could change.
If you want to find out more about booking and prices, click HERE
Related article: Mini breaks: Wen bi feng Daoism Park in Ding'an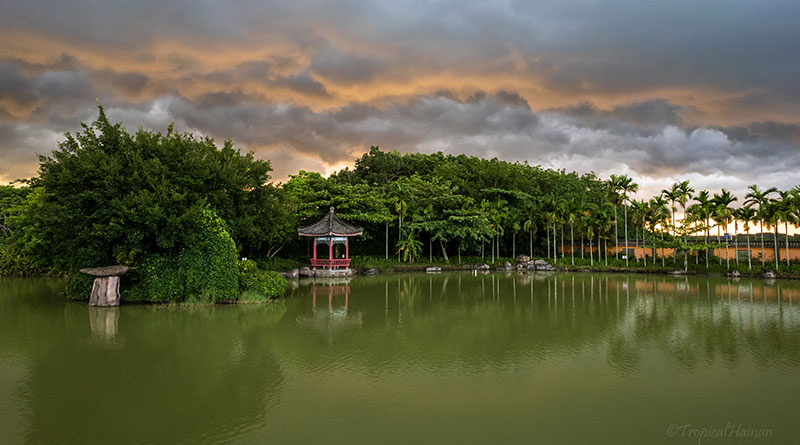 If you would like to make a comment, compliment or complaint about any aspect of living or working in Hainan Island, we'd love to hear from you. We pass all communications on to the relevant services. Please keep it polite and to the point.