Tianzhou-2 cargo launch – the second of 11 missions to build China's space station
On May 29 at 20:55 am, a Long March 7 (CZ-7) rocket carrying the Tianzhou-2 cargo spacecraft blasted off from the Wenchang Spacecraft launch site.
After 604 seconds, the spacecraft and the rocket successfully separated. At 21:17, the two wings of the solar panels kicked into operation, and the launch was deemed a success.

The purpose for the mission was to deliver supplies and fuel prior to the first crewed mission in June. The launch is the second of 11 missions required to complete China's first space station by 2022.
China's space station project to launch 11 times over 2021/2022
Feng Yong, Tianzhou-2 cargo spacecraft commander from the China Academy Of Space Technology reported that the Tianzhou-2 carried consumables, extravehicular spacesuits and three months' worth of supplies.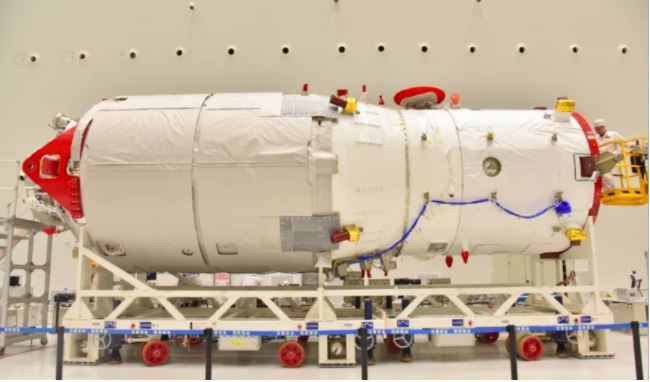 Interesting to note the extravehicular spacesuits (for use outside the cabin) weigh more than 100 kilograms each.
In total it carried around 4.7 tonnes of materials and almost 2 tonnes of fuel for the space station
The Tianzhou-2 cargo spacecraft successfully completed the entry status after entering orbit. At 5:01 am on May 30, it docked with the rear port of the core module, the whole process from takeoff lasted around 8 hours.
After docking with the Tianhe and the core module is completed, it's cargo will be transferred to the combined flight stage, where propellant replenishment and equipment testing for the space station application project will be carried out.
According to China's space station construction plan, a manned space station will be built within two years. The core module will be used as the control center and the "Wentian" and "Mengtian" experimental modules will be the main experiment platforms.
In the future, the astronauts will stay aboard the space station from a few months up to half a year at a time.
Hao Chun, director of the China Manned Space Flight Project Engineering Office, said, "The construction of the space station will be divided into two phases: the verification of key technologies for the space station and the construction of the space station.

"From this year to next year, the two phases will be completed. The launch of the space station and the core module this year, followed by the launch of the Tianzhou-2 cargo spacecraft in May and the Shenzhou-XII manned spacecraft in June"

"The Tianzhou-3 cargo spacecraft will launch in September and the Shenzhou-13 manned spacecraft will launch in October."
Related article: China's space station project to launch 11 times over 2021/2022